Robert Mueller's Russia probe investigated as 'criminal inquiry' by US Justice Department
25 October 2019, 09:44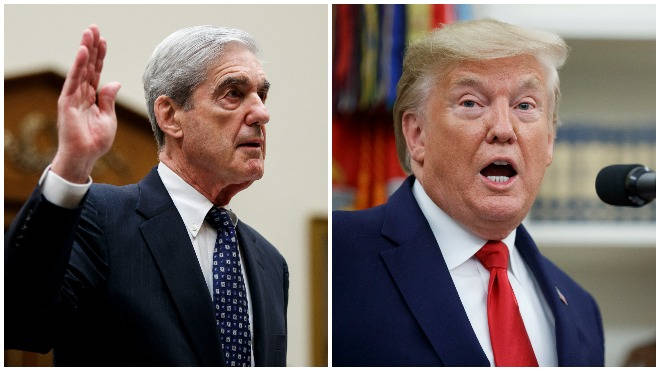 Robert Mueller's probe into Russian interference in the 2016 US election is now being treated as a criminal investigation by the Justice Department.
US Attorney General William Barr appointed fellow Connecticut Attorney John Durham to lead the inquiry which was previously just being considered an administrative review.
With the investigation being made criminal it will give US prosecutors the power to issue subpoenas, call up a grand jury and ask witnesses to testify as well as bring federal criminal charges.
Those leading an impeachment inquiry into Donald Trump said this raises "profound new concerns" that the Justice Department "has lost its independence and become a vehicle for President Trump's political revenge."
"If the Department of Justice may be used as a tool of political retribution, or to help the President with a political narrative for the next election, the rule of law will suffer new and irreparable damage," Democratic Representatives Jerrold Nadler and Adam Schiff said.
It comes as the US leader faces an impeachment inquiry over a potential abuse of executive power.
Congress is examining whether Mr Trump withheld military aid from Ukraine in order to pressurise its leader to investigate the US President's potential Democratic rival and former vice President Joe Biden, as well as his son Hunter.
Mr Durham's inquiry will investigate the roles various countries played in the US probe and what led the US to begin a counterintelligence investigation into the Republican candidate's 2016 campaign.
The legality and suitability of surveillance methods used during the investigation will also be examined by the Connecticut Attorney.
President Trump described Mr Mueller's inquiry, which cast a shadow over two years of his tenure, as a "witch hunt".
The outcome did not exonerate the leader and concluded that there was Russian interference in the 2016 election.
However, the evidence could not establish any criminal conspiracy between Mr Trump's campaign and Russia despite investigating 10 possible instances of obstruction of justice.
It is not clear when Mr Durham's inquiry moved to a criminal investigation, but it was first reported by The New York Times.