US politics: Joe Biden secures three more states as he edges closer to nomination
18 March 2020, 08:12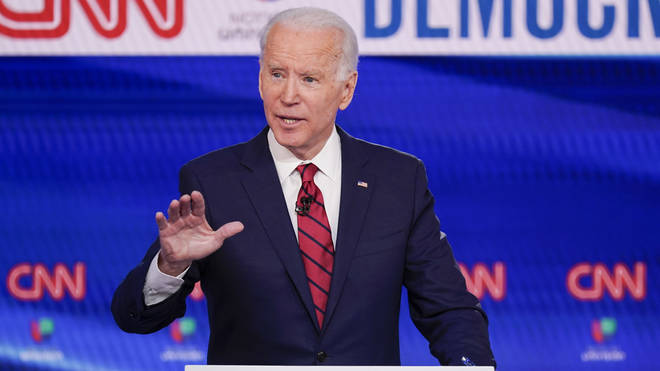 Joe Biden has secured a cleansweep after three more states voted in the presidential primaries, which has increased his lead on becoming the Democrat party's nominee.
The former US vice president won Florida, Illinois and Arizona on Tuesday, which comes on top of his victories in five of six states that voted a week earlier.
His winning streak has now created a large lead ahead of his only rival, Vermont senator Bernie Sanders, who is now being encouraged to quit the campaign.
READ MORE: Joe Biden wins Washington as he gets closer to becoming the Democrat nominee
Other Democrat leaders and donors have also increasingly backed Mr Biden as their candidate to take on Donald Trump for the White House.
Mr Sanders now has nothing ahead that could see him bring the heat to Mr Biden as the coronavirus outbreak has disrupted the upcoming primary race events.
Rallies and other events have been cancelled, while voting in Ohio, Louisiana, Georgia, Kentucky, and Maryland have been delayed.
This leaves the calendar empty until 29 March, when Puerto Rico is due to go to the ballot - but leaders are working to postpone this vote, too.
READ MORE: What is Super Tuesday and why is it so important?
Push backs to voting dates have resulted in Democratic National Committee Chairman Tom Perez calling for other primaries to expand their mail voting procedures, absentee balloting and polling station hours.
Meanwhile, on Tuesday, Mr Biden paid tribute to his rival in a livestream message for focusing his campaign on issues such as climate change and affordable health care.
He said: "Senator Sanders and his supporters have brought a remarkable passion and tenacity to all of these issues. Together they have shifted the fundamental conversation in this country.
"So let me say, especially to the young voters who have been inspired by Senator Sanders, I hear you. I know what's at stake. I know what we have to do."