PM offers Tory rebels February 3 'sunset' for Covid tier system
28 November 2020, 20:19 | Updated: 28 November 2020, 21:32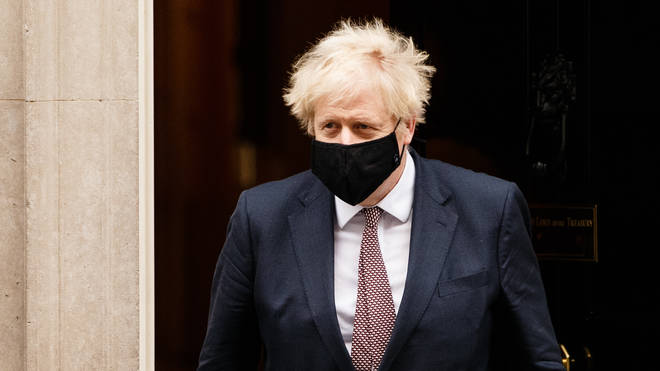 Boris Johnson has written to rebel Tory MPs offering them a "sunset" of 3 February for the government's three-tier Covid strategy.
The prime minister has been facing growing dissent on the backbenches after it was announced that 99 per cent of the country would be placed into Tiers 2 and 3 when the second nationwide lockdown ends on Wednesday.
A number of senior party figures have already come out to say they will either reject the plan or abstain from voting when the legislation is presented to the Commons on Tuesday.
However, Mr Johnson extended an olive branch to potential rebels on Saturday, saying the coronavirus regulations would include a sunset clause - or expiry date - of 3 February, which would give MPs the chance to vote on any future extension.
It comes amid rumours that dozens in his party were set to defy the government next week.
Read more: Tory MP demands evidence for government lockdown strategy
Read more: PM appoints Nadhim Zahawi as minster for Covid vaccine deployment
Before receiving the PM's letter on Saturday, two Conservative MPs - Craig Mackinlay and Tim Loughton - told LBC they would defy the will of ministers by voting against the three-tier system.
Elsewhere, Tobias Ellwood also demanded the government provide more evidence for its approach when speaking to LBC's Andrew Castle.
Mr Mackinlay, the MP for South Thanet - a hotspot in Kent which will be in Tier 3, told presenter David Lammy that he plans to rebel as the measures "may be more dangerous than the disease".
He said he was "not convinced" people would be as compliant under further restrictions after seeing more regions of the UK enter Tier 3 coming out of lockdown than there were beforehand.
Mr Mackinlay called on the government to "get its data on the table in front of us" rather than announcing lockdown tiers without providing sufficient information.
Read more: More than 150 arrested during anti-lockdown protests in London
Watch: Landlord angry after nearby pub opens while his shuts under tier system
However, in his letter to Tory MPs, the prime minister said the government will review tiers every fortnight and bring the regulations before Parliament after the fourth review on 27 January, which will determine whether the system remains in place until the end of March.
Mr Johnson also said the first such review, on 16 December, would consider the views of local directors of public health, with a final decision on whether any areas should change tiers made at a Cabinet committee.
Any changes would then come into effect on 19 December.
He also committed to publishing more data and outlining what circumstances need to change for an area to move down a tier, as well as analysis of the health, economic and social impacts of the measures taken to suppress the virus.
Only the Isle of Wight, Cornwall, and the Isles of Scilly will be under the lightest Tier 1 controls, while large swathes of the Midlands, North East and North West are in the most restrictive Tier 3, as well as Kent and Medway in the South East.
Read more: Covid-19 crisis in numbers: LBC brings you the stats you need to know
Read more: Tier system dubbed 'unfair' as two-thirds of England faces tougher rules
It means tight restrictions will remain on bars and restaurants and many households will still be banned from mixing indoors when the second nation-wide lockdown lifts.
Also among the senior Tories to express their opposition to the previous plan was the 1922 Committee chairman Sir Graham Brady who said he wanted to see people "treated as adults" and trusted with their own health decisions.
Former business secretary Greg Clark called on the government to review its decisions and make more data available before he could vote for them, while former international trade secretary Liam Fox issued a damning joint statement with neighbouring MP John Penrose, the husband of Test and Trace boss Dido Harding, saying they "cannot agree" with the way tiers have been allocated in the South West.
On Friday, Mr Johnson acknowledged that people felt "frustrated", particularly in areas with low infection rates which now face tighter restrictions than before the lockdown.
He said: "The difficulty is that if you did it any other way, first of all you'd divide the country up into loads and loads of very complicated sub-divisions - there has got to be some simplicity and clarity in the way we do this.
"The second problem is that, alas, our experience is that, when a high incidence area is quite close to a low incidence area, unless you beat the problem in the high incidence area, the low incidence area, I'm afraid, starts to catch up."
Listen & subscribe: Global Player | Apple Podcasts | Google Podcasts | Spotify