US announces details of Covid-19 travel amid concerns over Omicron variant
26 October 2021, 16:38 | Updated: 2 December 2021, 20:34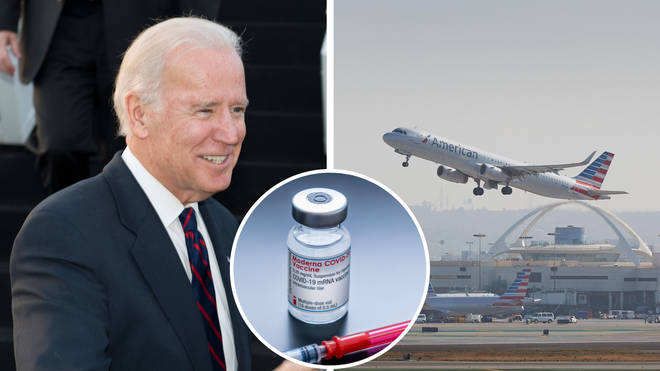 The US has updated Covid-19 guidance for passengers travelling into the country, amid concerns over the Omicron variant.
The US border reopened to foreign flights including the UK, from November 8, meaning tourists were allowed to enter the country.
Originally imposed by Donald Trump, the travel ban stopped visitors entering the US from countries including the UK, Ireland, Europe, India, Iran, Brazil, South Africa and China.
But president Biden has since lifted the ban and these are the travel requirements visitors will have to follow.
Do I need to take a test before I travel?
Yes, all travellers need to get a Covid-19 test, regardless of vaccination status, before they travel into the United States.
Passengers on inbound flights to the US will have to test negative for Covid within one day of departure, US President Joe Biden has said.
Previously, only unvaccinated passengers had to take a test no more than one day before travel and present a negative result, but restrictions have been tightened to cover all people visiting the country.
The updated testing rules could come into force as early as December 6, according to reports.
For full guidance check the CDC website.
Do I need to be vaccinated before I travel?
No you do not, however your vaccination status will impact the amount of time you have to isolate for, upon arrival in the US.
What classifies as "fully vaccinated"?
You are considered fully vaccinated if:
at least 14 days before you fly you have had your second dose of a two-dose vaccine
at least 14 days before you fly you have had a single-dose vaccine
What about children?
Children aged 2 to 17 count as vaccinated if travelling with parents or guardians. Those under the age of 2 do not need to have a test before entering the country.
Will I need to wear a mask on the plane?
Yes, passengers are required to wear masks on aircraft, trains, buses and at airports.
The requirement has been extended until March 18.
Read more: Don't use the M25 because we want to protest on it, eco mob tells motorists
Read more: Judge sets deadline for Prince Andrew's testimony in sex-assault case
Read more: Joanna Lumley suggests wartime rationing to solve climate crisis
Do I need to do a Covid-19 test after I arrive in the US?
If you are fully vaccinated it is recommended by the CDC that you get tested once arriving in the US, but it is not a requirement.
Unvaccinated travellers are also recommended to get tested between day three and five, but once again it is not a requirement to enter the country.
Travellers who are unvaccinated must stay home and self-quarantine for a full seven days after travel, even if they decide to take a test between day three and five, and it comes back negative.
If unvaccinated travellers do not get tested they must stay home and self-quarantine for 10 days after travel, instead of seven.