Joe Biden describes the 'shock, pain and rage' of Hamas attack on Israel and compares it to 'fifteen 9/11s'
18 October 2023, 15:49 | Updated: 18 October 2023, 16:34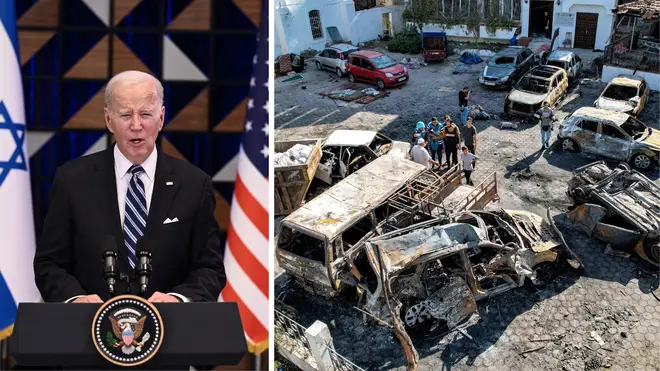 Joe Biden has described the actions of Hamas in Israel as being like 'fifteen 9/11s'.
The US president issued a message to any 'hostile actor' thinking of attacking Israel - telling them: "Don't, don't, don't."
He said Americans "would understand" the shock, pain and rage felt by Israelis, telling an audience in Tel Aviv: "You can't give up on what makes you who you are.
"If you give that up, then the terrorists win," he said.
But he urged Israel against letting anger fuel any decision making. 
"I understand and many Americans understand the feeling of shock, pain and an all consuming rage the horrors will have tapped into," Mr Biden said.
"But don't be consumed by that rage. After 9/11 while we sought justice and got justice we made mistakes."
He said the Hamas attacks "recalled the worst ravages of Isis" and that there was "no higher priority" than the safe return of hostages.
He also said the Palestinian people were "suffering greatly" and that he was "outraged and saddened" by the loss of life in Gaza after the explosion at a hospital last night.
He said he thought Israel was not to blame for the explosion and that the evidence at present points to "a rocket fired by a terrorist group in Gaza".
Earlier he said the hospital blast appeared to have been caused by the "other team" as he met with Israeli prime minister Benjamin Netanyahu.
Mr Biden said he was "deeply saddened and outraged" by the explosion in the Gaza hospital.
At least 500 were killed when the explosion hit the al-Ahli Hospital in Gaza City on Tuesday night while it was being used to treat and shelter civilians.
"Based on what I've seen it, it appears as though it was done by the other team, not you," Mr Biden told Mr Netanyahu.
"But there's a lot of people out there who are not sure, so we have got to overcome a lot of things."
The Israeli Defence Forces (IDF) denied being behind the attack, saying it came from a failed rocket launch by the Islamic Jihad terror group.
Doctors gave a press conference surrounded by dead children at another hospital in Gaza, al-Shifa, in a stark image of the deadly impact of the war on innocent people between Israel and Hamas.
But the IDF released new surveillance images of the hospital compound, saying it showed the failed launch site nearby which it claims triggered the blast.
It also released audio on Wednesday morning, claiming it contained admissions by Islamic Jihad that they were responsible for the explosion.
A spokesperson for the military, Brigadier General Daniel Hagari, said: "We have intelligence... of communication between terrorists talking about rockets misfiring.
"The terrorists realise that the rocket has misfired and make specific reference to the al-Ahli hospital."
He translated the alleged conversation, saying it was fired from a cemetery behind the hospital but that it "misfired and fell on them".
It's 'not the first time' a Hamas rocket has fallen short of intended target says Israeli gov rep
Read more: 'It wasn't us': Israel releases new audio of Islamic Jihad 'admitting to hospital blast' that killed hundreds in Gaza
Read more: Thousands take to streets across Middle East after hundreds killed in Gaza hospital air strike
It comes after Biden greeted Mr Netanyahu with an embrace as he arrived in Israel on Wednesday morning.
The explosion curtailed Mr Biden's trip to the region, with planned face-to-face talks with King Abdullah of Jordan, Egyptian President Abdel Fattah El-Sisi and Palestinian President Mahmoud Abbas cancelled.
Protests have swept through the region, with hundreds of Palestinians flooding the streets of major West Bank cities including Ramallah.
More people joined protests that erupted in Beirut, Lebanon, and Amman, Jordan, where an angry crowd gathered outside the Israeli Embassy.
White House national security spokesman John Kirby said Jordan had declared three days of mourning after the hospital explosion.
He said the president would have an opportunity to speak to the Arab leaders by phone as he returned to Washington.
A failed rocket launch by the Islamic Jihad terrorist organization hit the Al Ahli hospital in Gaza City.

IAF footage from the area around the hospital before and after the failed rocket launch by the Islamic Jihad terrorist organization: pic.twitter.com/AvCAkQULAf

— Israel Defense Forces (@IDF) October 18, 2023
The president will now only stop in Tel Aviv, where he is expected to push for allowing critical humanitarian aid into Gaza during meetings with Prime Minister Benjamin Netanyahu.
The US previously sent two aircraft carriers to the eastern Mediterranean in a bid to deter further escalation of the conflict across the Middle East.
Mr Kirby said that Mr Biden "wants to get a sense from the Israelis on the situation on the ground" and will "ask some tough questions".
"He'll be asking them as a friend," he added.