'Toddlers, babies with their heads cut off': Israeli PM's spokesperson describes scene in border village after Hamas attack
11 October 2023, 10:49 | Updated: 11 October 2023, 11:15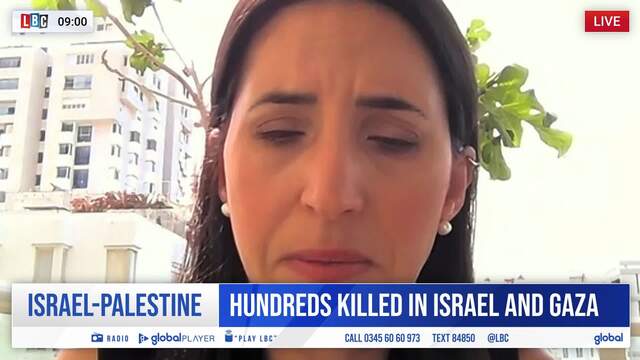 'They cut off heads': Tal Heinrich Israeli spokesperson confirms babies were decapitated
Speaking to LBC, Tal Heinrich spokesperson for the Israeli Prime Minister's Office confirmed soldiers on the ground had been dealing with babies who had been decapitated.
"Toddlers, other babies, some of them with their heads cut off. This is what we are hearing from soldiers on the ground who dealt with the bodies," Ms Heinrich told Nick Ferrari at Breakfast on LBC.
She revealed the scenes in Kfar Azza were so hard to process that some foreign journalists vomited.
"Yes, they cut off heads, they cut off heads."
"Is that any proportion to decapitated babies, hand-tied children shot in the head?" she said.
Read more: Slaughter of the innocents: Israel vows to 'wipe out' Hamas after '40 babies and children massacred' in Kfar Aza
Read more: 'I just hope that they're alive': Family distraught after harrowing footage emerges of mother and her babies abducted
Having been in the South of Israel, where Hamas stormed the Kfar Aza kibbutz killing families in their homes, Spokesperson for the Israel Defense Forces, Major Doron Spielman told Nick of the horrors he witnessed.
Major Doron Spielman told Nick that in his "22 years of service in the IDF" he has "never seen anythign like this before".
Bodies of Israeli civilians and Hamas attackers have been recovered from ransacked houses, as unexploded grenades lay side by side to bodybags.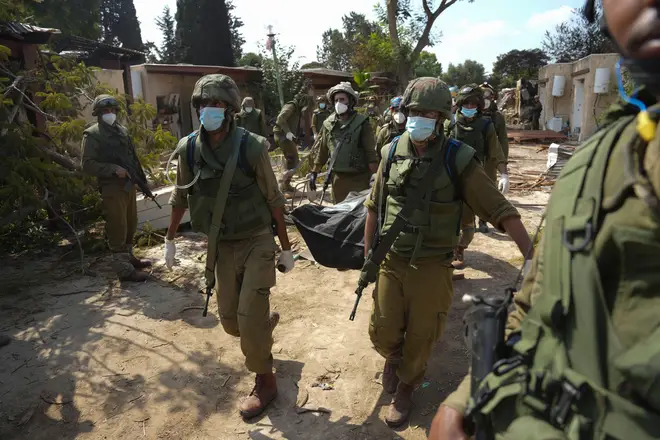 Journalists taken by the Israeli military to a village they have retaken in their battle to beat back a sweeping assault launched by Hamas from the Gaza Strip paint a chilling picture of its destruction.
On the road approaching the rural village, the bodies of militants were said to be laying scattered between the shells of burned-out cars. Walls and doors of what used to be neatly kept homes were blasted wide open, and bags holding the bodies of dead residents awaited identification.
"You see the babies, the mothers, the fathers in their bedrooms and how the terrorists killed," Major General Itai Veruv, a 39-year veteran of the Israeli army who led forces that reclaimed the village from militants, said on Tuesday as he stood amid the wreckage.
"It's not a battlefield. It's a massacre."
The Israeli military led a group of journalists, including an Associated Press reporter, on a tour of the village on Tuesday, a day after retaking it from what they said was a group of about 70 Hamas fighters.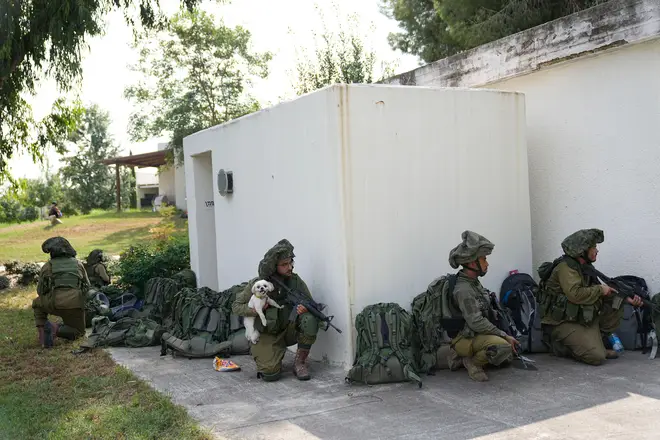 Kfar Azza, surrounded by farms and just a few minutes down a country road from the heavily fortified fence Israel erected around Gaza, was one of more than 20 towns and villages attacked by Palestinian fighters early on Saturday.
Before the attack, the kibbutz, whose name means "Gaza village" in English, was a modestly prosperous place with a school, a synagogue and a population of more than 700.
On the town's perimeter, the gate that once protected residents had been blasted open. Inside the settlement, the doors of many homes had been blown from their hinges by militants using rocket-propelled grenades. Throughout the town, walls and torched cars were riddled with bullet holes, tracing a path of violence that continued inside to bedrooms with mattresses covered in blood, safe rooms that could not withstand the attack, even bathrooms.
Outside, unexploded hand grenades were scattered on the ground. A few minutes away, a Hamas flag lay crumpled in the dirt near a paraglider, used by militants to attack by air.
By the time journalists were escorted into the town on Tuesday, rescuers had already removed the bodies of most of the villagers killed in the attack.
An AP reporter saw the bodies of about 20 Hamas attackers.
Hundreds of Israeli soldiers, in helmets and body armour, patrolled the town on Tuesday, as the sounds of explosions and gunfire echoed in the distance.
Maj Gen Veruv, retired from the military for eight years before he was recalled on Saturday, said the scene was unlike anything he had ever witnessed, even in a country where violent clashes with Hamas and other militant groups were frequent.
A military spokesman, Major Doron Spielman, agreed, comparing the toll in Kfar Azza and nearby villages he visited to scenes he witnessed as a New Yorker after the September 11 2001 terrorist attacks.
"I remember going through 9/11 and waking up the next day, the next week, and everything had changed," he said. "It's the same thing again. But worse because we're such a small country."