Stamp duty 'doesn't work' and pensioners should be paid to downsize, says Kirstie Allsopp
12 April 2023, 20:01 | Updated: 12 April 2023, 20:03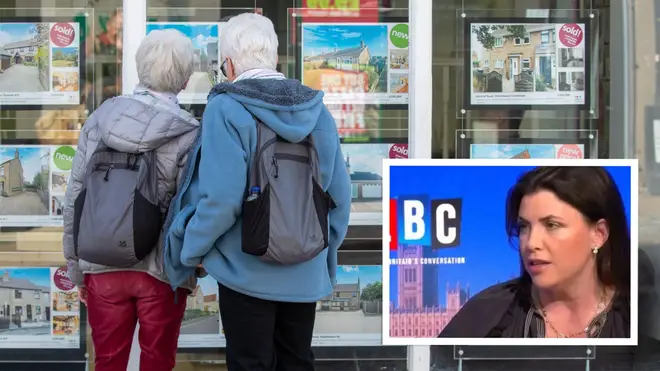 TV presenter Kirstie Allsopp has told Rachel Johnson that the UK rental market is "massively broken" and taxes such as stamp duty discourage older people from downsizing.
Speaking on LBC's Difficult Women podcast, Kirstie, 51, suggests stamp duty "doesn't work" and is making the housing market worse for everyone in the UK.
She said: "You can fiddle around with stamp duty – it doesn't work.
"There are all sorts of things that I would do with stamp duty. I think the number one thing that is a problem with stamp duty is it discourages people from making that final move.
"For older people, they say 'ah, I'm 70 not gonna downsize cause because I'm not gonna spend'," she argues.
Listen to Rachel Johnson's Difficult Women podcast on Global Player
She then went onto embrace Rachel Johnson's idea to "pay them to downsize rather than charge them".
The 51-year-old property expert later added the UK rental market is "massively broken".
Read more: Caller fears child protection services will 'only believe' her when her child 'turns up in a body bag'
Read more: New mum's German fiancé barred from living in the UK due to post-Brexit visa process
"We need to have longer leases, more secure leases, we need to stop having this incredibly combative attitude between landlords, tenants good, you just don't have that in Germany, Italy and other places," she said.
Kirstie finally added that she believes "the two things in this country which are so cripplingly expensive are property and childcare".