Liz Truss pledges a 'bold plan' to cut taxes and tackle Britain's energy crisis in first speech after being crowned PM
5 September 2022, 12:38 | Updated: 5 September 2022, 15:01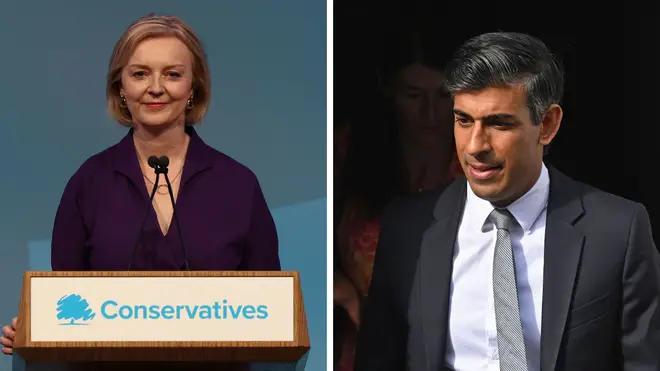 Liz Truss has pledged a 'bold plan' to cut taxes and tackle the energy crisis in her first speech after being announced as Britain's new Prime Minister on Monday.
The current foreign secretary beat rival Rishi Sunak to the top job in a contest that saw both MPs publicly trade blows during a series of live leadership debates.
Ms Truss will now formally go on to replace Boris Johnson as Prime Minister.
She is set to meet the Queen at the monarch's Scottish Balmoral estate on Tuesday, before returning to Downing Street to make her first formal speech as PM.
Read more: Prime Minister Liz Truss: Background and policies revealed
Read more: Truss set to freeze energy bills for millions of homes to combat cost of living crisis this winter
The results, which were announced just after 12:30 BST at the QE2 conference centre in London, saw the current foreign secretary win with 81,326 votes to Mr Sunak's 60,399.
A voting turnout of 82.6 per cent, Truss received 57.4 per cent of the vote from Tory party members — a decisive figure but one that pales in comparison to Boris Johnson's 66.4 per cent win over Jeremy Hunt in 2019.
Pledging to cut taxes and tackle Britain's energy crisis, the incoming PM made no mention of crime as part of her acceptance speech.
She also vowed to lead the Conservative Party to a "great victory" at the 2024 general election.
Promising to "govern as a Conservative" and have a "a bold plan to cut taxes and grow our economy", she also pledged to "deliver on the energy crisis", including energy bills and Britain's future energy supply.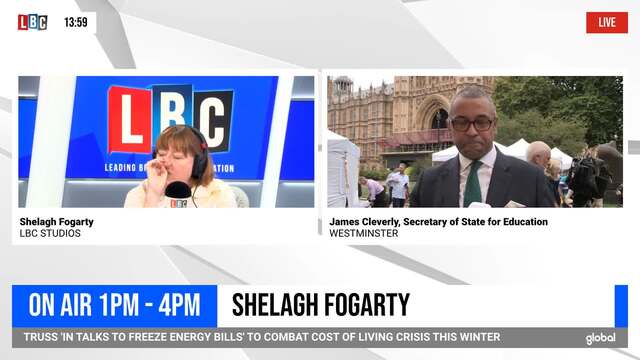 Shelagh Fogarty challenges James Cleverly over Liz Truss popularity
Praising outgoing leader Boris Johnson, she told him: "Boris, you got Brexit done, you crushed Jeremy Corbyn, you rolled out the vaccine and you stood up to Vladimir Putin. You were admired from Kyiv to Carlisle."
There was a delay in applause before the crowd of Conservatives at the Westminster conference centre broke out into applause.
Truss is set to take Ms Johnson's place on Tuesday once formalities are complete.
Watch: Boris intends to 'repair his own balance sheet' as 'you earn so little' as PM, says Lord Marland
Watch: James O'Brien lists the very worst of Boris Johnson's leadership
Mr Johnson has also joined many praising Ms Truss on her victory.
The outgoing Prime Minister also reflected on his own time in office, writing on Twitter: "I have been proud to serve as leader of the Conservative Party for the last three years, winning the biggest majority for decades, getting Brexit done, overseeing the fastest vaccine rollout in Europe and giving vital support to Ukraine.
"Congratulations to @trussliz on her decisive win.
"I know she has the right plan to tackle the cost of living crisis, unite our party and continue the great work of uniting and levelling up our country.
"Now is the time for all Conservatives to get behind her 100 per cent."
Congratulations to @trussliz on her decisive win. I know she has the right plan to tackle the cost of living crisis, unite our party and continue the great work of uniting and levelling up our country. Now is the time for all Conservatives to get behind her 100 per cent.

— Boris Johnson (@BorisJohnson) September 5, 2022
Among others to congratulate the new Conservative Party leader were Scottish first minister Nicola Sturgeon, former Prime Minister Theresa May and Brexit minister Jacob Rees-Mogg.
Ms Sturgeon said she "will seek to build a good working relationship" with Ms Truss before calling on her to take action to tackle soaring energy bills.
Ms May said the Tory party must "work together" underneath Ms Truss' leadership, whilst Mr Rees-Mogg said Ms Truss would be an "excellent Prime Minister".
Watch: James O'Brien gives tongue in cheek analysis of Liz Truss' acceptance speech
Read more: Mother-of-two named as first victim of Canadian massacre that left 10 dead and 15 injured as police hunt two suspects
Labour leader Sir Keir Starmer also congratulated Ms Truss - but in the same post hit out at the Tory party, accusing them of failing to tackle the UK's cost of living crisis.
"I'd like to congratulate our next Prime Minister Liz Truss as she prepares for office," he wrote on Twitter.
"But after 12 years of the Tories all we have to show for it is low wages, high prices, and a Tory cost of living crisis.
"Only Labour can deliver the fresh start our country needs."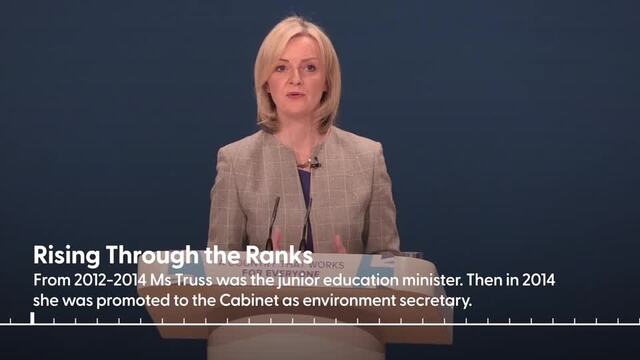 Liz Truss: New Conservative Party leader in profile
With the leadership contest over, Ms Truss now faces a number of growing challenges in the UK.
The big one is the economy.
Inflation has rocketed in recent months, and the Bank of England has warned the UK is facing the longest recession since the financial crisis.
The grim state of the economy is already having a knock-on impact on consumers, with surging energy bills and growing anger over the failure of wages to keep pace with inflation.
The energy issue has also led to renewed emphasis on the need to find greener, more reliable sources of fuel.
Also landing in Ms Truss' in-tray is the worsening state of the NHS and social care sector, strained relationships with Brussels and the UK's other EU neighbours, and immigration.
In the wider world, Putin's war in Ukraine shows no sign of easing after six months and Ms Truss will need to pay a leading role in ensuring the allies maintain military and diplomatic support - in the face of worsening economic consequences in Europe.
Further east, a review of foreign and defence policy carried out under Mr Johnson labelled China as a "systemic competitor", whilst Nato's new strategic concept has branded Beijing a "challenge" to "our interests, security and values".
And Ms Truss will also need to keep some focus on her own party, healing wounds inflicted by a brutal leadership race and divisions as a result of the 'partygate' saga.