Palestinian 'river to the sea' chant is a call for ethnic cleansing, Israeli ambassador says after demonstrations
17 October 2023, 10:12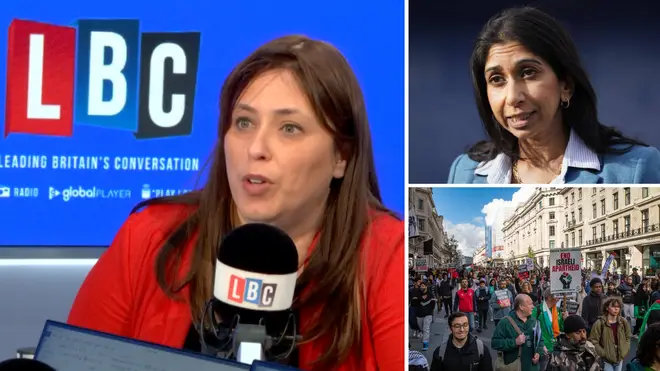 A chant used by some pro-Palestinian protesters at a recent demonstration in central London is a "call for the ethnic cleansing of Jews", the Israeli ambassador to the UK has told LBC.
The chant, which contains the phrase 'from the river to the sea, Palestine will be free', has been the subject of criticism by Home Secretary Suella Braverman, who labelled it anti-Semitic.
The phrase "symbolises Palestinian control over Israel's borders, from the River Jordan to the Mediterranean Sea", according to the American Jewish Committee.
Tzipi Hotovely, Israel's ambassador to the UK, said people sing the chant "either [because] people don't understand what they're saying or they understand, and they ignore the consequences".
"From the River to the sea' only has one meaning: that if you look on the map, Israel shouldn't exist and Israel should be totally eliminated from the Middle East map. What is that, if not ethnic cleansing of Jewish people from their homeland?," she told LBC's Nick Ferrari at Breakfast.
"This is a chant that shouldn't be heard in the streets of London."
Read More: Attack on Gaza convoy that killed 70 'faked by Hamas', Israeli ambassador claims
Read More: Israel ambassador to UK tells LBC 'Hamas is to blame' for lack of water and power in Gaza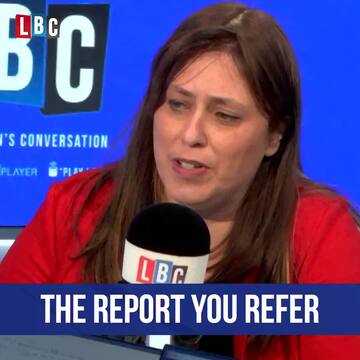 Israeli Ambassador: 90% of Jewish victims were tortured before death
Protesters who used the chant at demonstrations over the weekend were criticised by Braverman as a result.
In a thread posted on Twitter, the Home Secretary said: "Last weekend an intimidating mob marched through London chanting 'From the river to the sea, Palestine will be free' - a slogan that is widely understood as a demand for the destruction of Israel. Attempts to pretend otherwise are disingenuous.
"It means the River Jordan and the Mediterranean Sea - the boundaries of Israel - and comes from the dark days when most Palestinian groups sought to eliminate Israel.
"It was dropped by mainstream organisations after Israel and the PLO [Palestinian Liberation Organisation] made peace with the 1993 Oslo Accords."
It comes as Ms Hotovely also urged Jewish parents to send their children to school amid a growing number of anti-Semitic attacks in the UK since Hamas' attack on Israel.
"This is my message: send your children to school and support Israel," she said.
Since the attack, several Jewish schools in north London have been splattered with red paint.
Vishnitz Girls School in Stamford Hill was targeted in the early hours of Thursday morning last week.
Then Beis Chinuch Lebonos Girls' School, about 15 minutes' walk to the south-west, was hit with paint early on Monday morning.