Attack on Gaza convoy that killed 70 'faked by Hamas', Israeli ambassador claims
17 October 2023, 09:32 | Updated: 17 October 2023, 10:04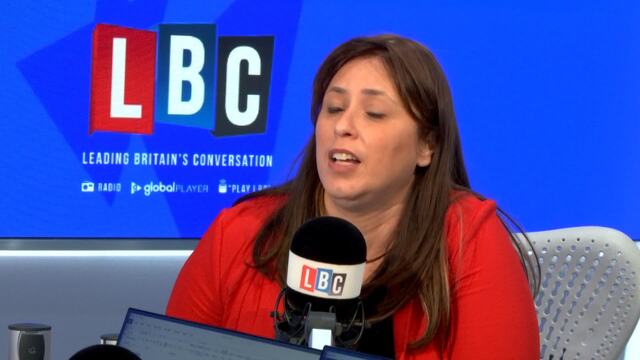 Israeli ambassador says Hamas fabricated Gaza attack
An attack on a Gaza convoy that killed 70 people was 'fake news spread by Hamas', the Israeli ambassador has claimed.
Hamas officials claimed over the weekend that 70 people, mostly women and children, were killed in an Israeli airstrike while trying to flee Gaza City.
Convoys were reportedly struck in three different places as they fled south after an evacuation order was issued by the Israeli Defence Forces (IDF).
However, Israeli ambassador Tzipi Hotovel has claimed that these reports were fabricated by Hamas, as she insisted the IDF "will always target only military targets".
Speaking to LBC's Nick Ferrari, asked about the alleged strike on convoys over the weekend, Ms Hotovely said: "Hamas was actually creating those visuals in order to make Israel the one to be blamed.
"That was not Israeli attack on civilians, we heard the spokesperson of IDF say clearly that this thing that was reported was fake news spread by Hamas."
Thousands of Palestinians fled to south Gaza over the weekend after the IDF issued a 24-hour warning to civilians to evacuate to areas south of Wadi Gaza "for your own safety and the safety of your families".
Read more: British girl, 13, who disappeared in Hamas's attack on Israel has been murdered, family says
Read more: Iran warns Israel of 'preemptive action' in chilling threat amid fears war with Hamas could escalate across Middle East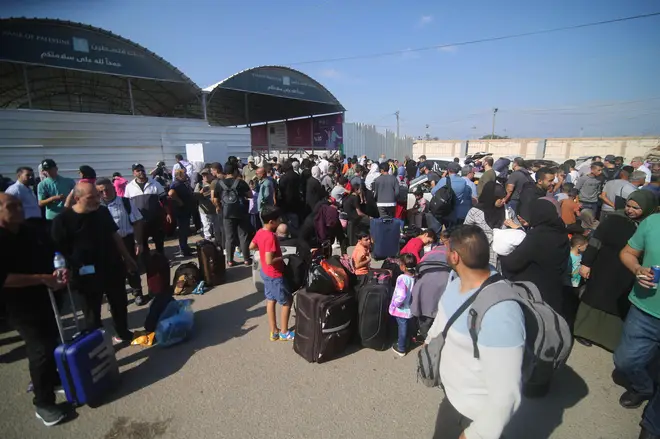 Ms Hotovel continued: "I want to say again that it's important for you to understand while they came and murdered children in their homes, we saw those cradles, we saw those baby beds filled with blood in the newspapers.
"They came to kill innocent people in their homes, in their living rooms, in their beds. We are targeting military targets.
"When those civilian facilities are turning into military bases de facto, Israel is allowed to fight."
The United Nations and World Health Organisation urged Israel to revoke its evacuation order over the weekend amid concerns it would result in a humanitarian disaster.
"The noose around the civilian population in Gaza is tightening. How are 1.1 million people supposed to move across a densely populated war zone in less than 24 hours?" U.N. aid chief Martin Griffiths said.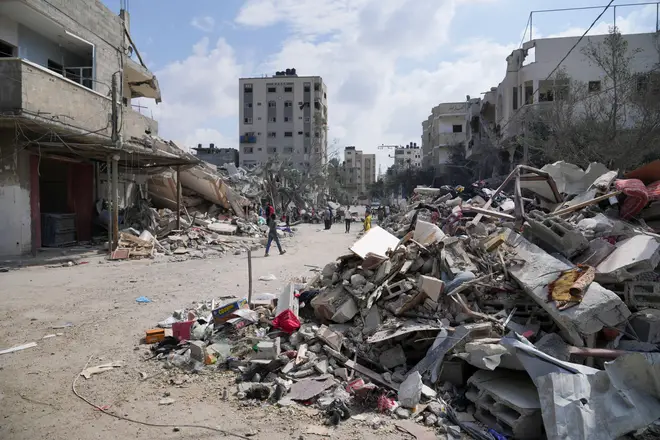 A ground invasion is thought to be imminent in Gaza after Israeli leaders said they wanted to disarm Hamas and ensure it can never again harm its civilians after the terror group massacred 1,400 people.
Sir Malcolm who was Foreign Secretary under John Major, said he would be "very surprised" if other countries expected Israel not to send its troops into Gaza.
"The question is whether that's going to be tomorrow or whether it might be delayed a few days," he told LBC's Andrew Marr.
"And I think if there is a delay it will be because there may be some possibility - and it's only a possibility - of negotiations on two fronts."
Those are the potential release of the 199 hostages taken by Hamas, and efforts to get more humanitarian aid into Gaza via the crossing from Egypt, on its southern border, Sir Malcolm said.
He added that Israel's military objective is "not to eradicate Hamas as an organisation, but to to eradicate Hamas' military potential."