British girl, 13, who disappeared in Hamas attack has been murdered, family say, while sister, 16, still missing
17 October 2023, 09:01 | Updated: 17 October 2023, 09:56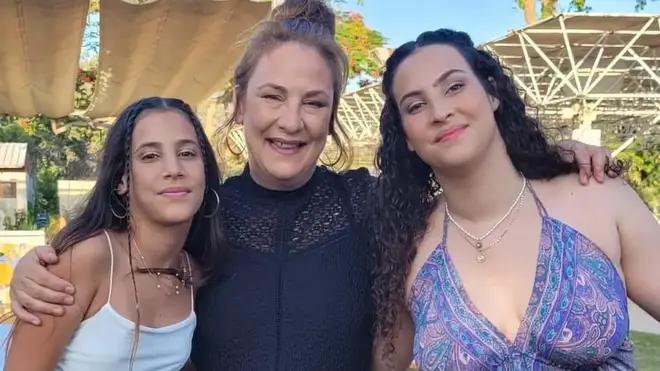 A 13-year-old British girl has been murdered after disappearing during Hamas's massacre in southern Israel, her family has said.
Yahel had vanished after terrorists attacked Be'eri. Her mother Lianne was killed while her sister Noiya, 16, and her Israeli father Eli are still missing.
Their surnames have not been released.
It was confirmed yesterday that the two sisters were missing and were feared to be held by Hamas.
Relatives previously described Yahel as "funny" and a girl who enjoyed singing and dancing.
Bristol-born Lianne's heartbroken British family had described her as "a beloved daughter, sister, mother, aunt and friend who enriched the lives of all those lucky enough to have known and loved her" on Monday.
Read more: Attack on Gaza convoy that killed 70 'faked by Hamas', Israeli ambassador claims
Rishi Sunak confirmed on Monday that six Brits have been killed in the attack, which has sparked a war between Israel and Hamas. A further ten were believed to be missing and feared dead.
Five other British victims have been named since the attack.
Jake Marlowe was working security at the Nova festival, one of Hamas's principal targets, when he was killed.
Nathanel Young, 20, a serving member of the Israeli military, died in the attack.
Read more: Iran warns Israel of 'preemptive action' in chilling threat amid fears war with Hamas could escalate across Middle East
Bernard Cowan, who grew up in Glasgow, was killed, while the sister of photographer Dan Darlington said he was murdered in southern Israel.
Benjamin Trakeniski, 32, who was part of the Israeli Defence Forces (IDF), helped evacuate people from Be'eri, one of the worst hit communities near the Gaza Strip, as gunmen rampaged through.
He was killed during the fighting after driving down from his base with comrades.
More than 1,400 people were killed in the terrorists' rampage while almost 200 were taken hostage.
Hamas has now released a hostage video - its first since it unleashed a massacre - showing 21-year-old Mia Shem appeal for her release.
Speaking in Hebrew, Shem, who was abducted from the Nova festival, said she was being taken care of but pleaded: "Get us out as fast as possible."
Israel has retaliated to the attacks by vowing to end Hamas's capability to harm its civilians. The country's military is poised to assault Gaza city on the ground after bombarding the strip with air strikes.
It has told about a million people to flee to the south of the strip so as to minimise civilian casualties and prevent Hamas from using them as human shields.
There are calls for Egypt to open the Rafah crossing at its border with Gaza so humanitarian supplies can help those trapped in the strip, who have been left without water and power after Israel cut it off.