Iran warns Israel of 'preemptive action' in chilling threat amid fears war with Hamas could escalate across Middle East
17 October 2023, 08:18 | Updated: 17 October 2023, 08:42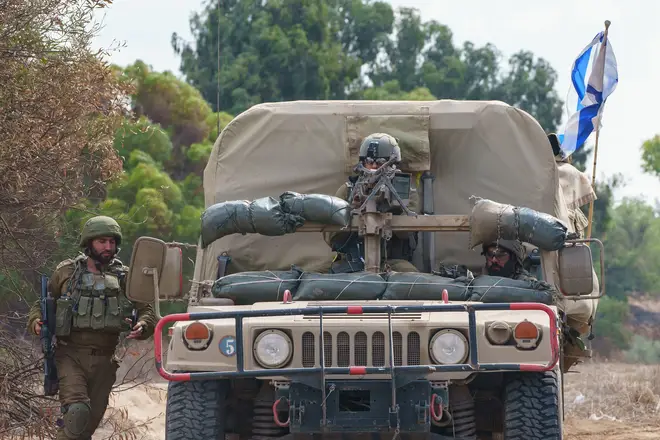 Iran has warned Israel of "preemptive action" in a chilling threat amid fears the Hamas war could spiral into a wider Middle Eastern conflict.
Tehran, which supports Hamas and the more powerful anti-Israeli militia Hezbollah in Lebanon, warned "all options are open" as Gaza is besieged.
A ground invasion is thought to be imminent after Israeli leaders said they wanted to disarm Hamas and ensure it can never again harm its civilians after the terror group massacred 1,400 people.
But it is feared when it commits to going into the dense and urban Gaza city in the north of the strip, Hezbollah could open a second front and divide the Israeli Defence Forces.
"Leaders of the resistance will not allow the Zionist regime to take any action in Gaza... All options are open and we cannot be indifferent to the war crimes committed against the people of Gaza," Iran's foreign minister Hossein Amirabdollahian told state TV.
Read more: Joe Biden to visit Israel on Wednesday amid fears Hamas conflict could spread across Middle East
"The resistance front is capable of waging a long-term war with the enemy... in the coming hours, we can expect a preemptive action by the resistance front."
Iran has insisted it was not involved in Hamas's attack on Israel but has celebrated it.
Its president, Ebrahim Raisi, warned of the "possibility of expanding the scope of war and conflict to other fronts" in a call to Russian president Vladimir Putin.
Gaza has been battered by air strikes, which has led to 2,700 deaths in the strip. The IDF has been targeting Hamas commanders and infrastructure.
Israel has told civilians there to move south so they can escape the expected attack on Gaza city and avoid being used as human shields by Hamas.
Read more: Israel's invasion of Gaza likely 'tomorrow or in next few days', ex-Foreign Secretary tells LBC
Fighting in the strip is set to be fierce. The dense urban environment will help Hamas defenders and force the IDF into operating in narrow streets between tall buildings, while the "Gaza Metro", a vast network of tunnels under the strip, will need to be cleared.
Lieutenant General Herzi Halevi, the chief of the IDF General Staff, told soldiers in an open letter that the war will be "difficult and long".
In the north of the country, skirmishes between the IDF and Hezbollah have broken out but it is unclear what the militia within Lebanon will do.
There are fears it could attack when Israel commits to Gaza.
However, in a bid to deter any more threats to its ally, the US has deployed two aircraft carriers to the eastern Mediterranean - a significant deterrent to any group considering joining the violence.
US president Joe Biden is set to visit Israel to demonstrate American support for the country.
Meanwhile, there are calls for Egypt to open Gaza's southern border crossing at Rafah to help the humanitarian crisis.
Some 2.3m people live in the Gaza strip, which has had its water and power shut off by Israel.