Joe Biden to visit Israel on Wednesday in show of support in war against Hamas
17 October 2023, 05:28 | Updated: 17 October 2023, 08:17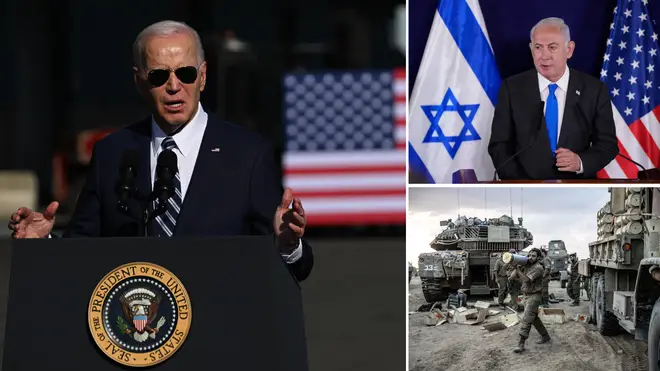 President Joe Biden will visit Israel on Wednesday amid growing fears its conflict with Hamas could spill into the wider Middle East region.
The U.S. President's visit to Israel will be followed up by a trip to Jordan in a bid to discuss humanitarian aid with Arab leaders.
As well as meeting Israel's Benjamin Netanyahu, Mr. Biden will speak with Jordan's King Abdullah, Egyptian President Abdel Fattah el-Sissi and Palestinian President Mahmoud Abbas.
It comes as the situation on the ground in the Gaza Strip worsens, with the health system and hospitals on the brink of "collapse", according to the United Nations.
It comes after the U.S. military announced it had selected around 2,000 troops to prepare for a potential deployment to support Israel.
"We've been crystal clear about the need for humanitarian aid to be able to continue to flow into Gaza," White House National Security Council spokesman John Kirby said.
"That has been a consistent call by President Biden and certainly by this entire administration."
Read More: Biden campaign launches account on Trump's Truth Social network
Read More: Israel's invasion of Gaza likely 'tomorrow or in next few days', ex-Foreign Secretary tells LBC
The United States has pledged its support for its ally Israel, which includes sending carriers and aid to the Middle Eastern nation.
Officials in the U.S. are waiting for Congress to approve a $2 billion package, which would comprise aid for both Israel and Ukraine amid Russia's invasion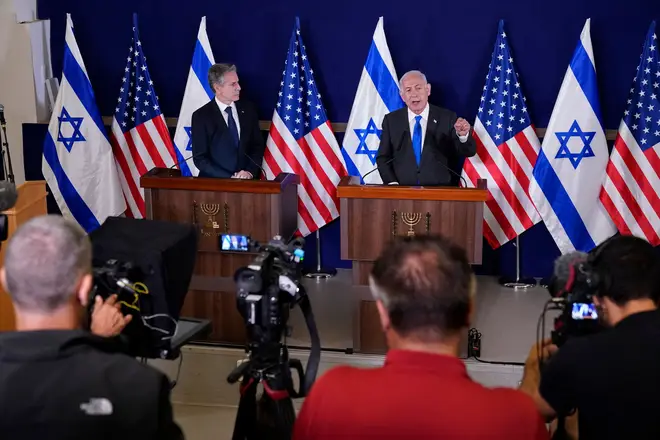 The US Secretary of State made the announcement following seven hours of talks with Mr Netanyahu and other Israeli officials.
Mr. Blinken said the U.S. and Israel had agreed to develop a plan to enable humanitarian aid from donor nations to reach civilians in Gaza, "including the possibility of creating areas to help keep civilians out of harm's way."
"We share Israel's concern that Hamas may seize or destroy aid entering Gaza or otherwise prevent it from reaching the people who need it," he said.