Prime Minister Seeks Second Extension To Article 50
5 April 2019, 11:31 | Updated: 5 April 2019, 11:48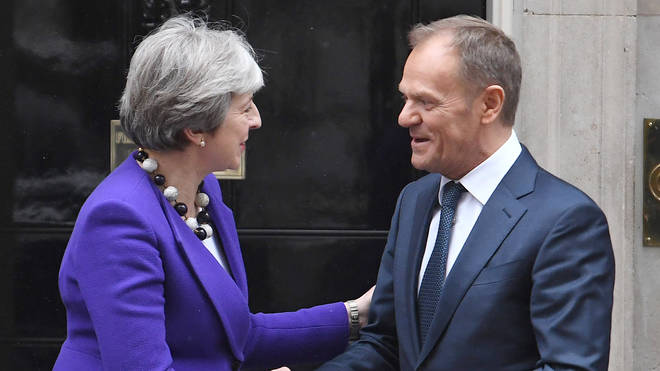 Theresa May has written to Donald Tusk asking to extend the Article 50 process, and delay the UK leaving the EU.
In the letter she says that delays over the Brexit process is creating "uncertainty" and that it is "doing damage to faith in politics."
In a letter to the President of the European Council the Prime Minister said "the United Kingdom is seeking a further extension to the period provided under Article 50(3) of the Treaty on the European Union."
Writing to Donald Tusk the PM formally requested that the EU extend the date for the UK leaving the EU until the 30th of June 2019. That is the same date requested by the government last month, which was rejected by EU leaders.
The letter acknowledged that the UK would have a legal obligation to hold European parliamentary elections. But, should the extension be agreed elected MEPs would not take their seats, as the European Parliamentary session does not start until July the 2nd.
The letter says that unless a further extension is agreed at the European Council, then "the United Kingdom will leave the European Union without a deal" on April the 12th.
Article 50 states that an an extension requires unanimous support from all member countries of the EU.
Talks between Mrs May and Labour leader Jeremy Corbyn aimed at agreeing a way forward are set to continue today. With the PM extending an open invitation of Members of Parliament, to work with her to achieve a consensus that "respects the result of the 2016 referendum."
Chair of the European Research Group, Jacob Rees-Mogg has tweeted that should the UK remain as a member of the EU for a longer period then it should be "as difficult as possible."
If a long extension leaves us stuck in the EU we should be as difficult as possible. We could veto any increase in the budget, obstruct the putative EU army and block Mr Macron's integrationist schemes.

— Jacob Rees-Mogg (@Jacob_Rees_Mogg) April 5, 2019
Meanwhile, famous psychic Uri Geller, spoke to Tom Swarbrick, claiming responsibility for a water leak in Parliament, in order to delay the Brexit process.
Following a vote on the 29th of March in the House of Commons rejecting the Withdrawal Agreement, Donald Tusk confirmed that there would be an EC meeting on the 10th of April where EU leaders will discuss the latest developments on Brexit.
In view of the rejection of the Withdrawal Agreement by the House of Commons, I have decided to call a European Council on 10 April. #Brexit

— Donald Tusk (@eucopresident) March 29, 2019
This follows a European Council meeting in March where EU leaders agreed to delay the Brexit date until 12 April 2019, should the withdrawal agreement be rejected.
LBC Explainers: Everything you need to know about Brexit