'Who do you think you're speaking to?': Sir Lindsay Hoyle shuts down Kemi Badenoch after clash over Brexit law changes
11 May 2023, 14:09 | Updated: 11 May 2023, 14:15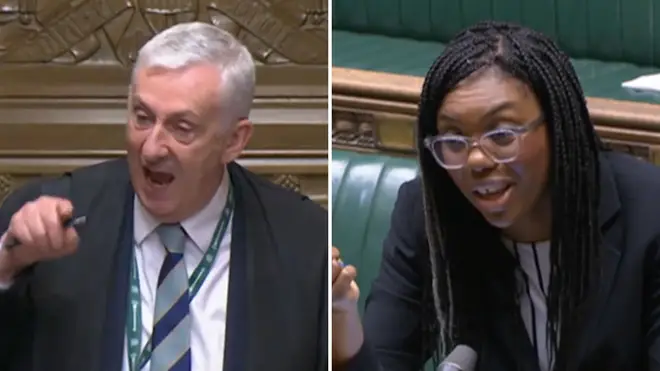 Commons Speaker Sir Lindsay Hoyle has scolded Business Secretary Kemi Badenoch over her handling of changes to post-Brexit plans to scrap EU laws.
Sir Lindsay snapped "who do you think you're speaking to?" after Ms Badenoch said she was sorry the sequencing of the announcement was "not to your satisfaction".
The change to the government policy was not announced in the Commons in an oral statement from a minister but instead revealed in a newspaper article, with MPs updated in a written statement.
Sir Lindsay granted an urgent question (UQ) on the changes, saying: "Given the importance of this announcement, on such matters full engagement with Parliament and its committees is essential... I will remind Government, we are elected to hear it first, not to read it in the Telegraph and certainly not a WMS (written ministerial statement) is satisfactory on such an important matter."
Ms Badenoch replied: "I'm very sorry that the sequencing that we chose was not to your satisfaction."
Sir Lindsay countered: "That is totally not acceptable."
Read more: Penny Mordaunt reveals she took painkillers to help her wield ceremonial swords during King's Coronation
Read more: Boris Johnson 'wanted to send Rishi Sunak a video calling him a c***' when he suddenly quit as chancellor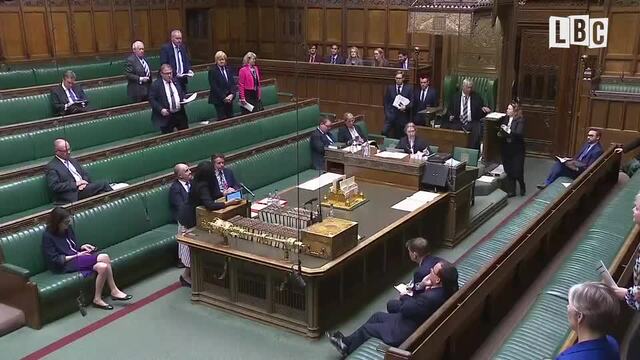 Speaker rebukes Badenoch over 'totally not acceptable' handling of EU law plans
Following an off-microphone remark from Ms Badenoch in which she appeared to be saying she should have said "not the right procedure", Sir Lindsay said: "Who do you think you're speaking to, Secretary of State? I think we need to understand each other.
"I am the defender of this House and these benches on both sides, I am not going to be spoken to by a Secretary of State who is absolutely not accepting my ruling.
"Take it with good grace and accept it, that members should hear it first, not a WMS or what you decide.
"These members have been elected by their constituents and they have the right to hear it first and it is time this Government recognised we're all elected, we're all Members of Parliament and used the correct manners."
Ms Badenoch responded: "I apologise, what I was trying to say was that I'm very sorry that I did not meet the standards which you expect of secretaries of state, forgive my language."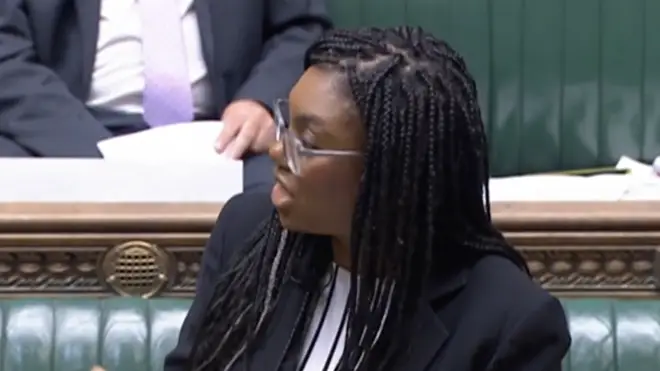 MPs also criticised Ms Badenoch for her "tin ear" and "patronising" approach in response to questions over the Retained EU Law (Revocation and Reform) Bill.
Conservative MP Michael Fabricant said: "Can I say to (Ms Badenoch) she has shown a tin ear if she thought for one moment that these changes wouldn't arouse interest in the House of Commons and that it needed a UQ to bring her here this morning."
SNP MP Carol Monaghan said Ms Badenoch was trying to deny a U-turn and blaming "silly MPs" on both sides of the House for not understanding the legislation.
She added: "Can she explain in her wonderfully patronising manner, which she's showed many times this morning, to this silly MP what will prevent her now from making a major U-turn on workers' rights, including holiday and maternity pay?"
Ms Badenoch replied: "The honourable lady calls herself a silly MP, it's not my place to disagree with that."
She said: "What we're doing is making the bureaucracy easier, we're not taking any workers' rights."