Ukraine accuses Russia of using phosphorous bombs in bid 'to destroy' Bakhmut
6 May 2023, 23:39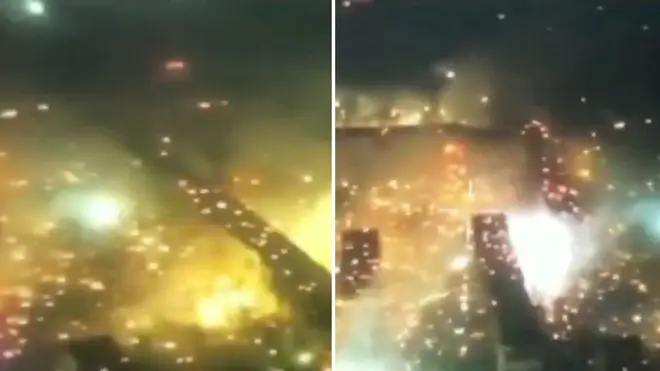 Ukraine has accused Russian forces of using phosphorous bombs in a bid "to destroy" the city of Bakhmut.
Ukraine's Special Operations Forces accused Putin's troops of using phosphorous munitions in its attempt to win control of the eastern city.
Russian troops have been trying to take Bakhmut for more than nine months, but Ukrainian forces are clinging to positions on the western edge of the city.
Drone footage released by Ukraine's defence ministry showed the city set alight as white phosphorus appeared to descend onto the streets.
On Saturday, the Ukrainska Pravda newspaper quoted military officials as saying that "the enemy used phosphorus and incendiary ammunition in Bakhmut in an attempt to wipe the city off the face of the Earth".
Russian forces have not commented on the claim but have rejected previous accusations by Ukraine that they used phosphorus.
It comes after the Wagner mercenary group announced plans on Friday to withdraw from Bakhmut.
International law prohibits the use of white phosphorus or other incendiary weapons in areas where there could be concentrations of civilians.
Read more: Royal Navy deploys warship as Russia sends Armada to 'disrupt coronation weekend'
Read more: Putin's revenge: At least 21 dead in Ukraine air strikes after drone 'attempt on Russian leader's life'
Not enough shells, but more than enough phosphorus.
Ruscists are shelling unoccupied areas of Bakhmut with incendiary ammunition.
They will burn in Hell.

📷 @SOF_UKR pic.twitter.com/7oqNTumJ34

— Defense of Ukraine (@DefenceU) May 5, 2023
Meanwhile, Ukraine's air force claimed to have downed a Russian hypersonic missile over Kyiv using Patriot defence systems recently acquired from allies.
It is the first known time the country has been able to intercept one of Moscow's most modern missiles.
Air force commander Mykola Oleshchuk said in a Telegram post that the Kinzhal-type ballistic missile was intercepted in an overnight attack on the Ukrainian capital earlier in the week.
It is also the first time Ukraine is known to have used the Patriot defence systems.
"Yes, we shot down the 'unique' Kinzhal," Mr Oleshchuk wrote.
"It happened during the night-time attack on May 4 in the skies of the Kyiv region."
He said the Kh-47 missile was launched by a MiG-31K aircraft from Russian territory and was shot down with a Patriot missile.
The Kinzhal is one of the latest and most advanced Russian weapons. The Russian military says the air-launched ballistic missile has a range of up to 1,250 miles and flies at 10 times the speed of sound, making it hard to intercept.
A combination of hypersonic speed and a heavy warhead allows the Kinzhal to destroy heavily fortified targets like underground bunkers or mountain tunnels.