'Our lives would be changed forever': World reflects 20 years on from 9/11 attacks
11 September 2021, 12:16 | Updated: 11 September 2021, 20:06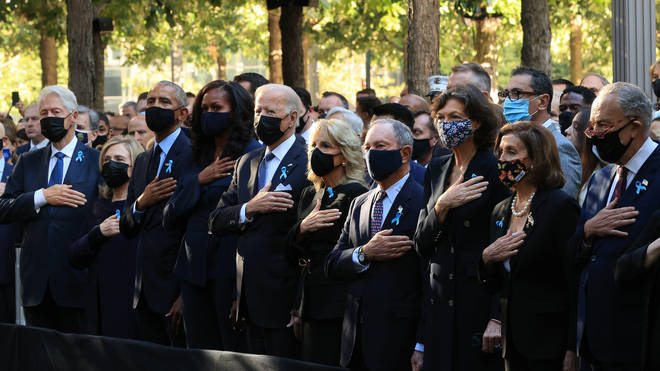 Memorials have been held all over the world to commemorate those who lost their lives on September 11 2001
Six moments of silence were held in New York City, Washington DC and Shanksville, Pennsylvania, to mark the moments when, 20 years ago, the four planes crashed and the Twin Towers subsequently collapsed
Former President Bush and current Vice President Kamala Harris were among those who paid tribute to the passengers and crew on Flight 93, which crashed in a field after they stormed the cockpit
The names of the nearly 3,000 who died in the attacks were read out at the memorials
Tributes have also poured in from friends and relatives of those who died, and survivors of the attacks have shared their stories with LBC
Memorials have been held all over the world on the 20th anniversary of the 9/11 attacks.
Across the US, UK and the world, commemorations for those who lost their lives in the attacks were held.
Today marks 20 years from the tragedy, when nearly 3,000 people lost their lives.
Memorials were organised in London while President Joe Biden visited all three plane crash sites in the US.
The first key moment was 1.46pm UK time, when the first plane hit the North Tower at the World Trade Centre site in 2001.
Happening Now