Afghanistan: Desperate crowds cling to US aircraft at Kabul in bid to flee Taliban
16 August 2021, 12:43 | Updated: 16 August 2021, 20:37
Shocking footage has shown crowds of desperate Afghans clinging to US aircraft as they try to flee the country after the Taliban seized power.
Swarms of people were filmed on the tarmac at Kabul airport today, with some clinging to the side of a US military transport plane before take-off.
At least five were people shot dead at the airport and footage showed people trying to climb structures to board planes.
All commercial flights have been suspended.
The Ministry of Defence has since confirmed that 200 extra British troops will be sent to Kabul to help evacuate UK citizens and diplomatic staff, as well as former Afghan staff and their families.
This will take the total British troops in Kabul to 900.
Read more: Afghan minister confirms 'peaceful transfer of power' to 'transitional government'
The Taliban entered the city on Sunday with no resistance. Fighters were soon pictured inside the presidential palace.
Keir Starmer has called for Prime Minister Boris Johnson to 'show some leadership' amid the 'tragic' crisis in Afghanistan.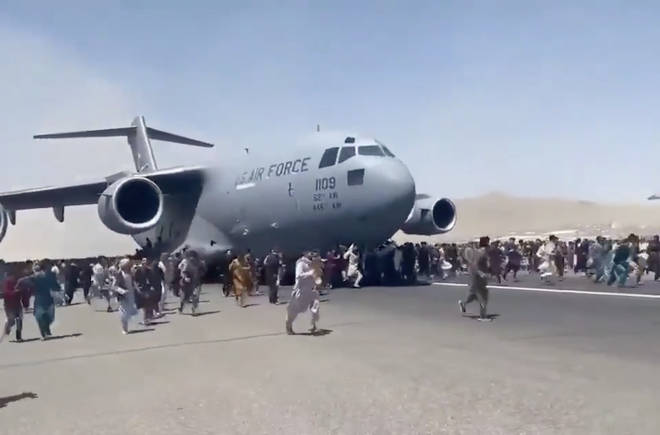 The Labour leader said the "shocking" scenes showed "the unravelling of 20 years of progress and of huge sacrifice".
Number 10 said 370 British nationals and Afghans - including interpreters - had already been evacuated from Kabul over the weekend with "significant numbers" expected to fly out in coming days.
Foreign Secretary Dominic Raab has said everyone was surprised by the pace at which the Taliban took control in Afghanistan, as he described the situation as a "new reality".
The Foreign Secretary spoke to broadcasters after a Cobra meeting was held on Monday in response to the deteriorating situation in the country.He would not be drawn on the number of refugees the UK would take.
He said: "Everyone, I think, has been surprised by the scale and the pace at which the Taliban have taken over in Afghanistan, and that's a lesson that we've all got to learn from.
"But the truth is what matters right now is focusing on getting British nationals out, getting out those who have so loyally served the UK, and making sure that the gains that we've made over 20 years are not lost."
Mr Raab added: "It is not what we wanted, but we have to deal with the new reality.
"We're making it clear with our partners with all the means at our disposal, that we will hold the Taliban to account, to its commitments, to have a new start in Afghanistan.
Read more: Afghanistan - Boris Johnson says change of regime 'clearly' taking place
Read more: 'I won't leave my wife to die alone': British father refuses to flee Afghanistan
Happening Now