Met Police Launch Criminal Investigation Into Ambassador 'Inept' Email Leak
13 July 2019, 16:04 | Updated: 13 July 2019, 16:06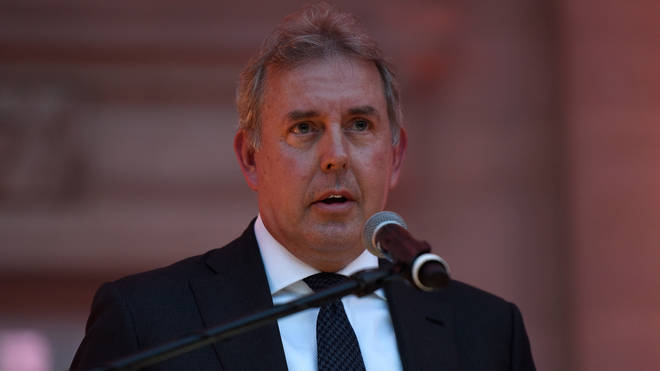 Scotland Yard has launched a criminal investigation into a leak of emails from the British ambassador critical of the Trump administration.
The Metropolitan Police Counter Terrorism Command has launched a criminal investigation into the alleged leaking of official communications involving Sir Kim Darroch.
The British ambassador announced his resignation from his post as the UK ambassador in Washington after emails sent from him described the White House as "inept" and "uniquely dysfunctional" were leaked to the media, creating friction between the US and Britain.
The ambassador said his position had become "impossible" after the US President denounced him as a "very stupid guy" and a "pompous fool" on Twitter.
Met Police Assistant Commissioner Neil Basu said: "Given the widely reported consequences of that leak, I am satisfied that there has been damage caused to UK international relations, and there would be clear public interest in bringing the person or people responsible to justice.
"The investigation will be reviewed at every stage to ensure a proportionate investigation is undertaken."
Mr Basu also warned the media that any further publication of the ambassador's emails could be a criminal offence, and should be returned to the government.
But in response to criticisms of his warning, the Assistant Commissioner clarified that the Metropolitan Police "has no intention of seeking to prevent editors from publishing" stories that are in the public interest, and was merely alerting journalists "to the risk of breaching the Official Secrets Act".
In a later statement, Mr Basu said: "The media hold an important role in scrutinising the actions of the state.
"We are however a body charged with enforcing the law, and we have received legal advice that has caused us to start a criminal enquiry into the leak of these specific documents as a potential breach of the Official Secrets Act (OSA).
"However we have also been told the publication of these specific documents, now knowing they may be a breach of the OSA, could also constitute a criminal offence and one that carries no public interest defence.
"We know these documents and potentially others remain in circulation.
"We have a duty to prevent as well as detect crime and the previous statement was intended to alert to the risk of breaching the OSA."
The Counter Terrorism Command is responsible for investigating breaches of the Official Secrets Act.