Andrew Miller jailed for 20 years for 'devious depravity' after child abduction and sexual assault
18 October 2023, 17:28 | Updated: 18 October 2023, 17:35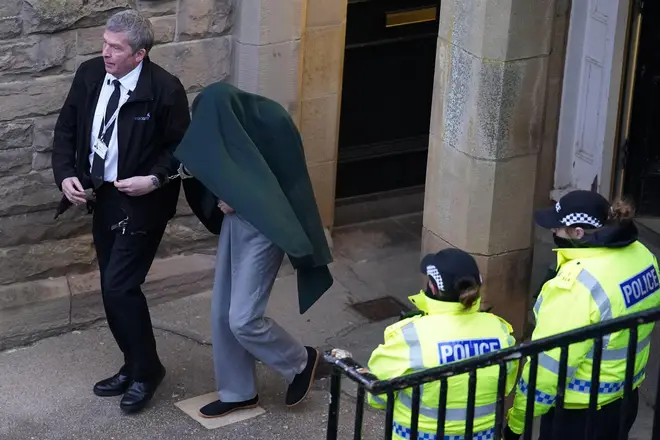 A butcher who abducted a young girl while he was dressed as a woman before sexually assaulting her repeatedly, has been jailed for 20 years for his "devious depravity" and "brazen and chilling" crimes.
Andrew Miller, 53, who also uses the name Amy George, lured the primary school-aged child into his car after offering to give her a lift home while she waited for a bus, in the Scottish Borders in February this year.
Instead he took the girl back to his house and subjected her to repeated attacks, over a 27 hour period, a crime described the judge as "every parent's worst nightmare."
At the High Court in Edinburgh in May, he pleaded guilty to charges of abduction, sexual assault, watching pornography in the presence of the child under the age of 13 and possessing 242 indecent images of children.
Sentencing Miller, Judge Lord Arthurson described Miller's offences as "abhorrent crimes" of the utmost "deviance and depravity."
He said: "The narrative was frankly nauseating in terms of its depravity and criminal sexual deviancy.
The child was locked in Miller's home during which time she was repeatedly touched, and also forced to watch pornography. She dialled 999 while Miller, who was wearing women's underwear, was asleep.
The girl found the landline phone and called police, saying she had been touched inappropriately, the court heard.
Lord Arthurson also told Miller his "primary focus" throughout was himself and, while he showed an understanding of the impact his crimes had on the wider public, it was "limited" in terms of the victim.
During interviews with a risk assessor, Miller "even attempted to place responsibility on (his victim)", the judge said.
Lord Arthurson added: "You told the assessor you went into business mode, 'trying to think of a plan'."
When he was interviewed by police after his arrest, Miller alluded to the victim being "sexually active", the judge said and went on to described Miller's crimes as "brazen and chilling" and "uniquely appalling".
"On your arrest you denied the abduction and preposterously said you had acted in a motherly way."
Bur he added: "Abduction of young children for the purposes of sexual torment is a mercifully rare crime in this jurisdiction."
Miller, who had run a butcher's shop, claimed he offered the girl a lift "because she was freezing", and that forcing her to sleep in the bed with him "was a motherly thing".
After his arrest, three laptops were seized from his property and a total of 242 indecent images of children were found.
Miller was sentenced to a 28-year extended sentence, with 20 years to be spent behind bars and a further eight spent on licence under supervision in the community. He was also placed on the sex offenders register.
The court was told Miller is transitioning his gender, but he has been held in the male prison estate following a row over the jailing of transgender rapist Isla Bryson who was initially sent to a female prison in February.
But his case has reignited a row over the Scottish Government's Gender Recognition Reform Bill, which has been blocked by the UK government, a move currently being challenged in the courts.
Scottish Conservative MSP Rachael Hamilton has written to First Minister Humza Yousaf about the "serious flaws" in the legislation, which she said "would potentially allow sexual criminals like Miller to access women's spaces and services."
She told LBC: "This tragic case is every parent's worst nightmare and my thoughts are with the young girl and the family at the centre of it.
"The example of Andrew Miller raises similar questions as the Isla Bryson case. Humza Yousaf must first confirm this vile criminal will never be allowed into a women's prison.
"He must also explain why the SNP's GRR Bill would let dangerous men like Andrew Miller access women's spaces and services after they have been released from prison.
"This horrible man should never be allowed to access women's spaces or services. He is a risk to women's safety."
And Susan Smith of campaign group For Women Scotland who also opposed the Bill, added: "The Miller case highlights the dangerous absurdities of those pushing for self-ID, who claim like the Deputy First Minister, Shona Robison, that dangerous and predatory men do not need to pretend to be something they are not.
"As children are told to look to a woman in times of need, they are being put at risk by our government and our schools. Regardless of how a man dresses or identifies he retains the same risk level of offending.
"As to where Miller will be housed, there is nothing in the Scottish Prison Service guidelines to prevent him requesting a transfer to the women's estate, and even if he remains in the male estate, we know other trans identified prisoners have used their adopted identity to demand that intimate searches are carried out by female staff in violation of their rights."
After being sentenced, Miller was led down from the dock with his head bowed.
Defending Miller, Victoria Dow told the court he had gone through "significant periods" of his life without harming anyone.
She said he managed to keep his "impulses" under control by holding down a job and managing a successful business, but he had problems with low self-esteem.
His issues were triggered by the closure of his businesses, leading to increasing alcohol consumption and pornography usage.
Ms Dow said: "He (Miller) recognises and feels the horror of his conduct. He feels a deep sense of shame, but not only for himself, but those in his life who will feel the impact."
Detective Chief Inspector Bryan Burns said: "Our thoughts today are with the victim and her family who have shown incredible courage and strength throughout this ordeal.
"This was a significant investigation and I would like to thank all those involved for their professionalism and commitment during what was an extremely challenging inquiry.
"Andrew Miller has pled guilty to serious offending and will now face the consequences of his actions."