'Anti-tier 3 lockdown' activist climbs scaffolding near Big Ben sparking police response
22 October 2020, 09:10 | Updated: 22 October 2020, 11:18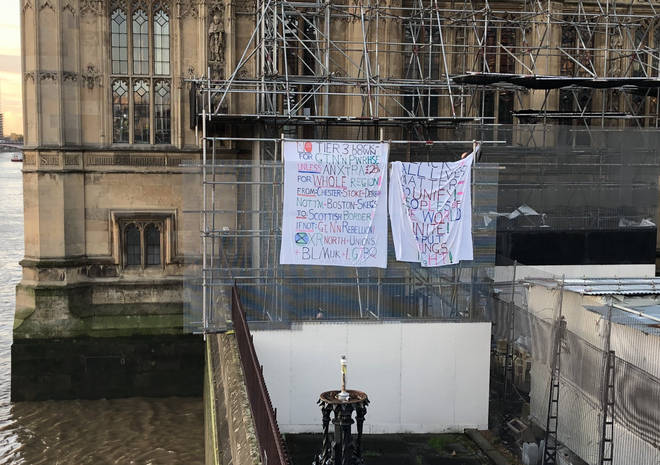 A protester scaled scaffolding near Big Ben this morning, and unfurled banners including one objecting to Tier 3 coronavirus rules.
The man also included the names of activist groups Extinction Rebellion and Black Lives Matter on his banners.
The incident, at around 8am today, sparked a police response.
Scotland Yard said in a statement: "At around 7.50am a man climbed up scaffolding surrounding the Elizabeth Tower.
"Officers are on scene and dealing."
A Parliament spokesperson said: "We are aware of a trespasser on the Parliamentary Estate which is being dealt with by the Metropolitan Police and the Parliamentary Security Department. 
"Parliament takes security extremely seriously. A review is underway, the outcomes of which will not be disclosed for security reasons."
One of the banners reads: "No Tier 3 lock-down for Gt N'n Pwrhse unless an xtra £2bn for whole region from Chester, Stoke, Derby, Nott'm, Boston, Skeg's to Scottish border. If not: Gt N'n rebellion. XR North + unions + BLM UK + LGBTBQ + many more."
A second banner reads: "Black and all live matter so unify peoples of the world, unite and put things right."
Lita Zalite posted a picture of the banners online, writing: "How to speak up when it matters #BigBen #lockdownUK."