War in Ukraine 'will still be going in a year's time but Putin has already failed', says defence secretary Ben Wallace
23 February 2023, 07:01 | Updated: 23 February 2023, 13:24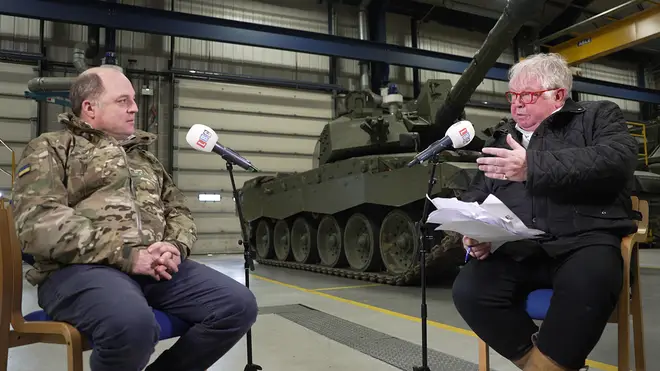 The war in Ukraine will be going on for at least another year, but Vladimir Putin has already failed, defence secretary Ben Wallace has told LBC on the eve of the first anniversary of Russia's invasion.
Asked by LBC's Nick Ferrari if "we are going to be sitting here discussing this war in another 12 months," Mr Wallace said: "I think we will.
"I think Russia has shown a complete disregard, not only for the lives of the people of Ukraine, but for its own soldiers. You know, we are sitting here 12 months in and 188,000... Russian soldiers are dead or injured as a result of this catastrophic miscalculation and aggression by President Putin.
"And you know, when someone's crossed the line that they think it's okay to do that to your own people and is running effectively a meat grinder for an army, I think he's not going to stop."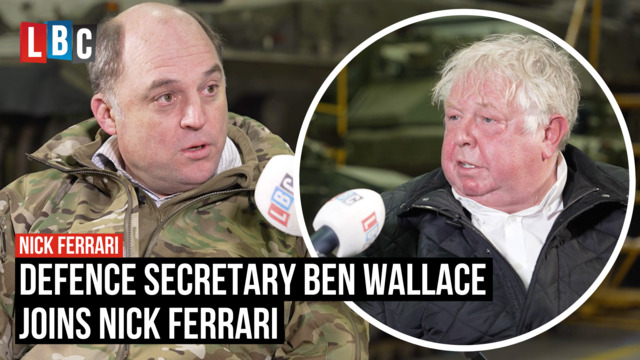 Nick Ferrari exclusively interviews Defence Secretary Ben Wallace
But Mr Wallace said that Russian president Putin had already failed in his aim of fully occupying Ukraine, with 97% of his army committed and two thirds of his tanks destroyed.
"I think we see signs of when the Russian army can't manage to do anything else or do very much more," he said. "So I think his original ambition last February 24 was to capture eight main objectives, all the big cities in three weeks, and he would have Kyiv in three days, and it would all be over."
Mr Wallace added: "His three-day offensive is turned into his 365-day offensive and he has still not captured or held single one of objectives.
"The only objective he did capture was Kherson, which he then had to leave a few months ago. So I think the goal of a occupied, invaded, fully controlled Ukraine of Russia has failed already. I think he's failed in the long run.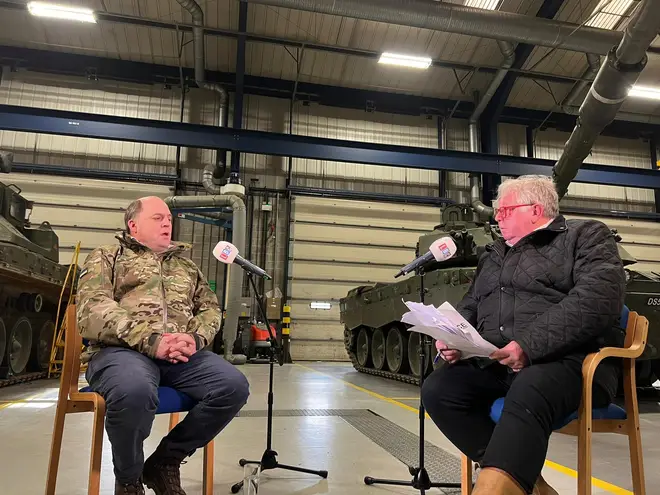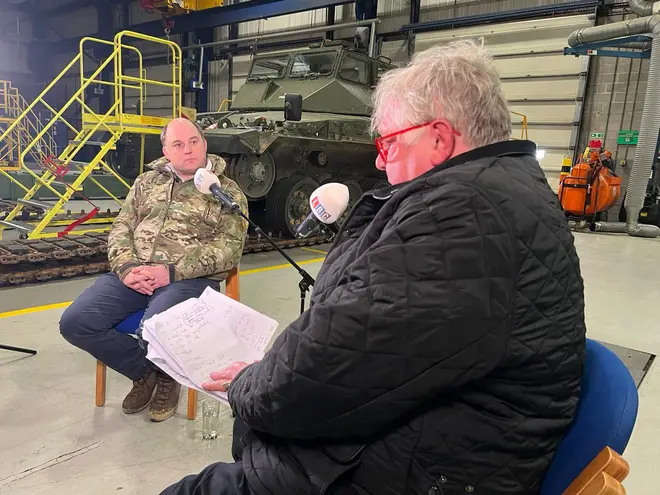 "The reputation of the Russian army is in tatters, and he's isolated in the world. Even the Chinese [treat him] like the embarrassing uncle. They don't really want to speak to him."
Mr Wallace was speaking to Nick at a British army training camp in Dorset, where Ukrainian soldiers - the oldest of whom was 72 - have been learning how to use British Challenger tanks.
The UK, the US and Germany have all committed to send modern tanks to Ukraine to beat back the Russian forces. Ukrainian leaders have also asked for more advanced aircraft to help win the battle of the skies.
Asked by Nick if NATO members would send equipment to Ukraine, Mr Wallace said: "We're going to see countries who are members of NATO potentially put in Air Force equipment or, or MiG 29s [aircraft]."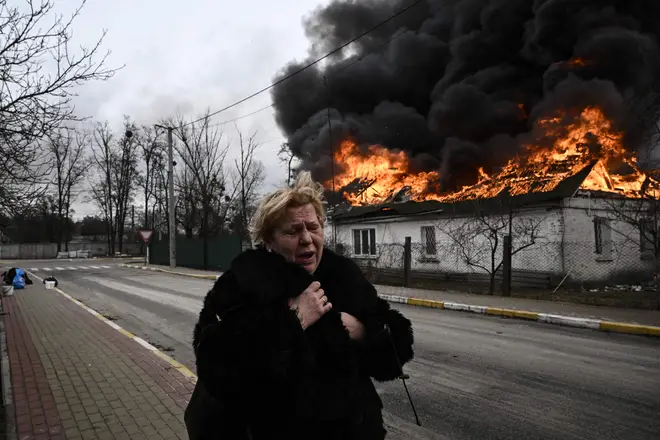 Although he was keen to stress that NATO was not officially taking part in the war, Mr Wallace said that the show of support from NATO countries and allies had been "remarkable".
He added: "I think two days after the invasion, I chaired a donor conference, I had 24 nations. I had one the following week, it was 32, and then the Americans took over and it got to over 50."
Asked by Nick how much military support the UK would continue to send to Ukraine, Mr Wallace said: "We budgeted last year at 2.3 billion, and next year's will also be 2.3 billion. Some of the equipment we've given is fairly old, so its book price wouldn't be particularly valuable."
The defence secretary admitted that some of the equipment the UK has sent to Ukraine is more than 30 years old, adding that this was "a symptom" of the wider budget problems of the British army.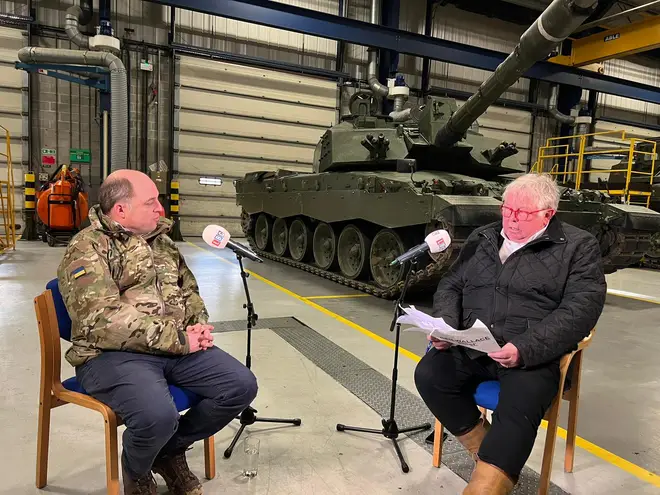 He added that one of the challenges that Ukraine has exposed across the West is the "drop and drop" of defence spending as a proportion of GDP after the end of the Cold War.
"That manifests itself in less war stocks, less consistency of reordering," said Mr Wallace, adding that other armies in the West had suffered similar issues. "And so those supply chains go to sleep as well as their manufacturing plants."
He said that the supply chains had been "reawakened" by renewed demand after the Ukraine invasion, meaning production could ramp up again.
But although the UK has supplied 14 Challenger tanks to Ukraine, it has been reported that the army is in a dispute with a military supplier about not paying more than £1 billion for its own Ajax tanks.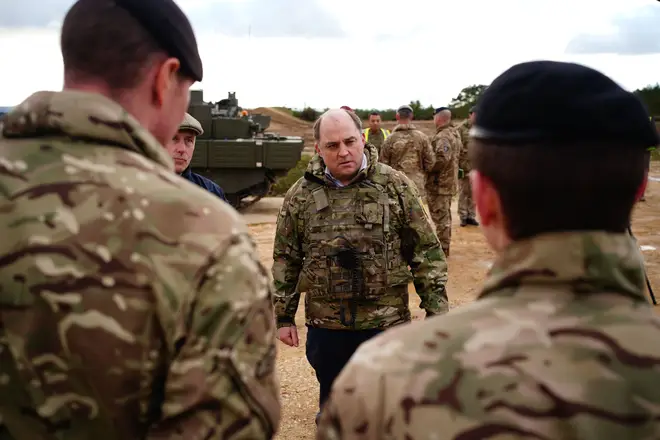 Mr Wallace told Nick that the non-payment was because the Ajax programme "wasn't delivering". The Times reported that the excessively noisy vehicles had damaged the hearing of some soldiers.
"This is a troubled program," the defence secretary said. "I called it that when I became Secretary of State for defence and I was determined to fix it... We've turned a corner on that program, but we weren't prepared to pay more money into that program while it wasn't right.
"And I think the taxpayer and your listeners would think that's a good idea."
The tanks are still in the trials stage, although supplier General Dynamics claims the noise problems have been fixed, and wants £1.4 billion in payments from the government.
It comes after spending cuts to the British armed forces reportedly caused alarm in France and in other NATO member states.
Asked by Nick if listeners can feel safe in their beds amid tightening budgets, Mr Wallace said: "We belong to a alliance of 30 nations that absolutely over matches Russia, Russia in air, sea, and land.
"And so you can go to sleep tonight knowing that if anyone attacked us or Belgium or Italy, well, the Russians came across the border into Poland. We've got 29 friends, right? And that matters."
Mr Wallace added that before 2020 he would have felt worried about the state of the "hollowed-out" British armed forces.
"But we got 24 billion in 2020, and we are starting to spend it, he said. "The challenge is you cannot press a button and produce a tank factory... that takes time."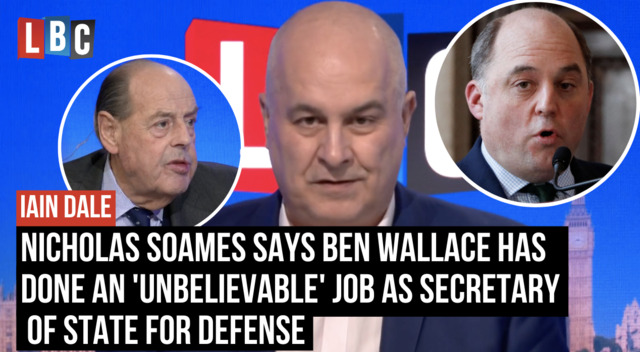 Nicholas Soames says Ben Wallace has done an 'unbelievable' job as Secretary of State for defense
Mr Wallace has reportedly asked Chancellor Jeremy Hunt for £10 billion extra for defence spending. But veterans minister Johnny Mercer told LBC on Wednesday that Mr Wallace was "engaged in a lobbying effort for his department, as you would expect him to be."
He added: "This Chancellor only 18 months ago gave the biggest defence settlement to defence since the end of the Cold War… it's then not credible to go forward and say that we haven't put money into defence".
Mr Wallace hit back, telling Nick that while he leads a ministry of over 220,000 people, Mr Mercer has 12 people in his office and so does not have the "experience" to understand the scale of the problem.
As a veteran, Prince Harry was among those 220,000 people when he was an army helicopter pilot. Asked by Nick to comment on the prince's claims that he had killed 25 Taliban fighters in Afghanistan, Mr Wallace said "talking about tallies... distorts the fact that the army is a team game", although he added that "every veteran makes their own choices about what they want to talk about".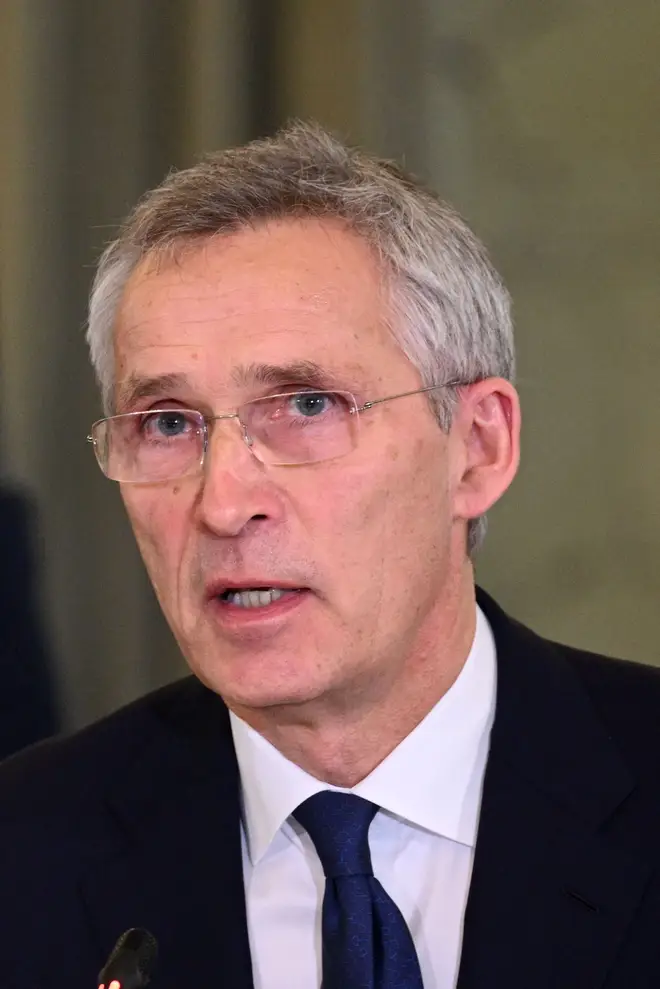 Meanwhile it has been rumoured in security and defence circles that Mr Wallace could be up for the top NATO job when secretary general Jens Stoltenberg steps down in October.
But Mr Wallace would not be drawn, telling Nick that he was still "really interested" in being defence secretary, a position he has held since 2019.
Read more: Putin accuses the West of releasing 'genie from the bottle' and starting war in Ukraine
Read more: Government has 'hollowed out and underfunded' the British army, defence secretary Ben Wallace admits
"[NATO secretary general] is a job that of course would be brilliant for someone from Britain to do," he said. "But I'm also really interested in my defence job. I love sitting here amongst the tanks.. You know, 30 odd years ago I was here changing those tracks, doing my driver maintenance course.
"You know, to, to spend time with some of the finest people in our country, I think is really a privilege. So I love doing this job, I think is the answer."