Bill Cosby leaves prison after sexual assault conviction overturned by court
30 June 2021, 19:16 | Updated: 1 July 2021, 00:35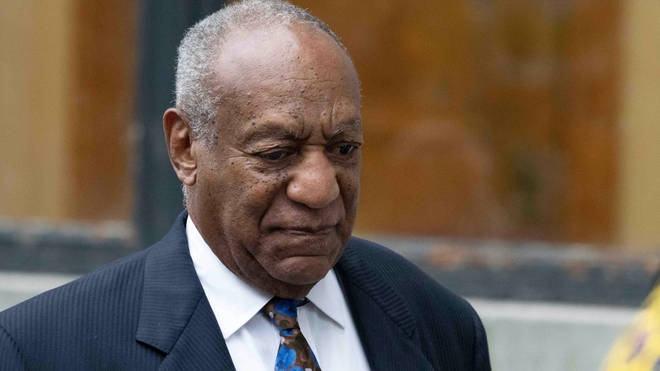 US comedian Bill Cosby has left prison after his sexual assault conviction was overturned by Pennsylvania's highest court.
The 83-year-old had served more than two years of a three to ten-year sentence at a state prison.
Cosby, best known for 1980s TV series The Cosby Show and once known as "America's Dad", was convicted in 2018 of drugging and molesting ex-basketball player Andrea Constand at his home in 2004.
He was charged in 2015 when a prosecutor armed with new evidence arrested him days before the 12-year statute of limitations expired.
However, on Wednesday Pennsylvania's Supreme Court said an agreement with a previous prosecutor prevented Cosby from being charged in the case.
Because of this, a "process violation" had taken place.
Cosby's subsequent arrest was "an affront to fundamental fairness, particularly when it results in a criminal prosecution that was forgone for more than a decade", the court said.
"Cosby's convictions and judgment of sentence are vacated, and he is discharged," the 79-page ruling added.
He was released from SCI Phoenix near Philadelphia within hours of the ruling.
A message has since been posted on his official Twitter account, thanking fans who stood by him "through this ordeal".
It said: "I have never changed my stance nor my story. I have always maintained my innocence. Thank you to all my fans, supporters and friends who stood by me through this ordeal.
"Special thanks to the Pennsylvania Supreme Court for upholding the rule of law."
Gloria Allred, the celebrity lawyer who represented many of Cosby's accusers, warned the comedian is "not home free" despite being released from prison.
The women's rights activist said during a virtual press conference the conviction being overturned on technical grounds "did not vindicate (his) conduct and should not be interpreted as a statement or a finding that he did not engage in the acts of which he has been accused".
She added she would now pursue a civil complaint against the star.