Blanket asylum ban for anyone who enters UK illegally under Home Sec's new plans to tackle Channel crossings
4 October 2022, 06:28 | Updated: 4 October 2022, 15:25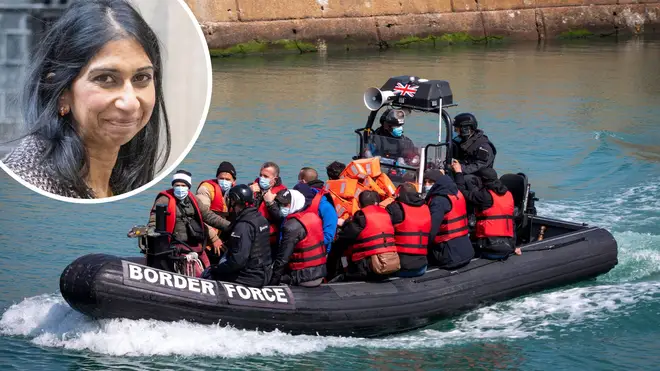 Migrants who cross the Channel in small boats will be banned from claiming asylum under tough new plans.
Home secretary Suella Braverman wants a blanket ban on people who enter the UK illegally from being able to ask for asylum, and is considering new laws making it easier to deport them.
She will unveil her plans to the Tory conference in Birmingham after a bruising start for the Government, which saw MPs queuing up to attack Liz Truss's economic policy before Chancellor Kwasi Kwarteng humiliatingly U-turned on abolishing the top rate of income tax.
Ms Braverman will pledge to permit "immigration that grows our economy" but "end abuse of the rules" after more than 33,000 people crossed the Channel in small boats so far in 2022.
That has already exceeded 2021's total of 28,526 and the Home Office's reasonable worst case scenario for how many people make the journey in total this year is 60,000 people.
People believed to be migrants rescued off the coast of Dungeness
Ms Braverman's new law would be tougher than Priti Patel's legislation that was introduced earlier this year, stopping people who travel through a "safe" country from making claims, with some exceptions.
She will tell the conference: "It's right that we extend the hand of friendship to those in genuine need.
"This country has always done so. It did so for my father in the 1960s as a young man from Kenya. We have now welcomed hundreds of thousands of people fleeing Syria, Hong Kong, Afghanistan and Ukraine.
"At the same time we should use our newfound control to deliver the kind of immigration that grows our economy, for example that helps projects that have stalled or builds relationships with our friends and allies.
Read more: Truss faces fresh battle to stop Tory rebels blocking plans to squeeze benefits and cut public spending
"Parts of the system aren't delivering. We need to end abuse of the rules and cut down on those numbers that aren't meeting the needs of our economy."
The Government's attempt to send asylum seekers is being challenged in the courts, so Ms Braverman will set out a plan to stop migration policy getting halted by modern slavery laws, the Human Rights Act and the European Court of Human rights.
She also wants to increase the number of French interceptions of migrants, provide more support from Britain and prosecute illegal arrivals.