Boris Johnson faces down Tory rebellion as he wins vote on social care tax increase
8 September 2021, 19:29 | Updated: 8 September 2021, 20:20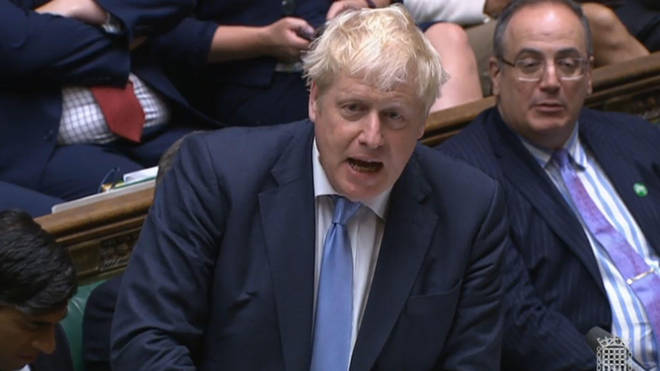 Boris Johnson has faced down a Tory rebellion, winning a vote on the 1.25 per cent increase in National Insurance for social care.
They won the vote for the levy 319 to 248 in the House of Commons, with a majority of 71.
However, a number of Conservatives chose to abstain while others made clear they were only voting with the greatest reluctance.
Some 37 chose not to vote altogether, while only five rebelled and voted against the increase.
It comes after multiple Tory MPs previously expressed their concerns at the plans, as the party had abandoned a manifesto promise not to raise taxes and also taken the tax burden to record peacetime levels.
There was also a divide over the scheme to place a lifetime cap of £86,000 on social care costs in England, with some believing it would primarily benefit elderly households in the more affluent parts of the South at the expense of working families elsewhere.
Read more: Johnson and Starmer clash over controversial tax hike in rowdy first PMQs of the season
Read more: 'Read my lips': Labour mocks Boris Johnson with LBC video of him promising no tax rise
Mr Johnson spent almost an hour addressing a private meeting of Tories ahead of the vote, telling the backbench 1922 Committee that the Conservatives remained the party of free enterprise, the private sector and "low taxation".
"We should never forget that," he said.
At the same time, he said that he could not think of a "better use" for public money than spending on the NHS.
The tax rise was announced in parliament on Tuesday, with 36 billion pounds expected to be raised over the next three years as a result.
It will help fund social care reforms as well as helping the NHS manage its backlog due to Covid.
Read more: Boris Johnson refuses to rule out more tax hikes after National Insurance rise
Leader of the Northern Research Group of Tory MPs, Jake Berry, warned that by listing the levy on payslips as a health and social care charge, it would "never go down, it can only go up".
"No party is ever going to stand at an election and say I've got a good idea, vote for me, I'll cut the NHS tax," he said.
"It is fundamentally un-Conservative and in the long term it will massively damage the prospects of our party because we will never outbid the Labour Party in the arms race of an NHS tax."
In a contradictory move, Health Secretary Sajid Javid earlier said that the decision was actually a "very Conservative thing to do".
"We can all see the huge pressure the global pandemic put on the NHS and indeed the rise on those waiting lists. I'm not willing to tolerate that," he told LBC.
"If we believe in an NHS that's paid out of general taxation, this is a very Conservative move."