Tory Leadership Result: Boris Johnson Named Britain's Next Prime Minister
23 July 2019, 12:08 | Updated: 23 July 2019, 12:57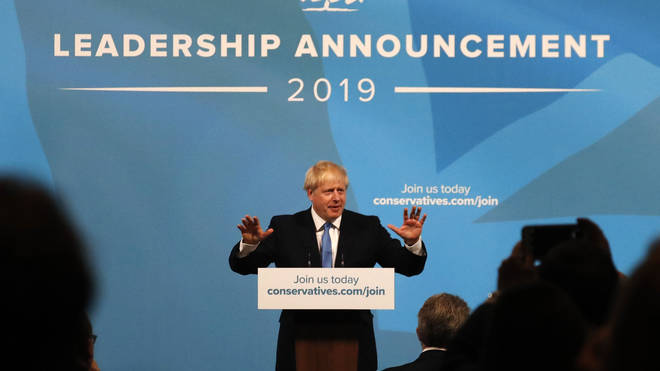 Boris Johnson has beaten Jeremy Hunt in the Conservative leadership contest, becoming the UK's next Prime Minister.
The former Mayor of London beat rival Jeremy Hunt following a ballot of Conservative party members.
Mr Johnson won the contest, which had 87.4% turnout, with 92,153 votes.
Mr Hunt won 46,656 votes, and there were just 509 spoiled ballots.
In his victory speech, Mr Johnson said it was an "extraordinary privilege" to be elected party leader, adding he has to reconcile the "deep desire for friendship and trade" with the EU and the desire for "self-government".
The next Prime Minister finished his victory speech: "The campaign is over, but the work begins".
Mr Hunt said Boris Johnson will be a "great Prime Minister for our country at this critical time".
The EU's chief Brexit negotiator Michel Barnier said he looks forward to "working constructively" with the newly elected Prime Minister to "facilitate the ratification of the Withdrawal Agreement" in order to have an "orderly Brexit".
"We are ready also to rework the agreed Declaration on a new partnership," he added.
US President Donald Trump tweeted his congratulations to Mr Johnson, saying "he will be great".
Meanwhile Labour leader Jeremy Corbyn said "the people of our country should decide who becomes the Prime Minister in a general election".
We look forward to working constructively w/ PM @BorisJohnson when he takes office, to facilitate the ratification of the Withdrawal Agreement and achieve an orderly #Brexit. We are ready also to rework the agreed Declaration on a new partnership in line with #EUCO guidelines.

— Michel Barnier (@MichelBarnier) July 23, 2019
Ahead of the announcement, Theresa May held her final cabinet meeting, before Mr Johnson formally takes over tomorrow afternoon.
Mrs May will also face her final Prime Minister's Questions, before returning to Downing Street for lunch and then travelling to Buckingham Palace to inform the Queen of her successor.
Mr Johnson then travel to see Her Majesty and then head to Downing Street to give his first speech as Prime Minister.
On Wednesday evening, the new PM will start naming his Cabinet, including the new Chancellor, Home Secretary and Foreign Secretary.
A number of resignations are expected to follow the announcement, with Cabinet ministers such as David Gauke and Rory Stewart saying they would refuse to work under Mr Johnson.
Yesterday, Foreign Office Minister Alan Duncan became the first senior Conservative to quit ahead of the new leader being installed.
Boris Johnson was overwhelming favourite to be the next Prime Minister with Ladbrokes having the former Foreign Secretary as 1/50 to win the Conservative leadership election, and the current Foreign Secretary Jeremy Hunt at 16/1.
Listen to LBC for all the latest news and reaction from Boris Johnson's election as Conservative leader.