'Holy c*** - we've got no plan, what will we do?': Shocked Boris's reaction to Brexit vote revealed
24 April 2023, 19:24
A shocked Boris Johnson declared "we've got no plan" and "holy crap, what will we do?" when he realised Vote Leave had won the 2016 Brexit referendum, according to a new book.
The former prime minister was a key figurehead in the campaign, spearheading its cause with his energy and rip-roaring speeches.
But there have long been questions over how much his heart was in the campaign – not least after he admitted he had prepared pro-leave and pro-remain articles before he joined the push for leave.
Now, a new book by writer Anthony Seldon and Raymond Newell outlines Mr Johnson was shocked as the results trickled in.
The book, Johnson at 10, says Mr Johnson watched coverage of the referendum vote results on TV all night at his home in Islington.
After disappearing to bed for just 20 minutes, he re-emerged in a Brazil football shirt and shorts looking distraught.
He repeatedly said: "What the hell is happening?"
He appeared devastated when David Cameron and his wife Samantha emerged from Downing Street, bringing an end to Mr Cameron's time as PM.
Read more: Frustrated caller brands Boris Johnson a 'liar' after Brexit forced the closure his business
"Oh my God. Look at Sam. God. Poor Sam," Mr Johnson said.
Then shortly after, he said: "Oh s***, we've got no plan. We haven't thought about it. I didn't think it would happen. Holy crap, what will we do?"
The book says that his friends never saw him more frightened than at this point.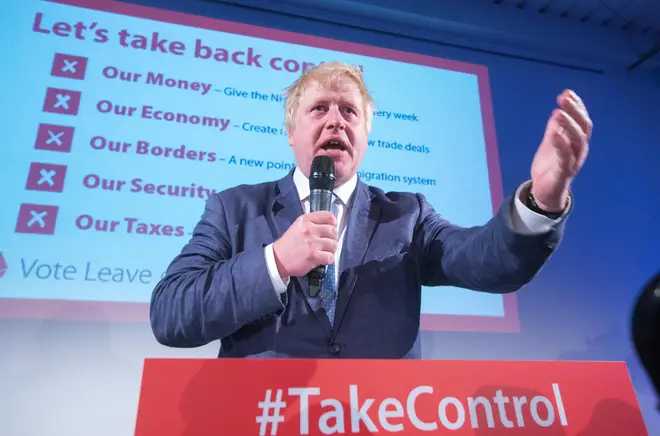 His fear was reinforced when crowds banged on his car as he made his way through London.
Later, when Michael Gove turned on him and declared his own candidacy to replace Mr Cameron as Tory leader and PM, he was left more distrustful of friends and even family.
Read more: Keir Starmer slams Diane Abbott as he condemns 'anti-Semitic' letter amid calls to expel MP from Labour party
Mr Johnson ultimately pulled out of the race.
Mr Johnson has returned to the backbenches after three dramatic years at No10, which saw him take Britain out of the EU, respond to the coronavirus pandemic and then become embroiled in a series of scandals, most notably Partygate.
He did re-emerge prominently in opposition to Rishi Sunak's Windsor Framework, a tweaking of Brexit rules governing Northern Ireland's relationship with Great Britain and the EU, but there was never any serious opposition mounted against it.