British troops deploy to Poland's border as migrant confrontation with Russia worsens
12 November 2021, 14:51 | Updated: 12 November 2021, 19:06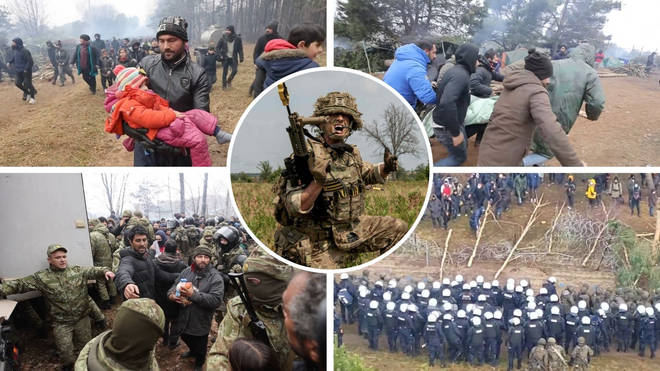 British troops have deployed to Poland to "address the ongoing situation at the Belarus border".
The Ministry of Defence (MoD) said a unit had been dispatched as tensions at the two nations' frontier soared, with Minsk accused of trafficking thousands of Middle Eastern migrants to the edge of the EU.
Russian leader Vladimir Putin, a staunch supporter of the authoritarian regime in Belarus who holds sway over the government there, has dispatched paratroopers to the country.
Minsk has been accused of encouraging the migrants to go to the EU's border in retaliation for sanctions.
The MoD said: "The UK and Poland have a long history of friendship and are Nato allies.
"A small team of UK armed forces personnel have deployed following an agreement with the Polish government to explore how we can provide engineering support to address the ongoing situation at the Belarus border."
Read more: Russia sends nuclear bombers to Belarus as thousands of migrants mass at EU border
It is understood the deployment is limited to that engineering support.
The news comes as Russia dispatched paratroopers to Belarus, demonstrating Moscow's support for the Eastern European state.
Russia's defence ministry said it formed part of a military exercise designed to test both countries' rapid response forces.
It said this was in response to an "increase of military activities near the Belarusian border", apparently a reference to Poland's decision to send about 15,000 troops to its frontier, with about 3-4,000 migrants thought to have amassed in camps there during the freezing weather.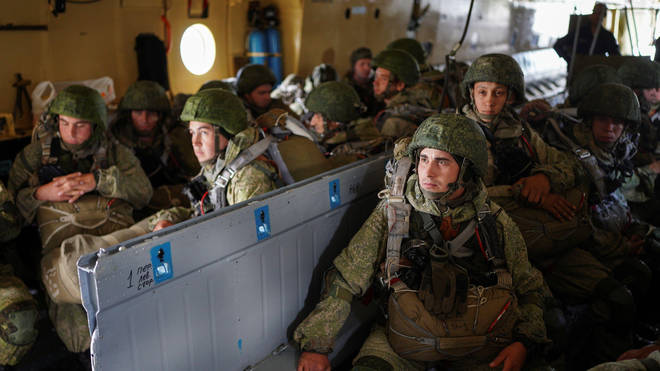 It is thought the migrants intend to travel through Poland to reach Western European nations.
Russia's drill, which it said involved targeting enemy scouts and armed formations, and included helicopter gunships, came after it dispatched nuclear-capable bombers to Belarus.
The European Union considers Belarus to be engaging in a "hybrid attack" against it, by encouraging migrants – a topic that has become a crucial issue for the bloc - to head to Poland's border, which is also the edge of the EU.
Minsk denies trafficking migrants in retaliation for sanctions, which were imposed after the disputed re-election of Alexander Lukashenko, the president of Belarus, and the subsequent bloody clampdown on dissidents.
The tensions also come at the same time it was reported US Government officials had briefed EU counterparts that there is potential for Russian troops to launch an invasion of Ukraine.
Moscow has built up troops at the border, and accused Nato of provocations, while the US said its commitment to Kiev's security is "ironclad", the Daily Telegraph said.
Ukraine has been engaged in a civil war with Russia-backed rebels in the east of the country for years, and also lost control of Crimea to a Russian invasion in 2014.