'No decisions have been made on public sector pay', Rishi Sunak insists, as Cabinet split grows
8 July 2023, 08:47 | Updated: 8 July 2023, 16:54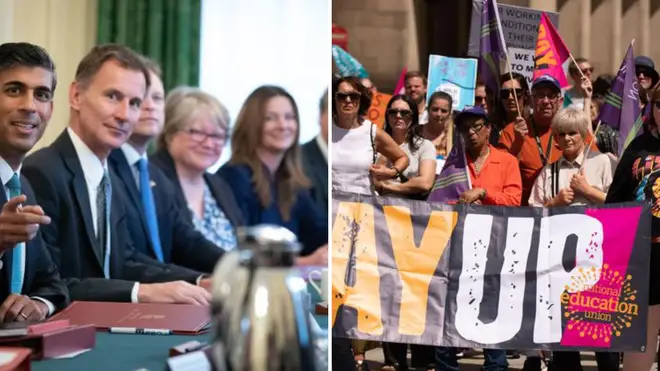 Rishi Sunak has insisted that no decision has been made yet over possible pay rises for public sector workers, amid a split in his Cabinet over the issue.
Five ministers are pushing for the prime minister and his chancellor to follow the recommendations of independent review bodies and award pay rises of up to 6% or more for millions of workers, including teachers and junior doctors.
Home Secretary Suella Braverman, Health Secretary Steve Barclay, Education Secretary Gillian Keegan, Defence Secretary Ben Wallace and Justice Secretary Alex Chalk are all backing the proposals, the Times reported.
But Mr Sunak and Mr Hunt have long resisted giving out hefty salary increases to the striking workers because of concerns about inflation, which remains stubbornly high.
Mr Sunak said on Saturday that it would be "short-sighted to something that might sound great today but ultimately just make the inflation problem worse for everybody in the long run.
He added: "So that's what we'll be guided by, we want to be fair, we want things that are affordable and responsible."
Mr Sunak said we are "working incredibly hard, night and day, to bring inflation down", but warned it requires "difficult decisions".
"Ultimately if we don't do that it will just make the situation worse and it will last for longer, that's not going to do anyone any good," he said.
"I wouldn't be the right kind of Prime Minister if I took the easy course. I'm going to do the right long-term thing for the country and that means bringing inflation down."
Mr Sunak and Mr Hunt have insisted that no pay rises can come from new taxes or extra borrowing - so the money will have to come from existing departmental budgets.
That means less money for other things, and the ministers pushing the pay rises want the salary increases to be funded by extra government spending.
Read more: Teachers on strike for second day this week, with many schools closed fully or partially on Friday
Read more: Archbishop of Canterbury leads attack against Sunak's migrant bill as govt suffers more defeats in House of Lords
Caller condemns junior doctors' strikes
The independent bodies have recommended that teachers should receive a 6.5% pay rise for 2023-24.
Police officers, prison officers and junior doctors should all get 6% or more. The recommendation for armed forces staff is between 5% and 6%.
The government does not have to accept the independent bodies' pay recommendations, and has rejected them four times before. But an argument that ministers often deployed for giving below-inflation pay rises last year was that they were following the pay recommendations.
The head of the NEU, a teachers' union - whose members have walked out twice this week amid a pay dispute that has rumbled on since February - said that a 6.5% pay rise would end the strikes.
Tom Swarbrick on how a pay deal for teachers may be funded
But Dr Mary Bousted warned that the money would have to come from the government, not through an extra squeeze on schools.
Junior doctors have demanded a 35% pay rise - much higher than the 6% that could be on offer. The BMA, the doctors' union, has said that this is a starting point for negotiations, but it is unclear if members would accept 6% even if it were offered.
Ms Braverman, Mr Wallace and Mr Chalk are pushing for Mr Sunak and Mr Hunt to accept the recommendations of the pay review bodies because many workers attached to their departments cannot legally strike.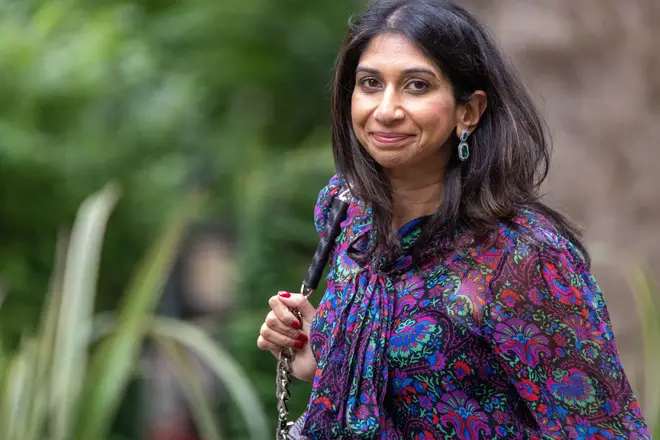 A government source said: "There has always been a tacit agreement that because they cannot strike we accept the recommendations of the pay review bodies."
Mr Sunak has promised to halve inflation by the end of the year. But inflations stayed stubbornly high at 8.7% last month despite expectations that it would come down.
Core inflation, which doesn't take into account food and energy prices rose to 7.1% - the highest level in 31 years.
The government has yet to publish the details of the pay recommendations.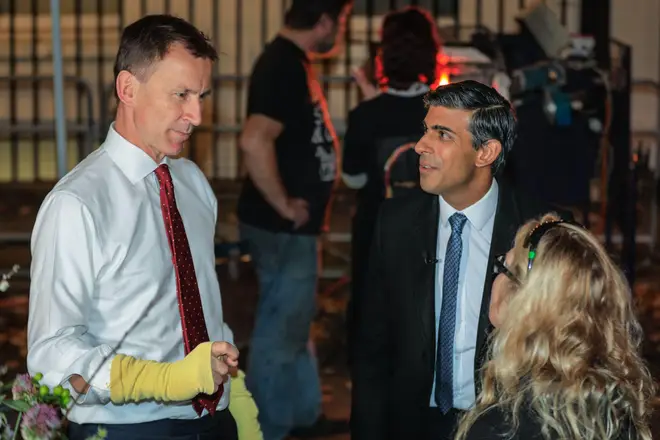 Asked by LBC's Nick Ferrari on Friday when the report would be published, department for education junior minister Robert Halfon said he couldn't give a date.
He said: "The principle is that we've got to be as fair as possible to teachers and support staff. I thank them for the incredible work that they do for our schools and colleges.
"But we also have to be fair to the taxpayer," he added.