Cenotaph to have round-the-clock police guard as part of 2,000-strong Armistice Day 'ring of steel'
10 November 2023, 14:53 | Updated: 10 November 2023, 17:37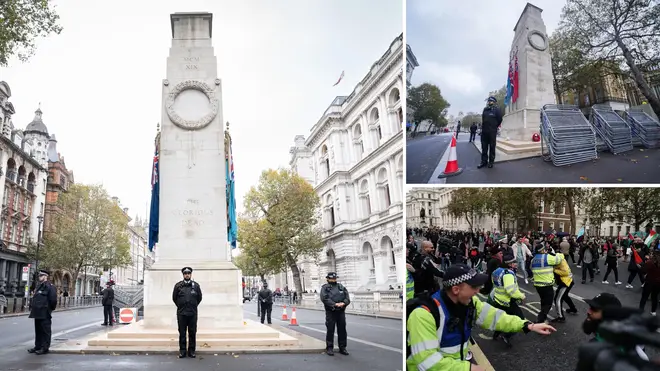 Police will guard the Cenotaph round the clock as part of a 'ring of steel' to ensure a pro-Palestine demo in London will not interfere with Armistice Day commemorations.
Scotland Yard said this afternoon that an exclusion zone will be put in place covering Whitehall, Horse Guards Parade, the Westminster Abbey Field of Remembrance and other relevant areas, in effect banning those on the march from these locations.
Anyone in these areas believed to be part of the pro-Palestinian demonstration can be arrested.
Police also said that the Cenotaph will be under 24-hour guard for the whole weekend. They also confirmed that throughout Saturday and Sunday almost 2,000 officers from the Met and other UK forces will be on duty across central London.
Officers said they thought that Saturday's march would be the largest so far.
Scotland Yard is also planning a clamp down on convoys of Palestine supporters driving through London's Jewish communities.
Specialist traffic officers will be deployed in cars and on motorcycles and public order officers deployed to keep communities safe and to ensure any cars travelling towards the protest do not commit offences.
The November 11 march, on which protesters will again call for a ceasefire in Gaza, has been controversial because it coincides with the day of solemn remembrance for Britain's war dead.
Police chief Sir Mark Rowley, however, said that he will not formally ask the Home Secretary to ban the protest - despite facing mounting political pressure to do so.
He said that the force does not believe the legal threshold to ban the protest has been met.
The Met has now reportedly drafted in more than 1,000 officers from forces across England and Wales to assist in policing the weekend's events.
Police chiefs have reportedly cancelled leave and extended overtime in a bid to ensure officers have enough reinforcement, according to the MailOnline.
It comes after Mr Sunak labelled plans for an Armistice Day protest as "provocative and disrespectful" and said there was a "clear and present risk that the Cenotaph and other war memorials could be desecrated".
Police said it's likely that they would have to use force on Saturday.
Deputy Assistant Commissioner Laurence Taylor, who will be running the police's response on the day, said: "There will be times this weekend where you see pockets of confrontation, you will see police intervention and I hope we don't but I think it's likely you'll see police use force to manage the situations. At times it might look messy and that doesn't equate to serious disorder or us losing control, but it does equate to us taking robust action.
"Our use of force is to prevent serious disorder, harm coming to people or to prevent serious disruption. Significantly bigger police resource than any other remembrance weekend. This is probably going to be one of the most challenging weekends I've had and it's certainly one of the biggest responses we've had".
He said that the closest comparison in terms of numbers would be the People's March at Brexit where between 900,000 and 1.1 million took part.
"There is no doubt this is going to be a very tense weekend," DAC Taylor said.
He added: "We know there are likely to be groups from both sides who seek each other out later in the day. We have constantly assessed intel throughout the week to ensure it's a proportionate policing plan in place and I do believe if the groups come together there will be serious disorder."
Read more: Rishi Sunak 'considers firing Suella Braverman', with Conservatives split over Palestine police bias comments
Read more: Calls grow for Suella Braverman to be fired over police bias comments, despite backing from Rishi Sunak
British Transport Police bosses said there would be a "significant policing operation" at railway stations.
Assistant Chief Constable, Sean O'Callaghan said: "There are a number of demonstrations due to take place over the course of the weekend and the safety of the public remains our top priority.  Our officers will be there to provide a visible reassurance and to ensure the safety of those at transport hubs or travelling through.
"Abuse, intimidation, or violence, particularly that which is religiously motivated, will not be tolerated and our officers will respond robustly to anyone who seeks to cause harm or incite hate."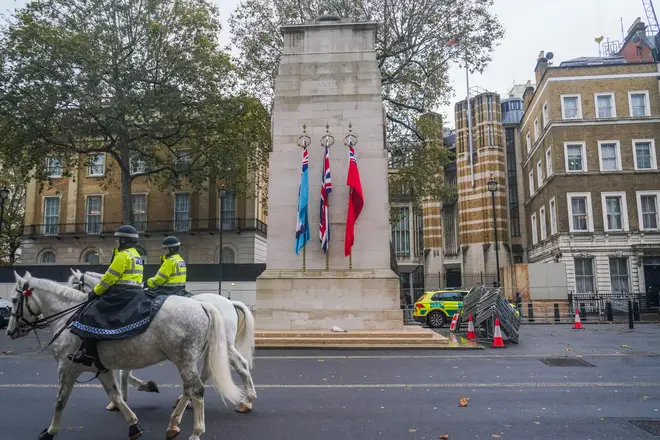 The Prime Minister is now also facing calls to sack Home Secretary Suella Braverman after her incendiary comments about the planned pro-Palestine, writing in an article for The Times.
Downing Street said on Thursday that it did not clear her piece accusing police of "playing favourites" with protesters, but that Mr Sunak still has confidence in the Home Secretary.
But the Prime Minister is said to be considering Ms Braverman's future, and considering the possibility of bringing forward a Cabinet reshuffle previously slated for before Christmas.
Downing Street is conducting an internal investigation into whether Ms Braverman broke the code by not getting her article signed off fully. If it finds there was a breach, Mr Sunak may either demand an apology, or fire her.
Gavin Stephens, the chair of the National Police Chiefs' Council (NPCC), said political interference would not stop police from making their own decisions on protests.
Mr Stephens said: "The issues we're dealing with are divisive, but our job is to keep the King's peace. The decisions we take are not easy ones, but we do so impartially, without fear or favour and in line with the law.
"We the need the space to make the operational decisions in an independent manner and that is set out very clearly in the Policing Protocol Order which was refreshed earlier this year.
"We don't have a professional view on political commentary that's made - that's the point of independence. It's important we don't take those factors into account, and we do things by the law and based on our intelligence."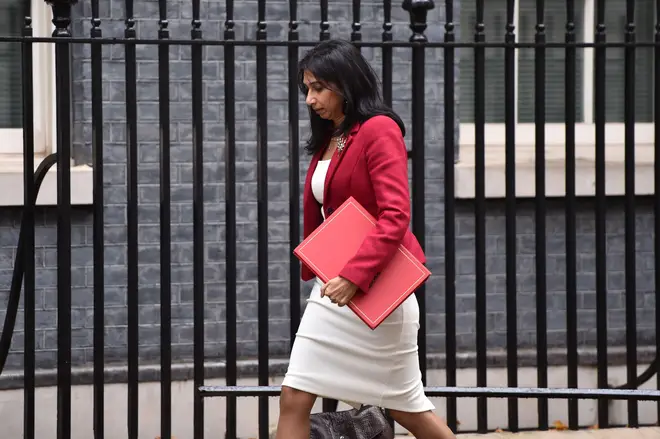 Sir Mark Rowley said the Met could not legally enforce a ban on Saturday's protest: "The laws created by Parliament are clear. There is no absolute power to ban protest, therefore there will be a protest this weekend.
"The law provides no mechanism to ban a static gathering of people. It contains legislation which allows us to impose conditions to reduce disruption and the risk of violence, and in the most extreme cases when no other tactics can work, for marches or moving protests to be banned."
The Met Chief added that the organisers of the weekend march had demonstrated "complete willingness to stay away from the Cenotaph and Whitehall and have no intention of disrupting the nation's remembrance events".
He added officers will use their powers to protect the event should this change.
The demonstrators will not go past the Cenotaph in Whitehall and the march will take place after the two-minute silence at 11am.