Paris 'wasn't ready to host Champions League final' after report clears Liverpool fans of wrongdoing in crush
14 February 2023, 07:20 | Updated: 14 February 2023, 08:40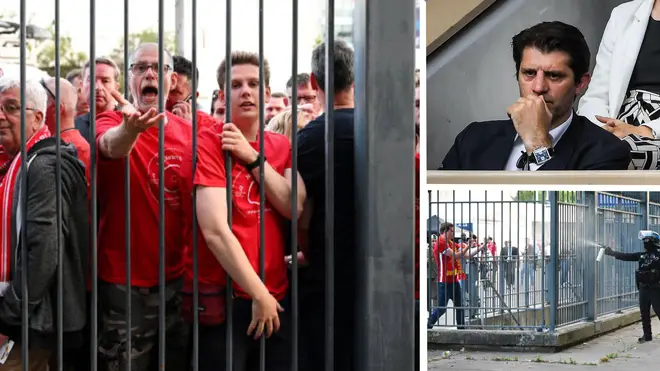 Paris was not ready to host the Champions League final, which was moved from Russia with months to spare, the city's top official for sports has told LBC after a report into dangerous overcrowding outside the stadium came out.
The long-awaited report into the chaos at the final between Liverpool and Real Madrid laid the blame on UEFA and French police, clearing Liverpool fans of wrongdoing.
Fans were seen clambering over barriers as huge crowds continued to build outside the Stade de France in Paris on May 28 last year.
Congestion had reached dangerous levels, and the police's response was to pepper spray and tear gas supporters indiscriminately. Among them were children who were pressed up against the railings in an attempt to relieve pressure on the turnstiles.
The final had been moved from St Petersburg to Paris with just two months to spare, because of Russia's invasion of Ukraine.
A senior Paris official told LBC after the report came out on Monday that they should not have hosted the game, because they did not have enough time to prepare.
Pierre Rabadan, the deputy mayor of Paris in charge of sports events for the final, said: "As you know, the final was supposed to be organised in St Petersburg, and finally we organised it in Paris, and we did the organisation in a couple of weeks.
"The organisation was going probably too quickly, we can say today. Normally the organisation takes around ten months to organise a Champions League final.
"Here everything was organised in the last two months before the events. We can say that they had mistakes."
Both UEFA and French authorities initially tried blaming the chaos on Liverpool fans, who will be all too aware of the false accusations thrown their way after the 1989 Hillsborough disaster.
Read more: Liverpool fans unfairly blamed for Champions League final chaos, says French Senate
Read more: UEFA 'sincerely apologises' to fans over violence at Champions League final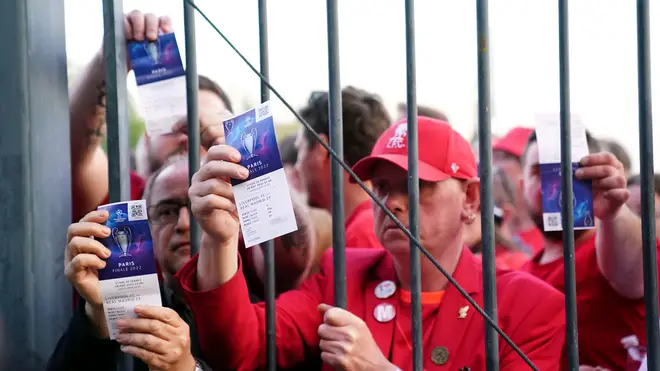 France's interior minister, Gerald Darmanin, claimed "30,000 to 40,000 Liverpool fans" had forged or no tickets, alleging there had been an "industrial scale" ticket fraud.
French ministers had talked of Liverpool supporters as having been a major hooligan threat, contrary to the Merseyside Police intelligence.
It later emerged police had acted on a misconceived view of the Hillsborough disaster and believed it meant they had to have riot police in force.
However, an independent report into the potentially life-threatening incident, leaked on Monday, said there was "no evidence" to support the "reprehensible" claims.
MP Ian Byrne, who was at the game that night, later told LBC: "There was no stadium management, and there was only one set of people they were going to blame - and that was us."
Grace Merritt was at the match and was injured outside the stadium when she was pressed against a fence. She said: "There was nothing like medical attention anywhere... I was thinking 'I'm only going to the game, why I am in this situation?"
Ted Morris, a disabled Liverpool fan who was at the game, said the overall state of the stadium was shambolic.
"There were no lights in the disabled toilets," he told LBC. "We were told to turn our mobile phone on and use the torch. There were no ramps - disabled supporters were getting lifted over turnstiles and getting carried down flights of stairs in pitch darkness."
The findings of the report, commissioned by UEFA after the final, concluded that as the "event owner", the footballing body "bears primary responsibility for failures which almost led to disaster".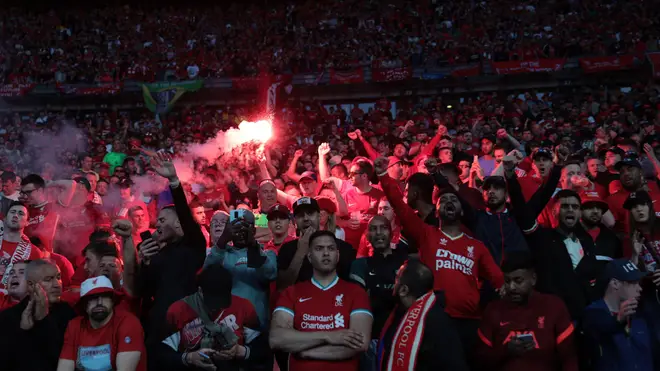 A rail strike meant only one of the two railway lines to the stadium was fully operational on the day.
This resulted in thousands of Liverpool fans travelling all arriving at the same Stade de France Saint-Denis station.
They were then directed into a built-up area and through a narrow subway and motorway underpass partially blocked by police vans.
This led to a checkpoint at the foot of a 30-foot wide ramp which was not designated as a main entrance.
The amount of time to check tickets - complicated by a mix of paper and digital tickets - resulted in huge congestion building up at checkpoints.
An estimated 15,000 fans were stuck in that area more than two-and-a-half hours before kick-off.
The French Senate report into the final accepted a "risk of crushing" did develop, which was particularly traumatic for Liverpool fans - specifically Hillsborough survivors - and ticket pre-checks were abandoned.
Abandoning ticket checks allowed a number of local youths to access the perimeter of the stadium.
A number of those either attempted - and some succeeded - to jump the fence or tried to steal tickets from fans penned in as the turnstiles had been closed.
The Senate report estimated 300-400 locals committed "numerous acts of theft with violence observed by the police".
After the match local gangs ambushed fans exiting the stadium and with no police protection numerous were subjected to violent robberies by thugs with weapons.
As the match drew to a close, police in riot gear emerged inside the stadium and proceeded to position themselves around Liverpool's but not Madrid's end.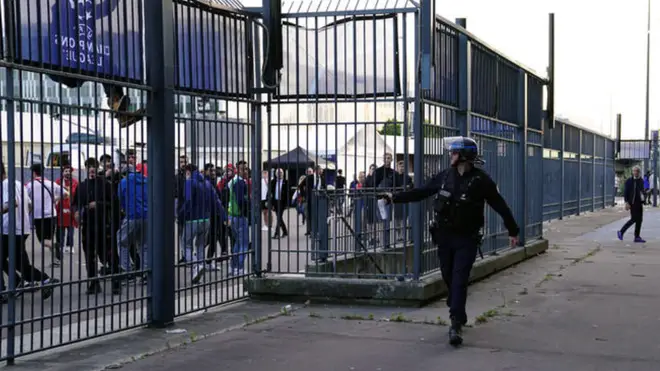 However, a lack of presence outside the stadium contributed to gangs running riot against defenceless supporters outside.
Kick-off was delayed initially for 15 minutes, which was later extended to 36 minutes.
An initial message displayed on screens inside incorrectly blaming Liverpool fans' late arrival which prompted outrage from Reds supporters already inside.
UEFA doubled-down on the blame after the match, issuing a statement saying: "The turnstiles at the Liverpool end became blocked by thousands of fans who had purchased fake tickets which did not work in the turnstiles".
Mayor of the Liverpool City Region, Steve Rotheram, said UEFA's report "vindicates what I and other fans have been saying all along".
"That is, it was the fans who averted a disaster and were clearly not to blame, whilst the organisers - UEFA and the French authorities - were really responsible," he added.
"Fans who travelled to Paris expecting the night of their lives were put in harm's way by the very people who are meant to protect them."
They deserve a full and unreserved apology from authorities including UEFA president Aleksander Ceferin.
Following events in Paris more than 600 Liverpool fans are being represented by law firm Leigh Davy in a bid for compensation.
UEFA general secretary Theodore Theodoridis apologised to all those affected by the near-disaster.
"In particular, I would like to apologise to the supporters of Liverpool FC for the experiences many of them had when attending the game and for the messages released prior to and during the game which had the effect of unjustly blaming them for the situation leading to the delayed kick-off," he added.
"UEFA is committed to learning from the events of 28 May, and will cooperate closely with supporters' groups, the finalist clubs, the host associations and local authorities in order to deliver outstanding finals where everyone can enjoy the game in a safe, secure and welcoming environment."