Children and comedian among 'hundreds' forced to take taxis home after nightmare 11-hour train journey from hell
26 September 2023, 10:05 | Updated: 26 September 2023, 15:23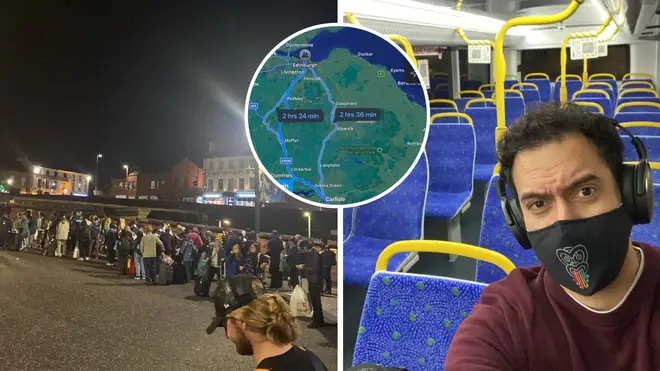 Rail travellers including a comedian and a group of schoolchildren were forced to endure an 11-hour London to Edinburgh train journey that ended with everyone on board being forced to take taxis.
The 4.40pm Avanti West Coast train from Euston to Edinburgh terminated early at about 8pm at Preston, with the entire train emptied.
Comedian James Nokise, who was travelling to the Scottish capital on Tuesday evening, was among a group of confused passengers who received an email informing them their train was cancelled - despite already being aboard the moving train.
Documenting the journey on X (formerly Twitter), the New Zealand-born comic's tongue-in-cheek live tweets amassed over 2 million views, as the train manager explained they had "heard from passengers" that the service was cancelled.
Also stuck was a group of 50 schoolchildren aged 12, with staff sourcing a coach to get them to Glasgow because the youngsters could not travel in cabs.
James posted: "Around 7:26pm I received an email that my train had been cancelled. This was a surprise because: a) I was still on a moving train b) there had been no announcement on the moving train", wrote the comedian.
The comic proceeded to get progressively worse, documenting the manager's announcement ten minutes later that the "rumours were true" and that all passengers were to alight at the next stop.
"I'm not quite sure how to explain what's happened tonight, because it's still happening - but here goes…" he wrote just after midnight on Tuesday morning.
"At 4:40pm I jumped on a train from London to Edinburgh.. It was comfy, it was quiet In hindsight, too good to last…" wrote the comedian.
With passengers forced to wait close to two hours at Preston Station for the next train to Scotland, Nokise chirpily informed followers the travel hub had "a few cafes" - before adding they were all shut except for one, which saw fit to close early despite "a couple of hundred people" remaining stranded on a platform.
Read more: Dozens of flights at Gatwick face being cancelled after mass delays following air traffic control staff shortages
Read more: Louise Redknapp pulls out of Eternal reunion tour over trans rights row
Sarcasm proved just the tonic, with the comedian's next update adding: "No one noticed because at 8:50 the train we were waiting for was cancelled".
Still three and a half hours from their destination, passengers were then informed there were "no more trains "North" after that and, excitingly, no forthcoming information."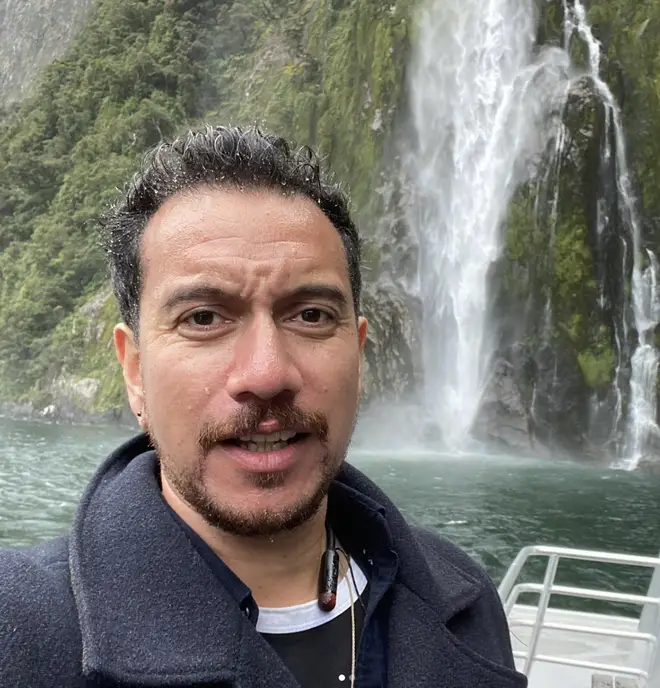 He added: "Some people stood staring at the screens. Some people queued to ask the one ticket booth worker the same question everyone else was. No one knew anything."
Then came the news that taxis had been arranged.
"Taxis. For hundreds of people. To a city 3 and 1/2 hours away," wrote Nokise.
Taking between three and seven passengers at a time, the group were bundled into vehicles, with queues winding along the station's pavement.
Shortly after, an email dropped into the comic's inbox informing him he was eligible for £70 compensation for their delay.
"Take a moment to appreciate how long the trip to Edinburgh from Preston is, how long the return journey would be," he adds.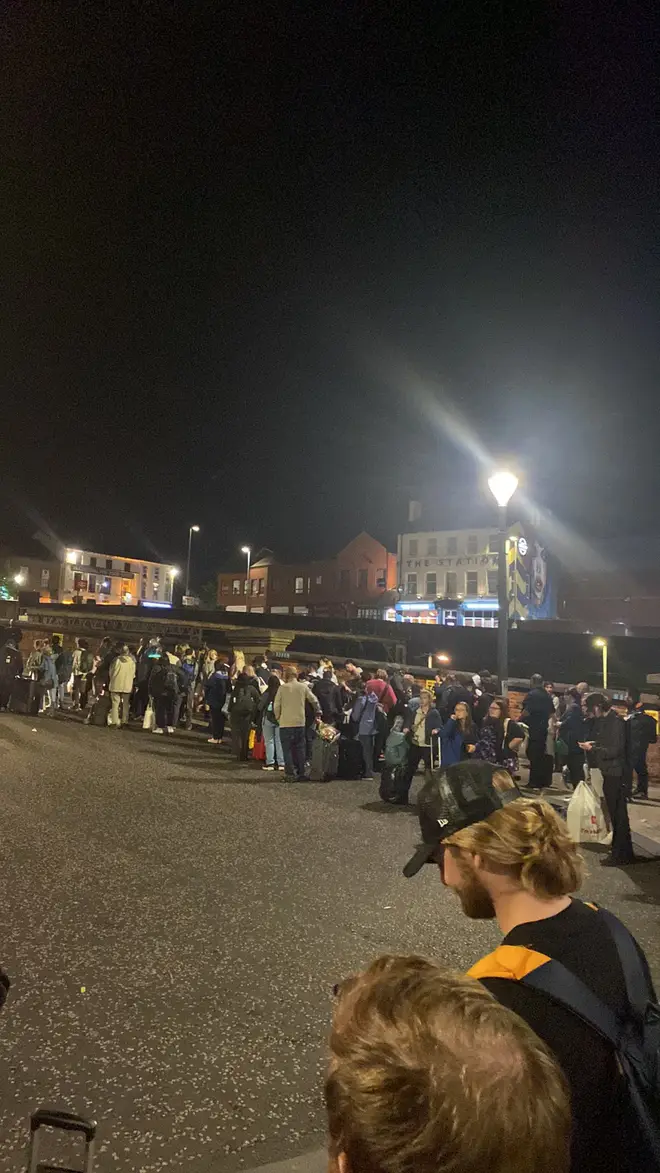 "Think about how big the fare would need to be, and then try and estimate how many various cabs were needed to shift a couple of hundred people off home."
"Somehow I ended up in the last cab with 3 other strangers, all guys travelling alone. Probably the correct people to be catching the latest cab in terms of safety.
"And also the cast of a 70's British play. The time was 10:30. The train was due at Edinburgh at 10:15."
A journey which saw Nokise - alongside his two male passengers - wind their way to Scotland, the comedic exploits continued amid a series of wrong turns, near-collisions and confusion of their final destination.
"At 12:05 am our cabbie decided to change lanes without indicating and almost crashed into a mini-van overtaking him.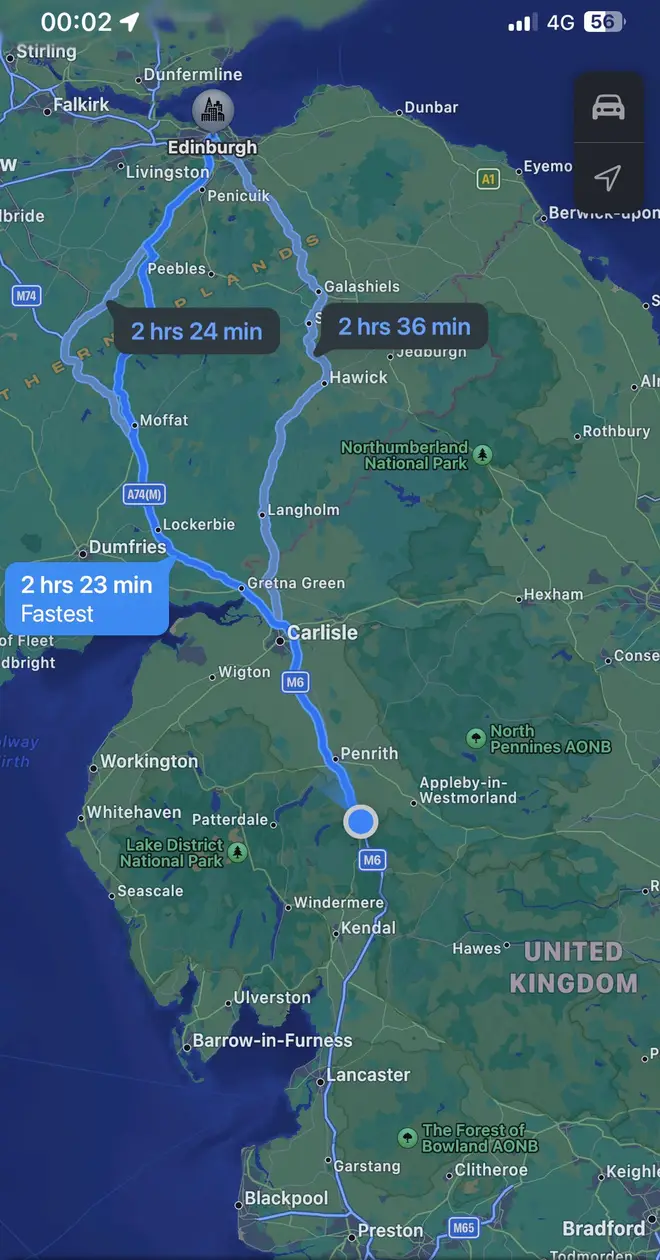 "So now the two of us passengers that are oldest are awake, and we have checked that the cabbie is too. He has not responded, but he has used the indicator."
He added: "I'm tweeting mainly to both stay awake, and also because I'm worried I went insane somewhere after Stafford and this is a delusion," he added just before 2am.
Arriving at their destination shortly after, Nokise's tweets ended shortly after 3am.
The comedian added: "For those concerned, the cabbie is driving back to Preston tonight. Says he's fine, and hey maybe he is.
"But it's pretty twisted that he doesn't get taken care of by either his company or the train company hiring him. Made sure he knew the quick way out of town via a servo."