Coronavirus UK: Prime Minister to hold Cobra meeting in wake of third death
9 March 2020, 06:44 | Updated: 9 March 2020, 07:04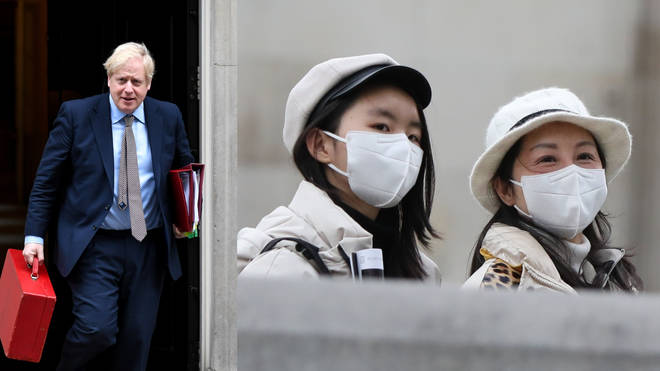 The Prime Minister will hold a meeting of the nations top emergency committee as the number of deaths and infections rise around the globe.
Boris Johnson is set to tell an emergency Cobra meeting on coronavirus that tackling the outbreak requires a "national and international effort", following the UK's third death and a rising number of cases.
The move comes after the country's third death, a man, aged in his 60s, who had underlying health problems, who died at North Manchester General Hospital having recently returned from Italy.
Read more: Coronavirus: Beard sanitiser sales spike after NHS urged staff to shave
The meeting of the top Government officials will decide if the country should officially move from the "contain" to the "delay" phase of the "battle plan" to deal with coronavirus.
Changing the response status would need the agreement from England's chief medical officer Chris Whitty and chief scientific adviser Sir Patrick Vallance, who are due to be at the high-level discussions.
Read more: Coronavirus symptoms - what are they and what is the risk of Covid-19?
Mr Johnson is expected to tell those in attendance: "The number of coronavirus cases continues to rise in the UK and around the world.
"We are well prepared and will continue to make decisions to protect the public based on the latest scientific advice.
"Tackling coronavirus will require a national and international effort. I am confident the British people are ready to play their part in that.
"The most valuable thing people can do is wash their hands with soap and water for 20 seconds."
Read more: Coronavirus UK: Do surgical face masks work to avoid virus symptoms?
A spokesman for the hospital said: "We can confirm that sadly a patient being treated for Covid-19 has died at our specialist regional Infectious Diseases unit at North Manchester General Hospital.
"The man in his sixties tested positive after travelling to Italy and had a number of underlying health problems.
"Our thoughts are with the patient's family who are being supported by our specialist bereavement staff."
Prof Whitty said: "I am very sorry to report that a third patient in England who tested positive for Covid-19 has sadly died.
"I offer my sincere condolences to their family and friends and ask that their privacy is respected."
He said that contact tracing was already underway.
Read more: Coronavirus: What is a pandemic and how is one declared?
The announcement comes as:
- The total number of confirmed cases of coronavirus in the UK rose to 278 on Sunday evening with the confirmation of five new cases in Northern Ireland.
- The Foreign Office said it was "working intensively" with US authorities on arranging a flight for British nationals on the coronavirus-hit Grand Princess cruise ship due to arrive in Oakland, California, on Monday.
- British tourists were warned to avoid all but essential travel to a swathe of northern Italy under a coronavirus quarantine, including the popular destinations of Milan and Venice.
- Travellers returning from lockdown areas in northern Italy were advised to self-isolate if they have returned to the UK in the last 14 days, even if have they no coronavirus symptoms.
- A surgical high dependency unit run by the University Hospital Southampton NHS Foundation Trust temporarily closed to new admissions after a healthcare professional tested positive for coronavirus.
- Prime Minister Boris Johnson said medical advice did not point to "any need for people to buy stuff in", amid reports of people panic-buying in shops.
Read more: 'Don't die, please buy' Glasgow newsagent sells out entire stock of coronavirus face masks
Around 16 million people in Italy, more than a quarter of the population, have been placed under lockdown as the country's government tries to halt the spread of Covid-19.
Read more: First UK coronavirus death as elderly patient dies in Berkshire
Italy has now recorded more cases of coronavirus than any country outside China, where the disease's outbreak originated, while its death toll has risen to 366.
Italian prime minister Giuseppe Conte signed a quarantine decree early on Sunday covering the north of the country that places restrictions until April 3 on weddings, museums, cinemas, shopping centres and restaurants.
Italian airline Alitalia has suspended all national and international flights from Milan's Malpensa airport, starting on Monday.
Budget airline easyJet said it was cancelling a number of flights to and from Milan Malpensa, Milan Linate, Venice and Verona airports on Monday.
It said it expected to reduce flights numbers in and out of these destinations up to April 3.
The Department of Health said that than 23,500 people have been tested for the virus in the UK.