Daily coronavirus cases in the UK fall again as 36,000 new infections are reported
23 July 2021, 19:45 | Updated: 23 July 2021, 19:56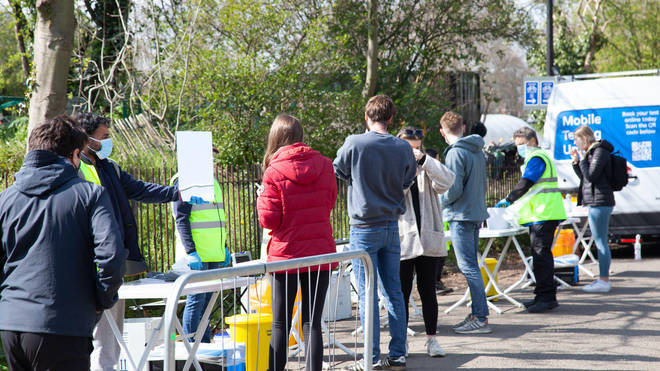 Coronavirus cases in the UK have fallen again.
The country reported 36,389 new infections on Friday, down from the high of 46,558 on 20 July.
On Thursday, 39,906 were reported while Wednesday saw 44,104 cases logged.
The news will be welcomed as ministers expect cases to surge to 50,000 with England's relaxation of nearly all its lockdown rules.
However, it is unlikely the data reflects Monday's easing of restrictions, given the time it takes for infected people to develop symptoms, get tested and have their result logged.
Read more: Military 'not needed now' for 'pingdemic' staff shortages support but 'always on standby'
Read more: London hospitals warned there could be 1,500 coronavirus patients by mid-August
It is hoped that vaccines have sufficiently weakened the link between new cases and a rise in Covid-related fatalities.
The data will, nonetheless, been greeted as positive news as cases shot up in recent weeks.
But the focus this week has been on the so-called "pingdemic", where businesses have seen major shortages of staff after they were told to self-isolate as a close contact of someone who caught Covid.
Sights of empty shop shelves led to worries about whether the food chain, and other critical parts of the economy, would be hindered if isolation rules remained in place.
Disruption to rail and services on the Tube are also expected due to staff absences.
Fully-vaccinated people – those who have waited at least 14 days since their second jab – will be able to continue with their lives even if they are designated a close contact of a Covid case after August 16.
Now, the Government has announced workers in certain sectors can dodge isolation through testing if their absence would affect important parts of the economy.
Environment Secretary George Eustice told LBC: "We've identified close to 500 sites including around 170 supermarket depots and then several hundred of the largest, most important manufacturers.
"We're starting from today in the first 15 of those depots and will be rolling out quickly that where they have staff who are pinged and asked to isolate they can continue to come in to work, do a daily test at work, and provided that test stays negative they can keep working.
"It is going to affect well over 10,000 people playing crucial roles in the food supply chain, whatever that role may be."
But figures in the food industry criticised the plans, with Richard Harrow, chief executive of the British Frozen Food Federation, saying they were confusing and "worse than useless".