Dalai Lama apologises after video shows him asking boy to 'suck my tongue', insisting it was 'innocent and playful'
10 April 2023, 10:12 | Updated: 10 April 2023, 10:18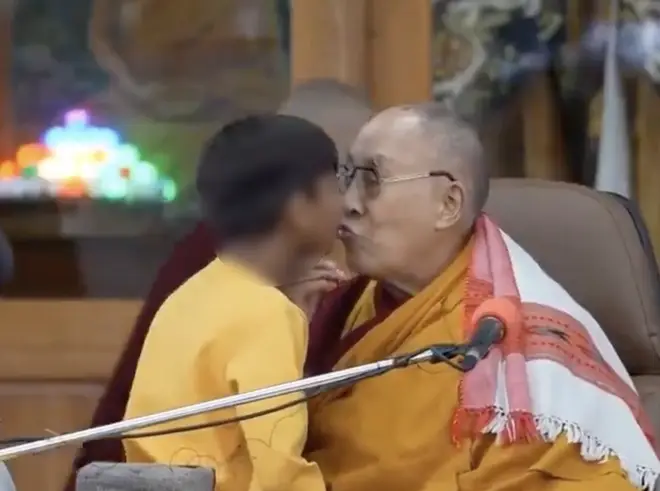 The Dalai Lama has said he is sorry after appearing to kiss a little boy and asking a him to suck his tongue.
The Tibetan spiritual leader was seen on camera making the strange comment to the boy, and kissing him on the lips.
The Dalai Lama's office said he apologised to the boy and his family "for the hurt his words may have caused".
According to the spokesperson, the boy had asked for a hug before the start of the clip that has been shared online.
It is unclear when and where the incident took place.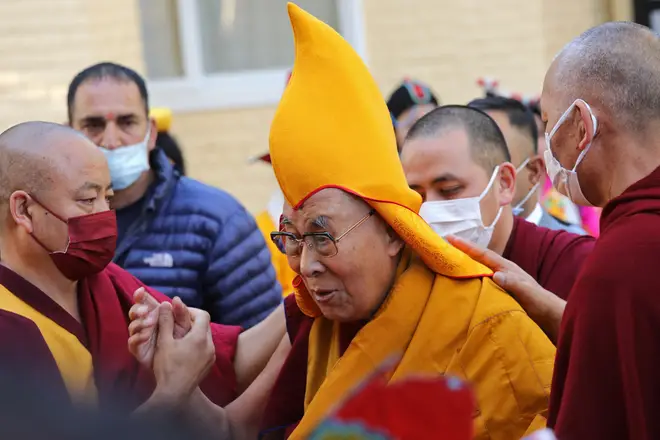 Read more: Kicking the habit: Every Buddhist monk in Thai temple tests positive for crystal meth
Read more: China 'offering persecuted Uighur Muslims thousands of pounds to spy for them'
Sticking your tongue can be considered a form of greeting in Tibet, according to reports.
A spokesperson said: "A video clip has been circulating that shows a recent meeting when a young boy asked his Holiness if he could give him a hug.
"His Holiness wishes to apologise to the boy and his family, as well as his many friends across the world, for the hurt his words may have caused.
"His Holiness often teases people he meets in an innocent and playful way, even in public and before cameras. He regrets the incident."
This is not the first time in recent years the Dalai Lama, 87, has had to apologise publicly.
He said sorry in 2019 for saying that if a future successor was a woman, then she should be attractive.