Former PM David Cameron is introduced to the House of Lords as Baron Cameron of Chipping Norton
20 November 2023, 15:20 | Updated: 20 November 2023, 15:27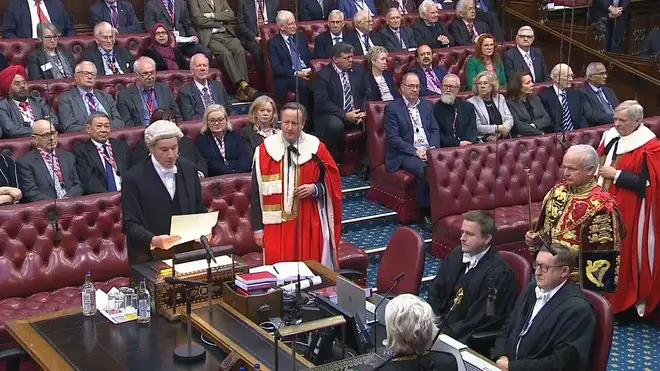 Former Prime Minister David Cameron has been introduced to the House of Lords this afternoon as Lord Cameron of Chipping Norton.
Lord Cameron, who become foreign secretary following Rishi Sunak's cabinet reshuffle, had his peerage confirmed last week to enable him to reenter frontline politics without standing for election as an MP.
The foreign secretary's life peerage was the first order of business in the House of Lords this afternoon.
Wearing the traditional robes and grab, Lord Cameron swore the oath and was formally introduced as Lord Cameron of Chipping Norton to fellow peers.
It comes after a seven-year absence from Westminster following his resignation as prime minister in light of the referendum defeat for the Remain campaign in the 2016 Brexit referendum.
He was appointed to replace James Cleverly, who has taken over Suella Braverman's job as Home Secretary, after she was forced to resign over comments made about the police.
Lord Cameron made his first official state visit to Ukraine last week, meeting with President Volodymr Zelenskyy.