Dental practice bombarded with 27,000 phone calls as patients queue for hours to get one of 60 slots
3 August 2023, 00:04 | Updated: 3 August 2023, 00:22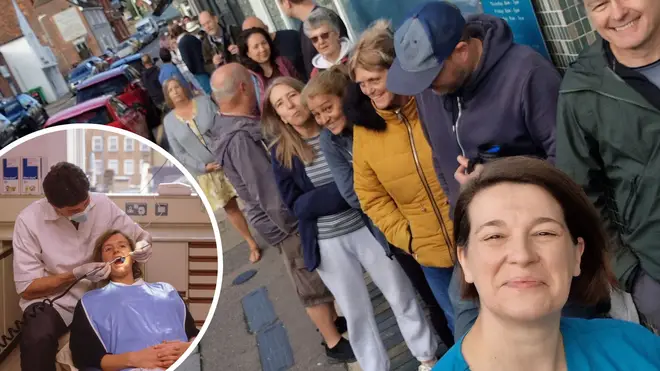 A dental practice has been bombarded with 27,000 phone calls as 100 people queued for hours after it announced it would take on 60 new NHS patients.
Faversham Smiles said on Tuesday that it would accept them on a first-come-first-served basis amid the nationwide demand for dental appointments - which has seen patients resort to awful "DIY dentistry".
The Kent practice took on the first 20 people who queued, the first 20 who emailed and the first 20 people to call, leading to appointments for 120 patients.
But the demand was so enormous, it was inundated with 27,000 calls and 700 emails while more than 100 people lined up ahead of the 8am opening time on Tuesday desperate to land themselves a slot.
Read more: Desperate patients rip out teeth with bare hands and resort to glueing replacements in NHS dentist crisis
Elli Cain, the practice manager, said staff were "blown away" by the demand and added: "The team here have been working tirelessly to speak to as many people as we can, but we are human and can only try our best, please be patient with us, we are trying to help everyone.
"I am so proud of every member of this team today and every day, and I hope that you can appreciate their efforts as I do.
"I send my greatest apologies to those who have not been able to secure appointments today, and I would like to take this opportunity to thank everyone who has shown us such loyal support, be it through kind words to the team, patience when booking in, or through social media platforms.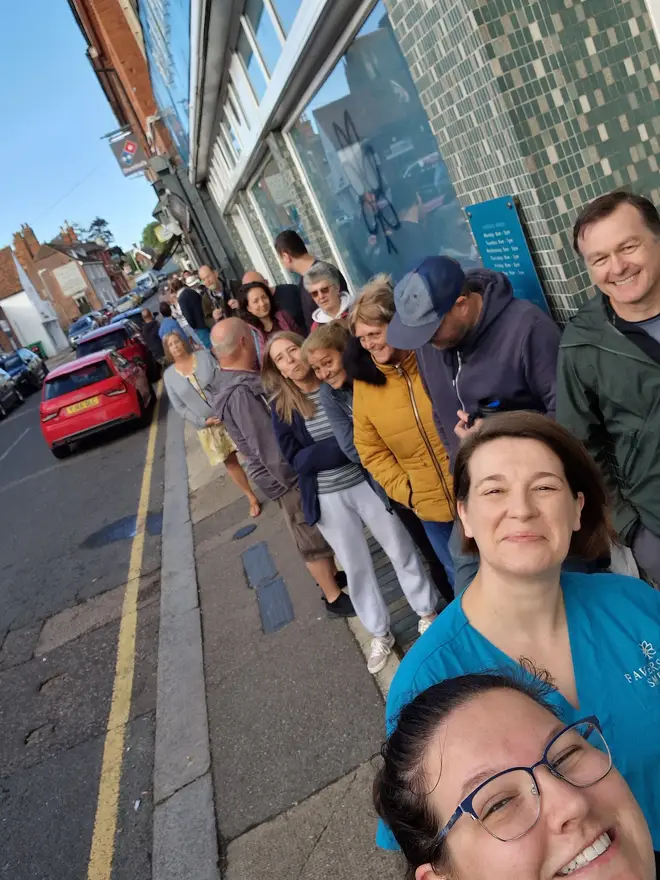 "Finally, thank you from me personally to all those in the queue this morning, I tried my best to speak to everyone from around 06:40 onwards this morning, and everyone I spoke to was wonderful, kind, and in high spirits, so thank you for making a potentially daunting morning such a delight."
A rolling waiting list has been put in place, allowing those who missed out to leave a number so they can be contacted when a spot comes up.
Read more: Huge queues to sign up for dentist places shock patients as NHS medics blast 'Soviet' style scenes
"We would love to be able to take on every patient immediately, but it simply isn't feasible," Cain said.
Brits across the country are facing delays in getting help with their teeth because of a shortage of dentists.
Some have even resorted to DIY dentistry, with LBC having been contacted last month by a woman who ripped her front teeth out as she struggled to get an appointment.
Jackie from Billericay told LBC's Nick Ferrari at Breakfast she used her forefinger and thumb to take her top two front teeth out from her receding gums.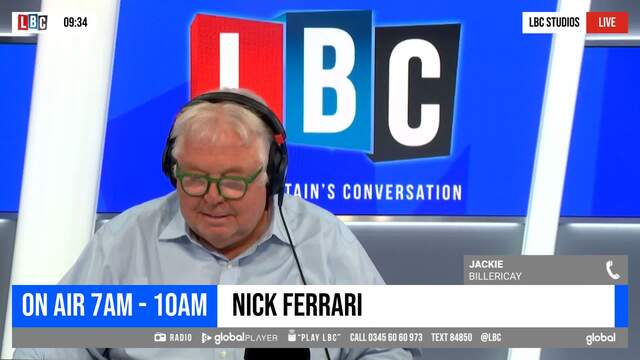 Woman tells Nick Ferrari she pulled out two teeth herself this year
"It is painful, obviously. The second tooth I pulled out I managed to leave a bit of a chip of the tooth in my gum and that started playing up so that got worse and worse," she said.
She hopes to raise money to get them fixed in Turkey.
Another caller, Justin, from Purley, said he used Gorilla Glue to keep his teeth in his mouth.
An NHS spokesperson said previously: "While the number of dental appointments available for NHS patients is steadily increasing and the GP Patient Survey found seven out of 10 patients had a good overall experience of dental services, the NHS has already started to address some of these recommendations through initial contract changes last year.
"These significant reforms will continue to further support dental teams to carry out even more treatments and address the inevitable backlogs that built up during the pandemic, while record numbers of dentists, dental therapists and hygienists will be trained as part of the NHS Long Term Workforce Plan."