Doctors re-attach boy's head after he was 'internally decapitated' while riding his bike
14 July 2023, 09:34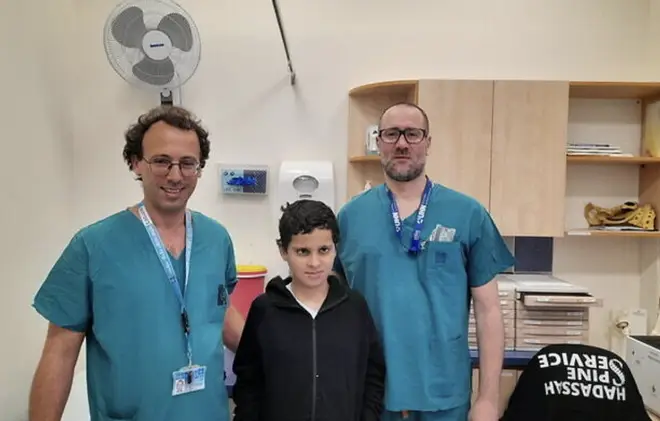 Surgeons in Israel successfully managed to re-attach a boy's head after he was hit by a car while out riding his bike.
The team of doctors in Israel reattached the head of Palestinian Suleiman Hassan, 12, after he suffered an internal decapitation when he was hit by a car.
The procedure involved surgically re-attaching the base of his skull to the top of his spine.
Internal decapitation is an extremely rare injury which occurs when a sudden impact causes the ligaments and muscles holding the head to the top vertebrae of the spine to tear.
Doctors said the boy's head had 'almost completely detached from the base of his neck' - but the skin and major blood vessels remained intact.
Read more: Europe set to see 'hottest temperatures ever recorded' within days as deadly 48C Cerberus heatwave intensifies
Read more: Alarming scale of DIY home dentistry in UK revealed as desperate patients 'pull their own teeth with pliers'
The boy underwent several hours of surgery at Hadassah Ein Kerem's Trauma Unit in Jerusalem in early June. The hospital waited until now to announce the results.
One of the surgeons who saved his life, Dr Ohad Einav, told The Times of Israel: "We fought for the boy's life."
"The procedure itself is very complicated and took several hours. While in the operating room, we used new plates and fixations in the damaged area.
"Our ability to save the child was thanks to our knowledge and the most innovative technology in the operating room."
The injury is treated by fusing the skull and spinal column together using rods, screws, plates and possibly bone grafts.
Suleiman's father said: "I will thank you all my life for saving my dear only son. Bless you all. 
"Thanks to you, he regained his life even when the odds were low and the danger was obvious.
"What saved him were professionalism, technology and quick decision-making by the trauma and orthopedics team. All I can say is a big thank you."