Doorman Shoves Woman To Ground In Confrontation
30 October 2018, 12:50
A burly doorman who floored a couple outside a pub in Chester has been branded a "bully" despite some believing he acted in self-defence.
The muscular bouncer was caught on camera kicking a man off his feet and then seconds later pushing a woman to the ground.
The incident was filmed outside the Oddfellows Arms in Chester, Cheshire, on Saturday 27th October
At the start of the clip, both the man and the woman are on the ground, suggesting the fight had already started. The man seems to take a swing at the bouncer which the bouncer blocks and tries to kick the man, but misses. When the man continues to provoke the bouncer he gives the man a kick to to the legs, knocking him to the ground.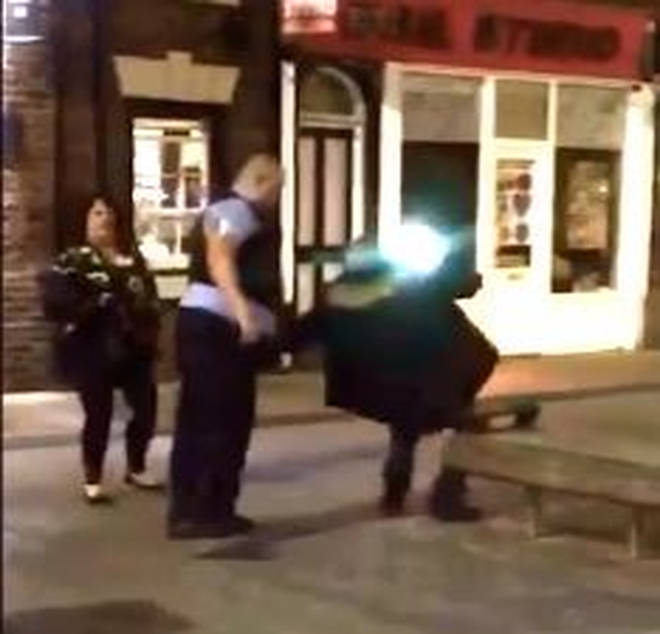 The woman, who has now gotten up off the floor, then approaches the bouncer and seems to try and hit him but is blocked and shoved hard to the ground. Off camera, people can be heard protesting at the bouncer's actions, with someone saying: "Hey, don't touch her like that!" The bouncer turns around, appearing to walk towards the people protesting, before the clip ends.
The video was uploaded to Facebook with the caption: "My little bro went for a nice Chinese in Chester and this was going on outside." The clip has been viewed 45,000 times since it was uploaded and most Facebook users were disgusted at the bouncer's reaction against the woman.
While some commented on the "terrible behaviour" of the doorman and called him a "bully", others defended the doorman's actions, saying he was acting in self-defence.
Who do you think is in the right?