Eco mob target Old Street and M25 in latest disruptive rush hour protest
8 October 2021, 08:30 | Updated: 8 October 2021, 10:52
Eco protesters from climate group Insulate Britain targeted busy Old Street roundabout in London and the M25 in their latest disruptive protest.
The group blocked rush hour traffic, sparking more fury from motorists. A small group of around 15 protesters sat in the road on one of Old Street roundabout's exits, causing traffic to back up quickly.
The A5201 Westbound at the junction of City Road was blocked by the protest.
The group also staged a protest at J25 of the M25 this morning near Waltham Cross. A group of about 20 protesters scuffled with police who were waiting for them at the scene.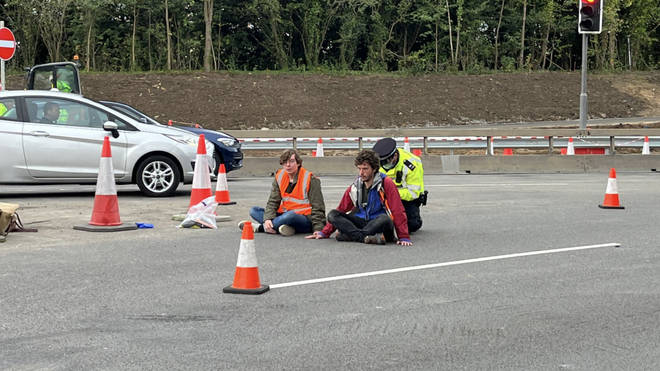 Officers tried to drag the protesters away but were overwhelmed by their numbers and some managed to block the road, causing disruption to drivers. Some glued themselves to the road but police managed to remove them before 10am.
Two of the group were given an ear-bashing by a furious mother who was caught in the delays.
Her daughter was late for school and she screamed: "It's backing up, all because all you care about is insulating houses.
"My daughter is late to school, you are messing with children's education because you are selfish.
"I hope you got that on camera, I think they are a disgrace."
The Metropolitan Police said: "Arrests have been made at the M25 protest.
"Four people have been glued to the road, they're being removed.
"Officers have opened up the slip-road to the A10.
"Activists at Old Street, Islington, continue to block the road where a number of people are also glued to the surface. "This is causing an unreasonable disruption to the community. Specialist teams are on-scene and working to remove those protesting."
It is the twelfth time that Insulate Britain have disrupted motorways and A roads. Today's protest on the M25 was in breach of a court injunction.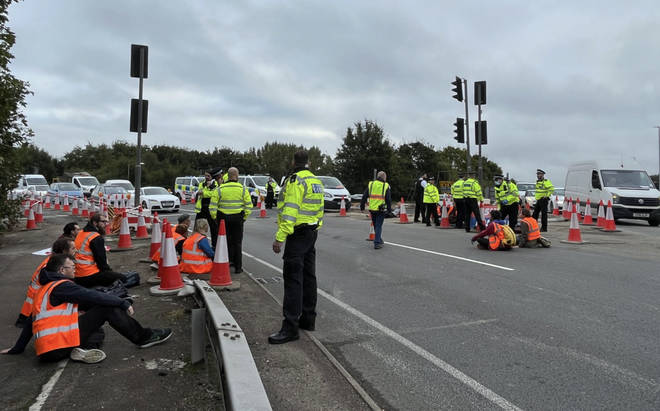 Tracey Mallagan from Insulate Britain said: "If governments don't act soon to reduce emissions, we face a terrifying situation. We won't be worrying about shortages of pasta or loo rolls because law and order breaks down pretty quickly when there is not enough food to go round.
"The government won't be wondering if there are enough hospital beds or ventilators, but whether there are enough people left to bury the dead.
"The government is destroying our country. Boris Johnson should be taken to court for treason. Our flesh and blood are being tossed aside as expendable."
Earlier this week LBC watched Insulate Britain as they blocked a woman from visiting her mother who was being rushed to hospital in an ambulance.
At the Blackwall Tunnel in east London, LBC captured the moment a woman stuck in the traffic tearfully clashed with protesters as they blocked her journey.
Amid blaring horns from dozens of other angry motorists, she told them: "She's in the ambulance, she's going to the hospital in Canterbury, do you think I'm stupid?
"I need to go to the hospital, please let me pass. This isn't OK ... How can you be so selfish?"