England's coronavirus R number rises to between 1.2 and 1.4
11 June 2021, 13:43 | Updated: 11 June 2021, 16:43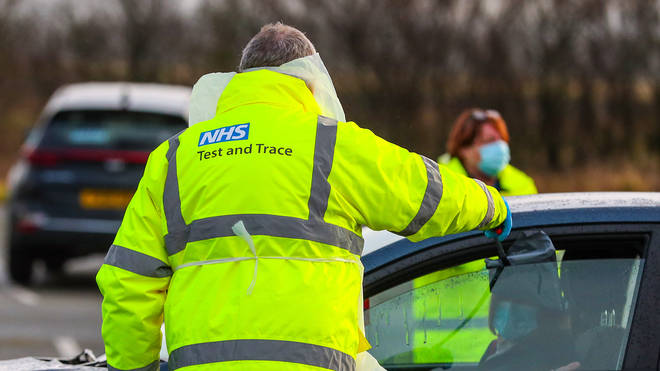 England's R number has increased to between 1.2 and 1.4 - suggesting the Covid outbreak is growing, new figures show.
The value means that on average, 10 people who are infected with the virus will pass it on to between 12 and 14 others.
The number, which is used to measure how much the coronavirus is spreading, was between 1 and 1.2 last week.
It comes as the UK confirmed 8,125 cases in the UK - reportedly the highest daily rise since late February.
A further 17 people died within 28 days of testing positive for Covid-19, bringing the UK's official total to 127,884.
Government experts also consider the growth rate of the virus to be between 3% and 6%.
This value means the number of new coronavirus infections are growing by somewhere between 3% and 6% every day.
However, there is a lag in the data used to estimate the R number and growth rate, so the values - published on June 11 - are about two-to-three weeks old.
Read more: UK to donate 100 million Covid vaccines to countries within weeks, PM announces
Read more: Coronavirus affecting mental health 'the norm,' research shows
It was always expected that coronavirus would begin spreading again as the four nations in the UK unlocked, but Government ministers hope the rapid vaccination programme has broken the link between rising cases and hospital admissions - and, crucially, deaths from Covid.
More than 41 million first doses have been given out while more than 29 million second jabs have been distributed across the country.
It has staggered the stages when social distancing restrictions are eased to assess whether the next phase can go ahead, based on the impact of the previous unlocking.
Boris Johnson is due to confirm the details of step four - which is slated for June 21 - on Monday.
Meanwhile, the Delta variant of coronavirus, which was first identified in India, now accounts for more than 90% of new Covid cases, according to Public Health England.
It appears to have a higher rate of growth compared to the Alpha, or Kent, variant, and new research suggests is has roughly a 60% increased risk of household transmission compared to Alpha.
Public Health England said 42,323 cases of the Delta variant have been found, up from 29,892 last week.
Regionally, cases of that variant are doubling between 4.5 to 11.5 days.