Exact date that Brits will face 'Arctic blast' of snow and rain after Storm Ciarán heaped misery on the UK
5 November 2023, 19:04 | Updated: 16 November 2023, 08:49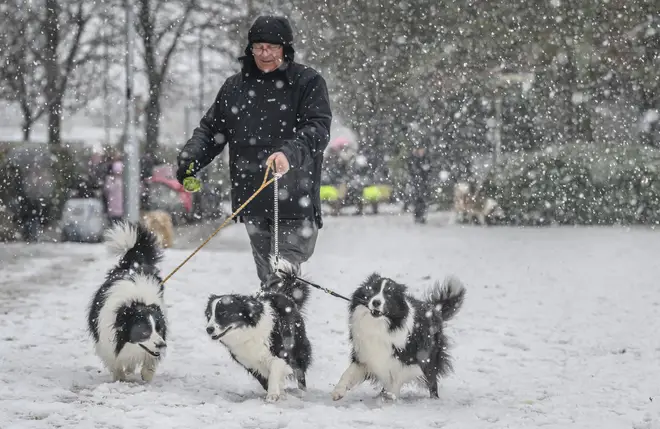 Britain could face an 'Arctic blast' of cold weather with the UK blanketed in snow.
Forecaster James Madden said a low-pressure system coming in from north made snow likely before Christimas.
The Exacta Weather meteorologist said "even greater and more significant dumps of snow across higher ground in the north" were likely coming from the middle of November.
Madden added: "It is now increasingly likely that we will see at least 1-2 notable wintry blasts from late November and into the first half of December, but it may turn milder or much milder later.
"However, a sudden stratospheric warming event from later this month and into December could change that outlook to an even colder and more wintry theme for many parts of the country, and would drastically change the overall outlook for December as a whole, particularly, during the second half of the month, and increasing our white Christmas chances significantly under such circumstances."
Temperatures are likely to drop below 5C from November 11 and bring on an early winter with regular cold snaps.
The Met Office's long-range forecast concurs that Brits are to see more poor weather after weeks battered by autumn storms.
The forecaster says it will be "predominantly unsettled" with a low-pressure system "likely to track east across northern areas of the UK at the end of coming weeks, bringing further rain or showers to many areas.
It added: "By mid month, the most unsettled conditions are likely to transfer further north, with areas further south perhaps having some drier spells of weather at times. Within these drier spells, some overnight frost and fog is possible, but possibly becoming relatively mild by day."