Extinction Rebellion hang climate change banner at Cenotaph on Remembrance Day
11 November 2020, 09:02 | Updated: 11 November 2020, 12:53
Extinction Rebellion protesters have hung a climate change banner and placed a wreath at the Cenotaph on Remembrance Day.
The controversial demonstration has taken place just hours before official ceremonies begin to commemorate the nation's war dead.
Protesters placed a banner, which reads 'Honour Their Sacrifice, Climate Change Means War', over the iconic memorial in central London at around 8am on Wednesday.
Extinction Rebellion said the action "aims to highlight the connection between rising global temperatures and an increase in the incidence of conflict and war".
British Army veteran Donald Bell led the demonstration by calling on the government "to honour the sacrifice of those who gave their lives is past wars by acting to prevent" climate change.
Read more: Armistice Day - UK to hold two-minute silence amid lockdowns
Read more: XR 'doorstep' Sir David Attenborough after he criticised group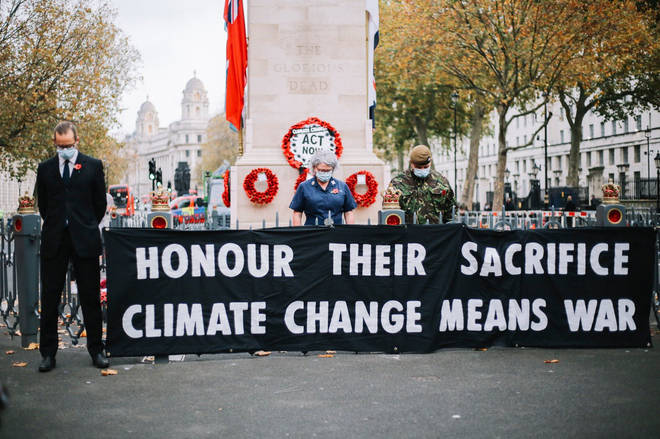 He paid his respects by observing a two-minute silence and hanging a wreath of poppies decorated with the words 'Climate Change Means War, Act now' on the Cenotaph.
The 64-year-old veteran said: "I took action today knowing that I would be criticised. I knew that I would be accused of being disrespectful and hated by many for speaking out in this way.
"Remembrance Day is never an easy time for veterans and this was not an easy decision for me to make.
"But I served this country, I served the people of this country and the action I took today is about just that.
"Unchecked climate change means a return to a world at war. I cannot stand by and let that happen. It is my duty to act."
The report predicts temperatures will rise well beyond the recommendations of 2016 #ParisAgreement & advises the Army to prepare for effects of escalating climate change, inc increased unrest & conflict resulting from shrinking food & water resources & the displacement of ppl. pic.twitter.com/WIPsYuvn61

— Extinction Rebellion UK 🌍 (@XRebellionUK) November 11, 2020
The serviceman, who did four tours of Northern Ireland and saw "good friends die", accused the government of failing to meet all but two of the 31 milestones it set itself for reducing emissions.
"This government is criminally negligent and young people today will pay the price for their failure," Mr Bell said.
He added: "Many of the people who attend the Remembrance Day Service have never seen the horrors of war. I hope they never have to.
"However you feel about the action today, I want people to take this message – if we don't deal with this climate emergency, now, it will lead to war."
Research commissioned by the Ministry of Defence published in June this year points to a "growing recognition that climate change may aggravate existing threats to international peace and security."