FA chief recognises 'hurt' to Jewish community after Wembley arch not lit in Israeli colours after Hamas attacks
19 October 2023, 20:36 | Updated: 19 October 2023, 20:42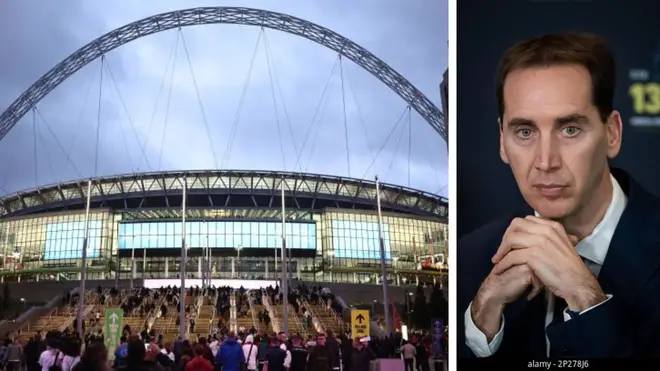 The chief executive of the FA has called the decision not to light up the Wembley arch in the colours of the Israel flag "one of the hardest" of his career.
"I recognise that our decision caused hurt in the Jewish community who felt that we should have lit the arch and should have shown stronger support for them," Mark Bullingham said.
The FA did not light up the Wembley arch up in the colours of the Israeli flag following the attacks from Hamas on October 7, much to the outrage of some members of the Jewish community.
Speaking at a Leaders Week conference in London, Mr Bullingham said the FA enlisted "expert guidance" on the conflict between Israel and Hamas before it reached its final decision.
The FA board heard from "experts on what is one of the most complicated geopolitical conflicts on earth" and ultimately decided against lighting up the Wembley arch, he said.
Mr Bullingham told the conference: "This is one of the hardest decisions we have had to make and the last thing we ever wanted to do in this situation was to add to the hurt.
"We aren't asking for everyone to agree with our decision but to understand how we reached it."
Instead, players wore black armbands and observed a minute's silence before the England men's team's friendly match against Australia last week.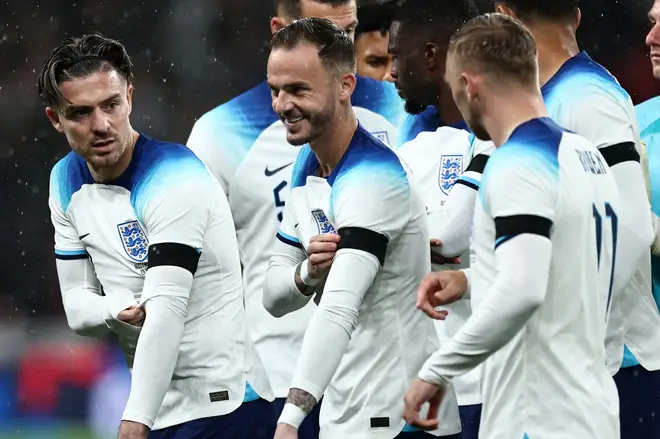 Speaking on the decision to acknowledge the tragedy without lighting up the arch, Mr Bullingham said: "It's worth noting Australia had upcoming games against Palestine and Lebanon so their desire for neutrality was obviously strong."
After Russia invaded Ukraine in 2022, the Wembley arch was lit up in blue and yellow to support Ukraine.
In 2015, the arch was lit in red, white, and blue after the Bataclan terrorist attack in Paris.
Read more: FA's refusal to light Wembley with Israel colours 'mind-blowing,' Lord Mann tells LBC
Read more: 'Prove you stand against violence': Antisemitism campaigners slam 'cowardly' decision to not light up Wembley for Israel
Mr Bullingham said the FA will now review its arch lighting policy.
"We all felt then and we all feel now that football should stand for peace and humanity and that we should show compassion for all innocent victims of this terrible conflict," Mr Bullingham said.
"Our compassion and sympathy is clearly for families and children in particular."