Facebook changes company name to Meta as part of major rebrand
28 October 2021, 19:30 | Updated: 28 October 2021, 20:02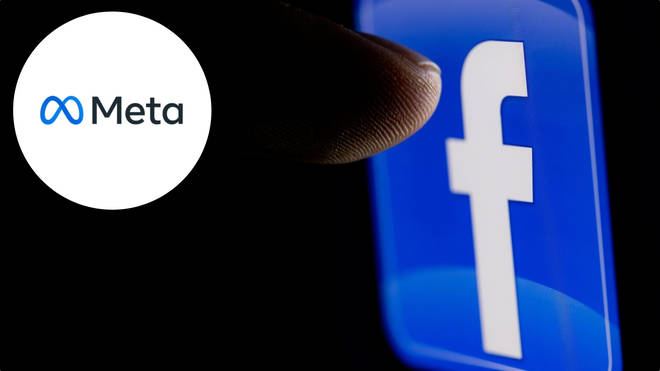 Facebook has revealed a new company name and brand, Meta.
The move is designed to represent the firm's broadening business portfolio beyond social networking, particularly as it pushes on with plans to develop the so-called metaverse, an online world where people can meet, play and work virtually, often using VR headsets.
It comes following a string of controversies that have followed the company's various ventures, particularly the main Facebook platform, Instagram and WhatsApp.
While the wider company name is being rebranded to Meta, the core Facebook service will remain unchanged.
This is similar to how Google created a new parent company name, Alphabet, in 2015 to represent its shift beyond simply being a search engine.
Chief executive Mark Zuckerberg said the current brand is "so tightly linked to one product that it can't possibly represent everything that we're doing today, let alone in the future".
"Over time, I hope that we are seen as a metaverse company and I want to anchor our work and our identity on what we're building towards," he said in a virtual conference.
"We just announced that we were making a fundamental change to our company. We're now looking at and reporting on our business as two different segments, one for our family of apps, and one for our work on future platforms.
"And as part of this, it is time for us to adopt a new company brand to encompass everything that we do to reflect who we are and what we hope to build.
"I am proud to announce that starting today, our company is now Meta."
"With all the scrutiny and public debate, some of you might be wondering why we're doing this right now," he continued.
"The answer is that I believe that we're put on this earth to create. I believe that technology can make our lives better. And I believe the future won't be built on its own."
"I know that some people will say this isn't a time to focus on the future. I want to acknowledge that there are important issues to work on in the present.
"There always will be. So for many people, I'm just not sure there ever will be a good time to focus on the future. But I also know that there are a lot of you who feel the same way I do. We live for what we're building, and while we make mistakes, we'll keep learning and building and moving forward."
What is the Metaverse?
It is an online world where people can meet, play and work virtually, often using VR headsets.
Mark Zuckerberg said: "We believe the metaverse will be the successor to the mobile internet. We'll be able to feel present — like we're right there with people — no matter how far apart we actually are."
He said users will have online avatars that aren't static images, they will be "living 3D representations of you" including expressions and gestures.
He said that it will allow people to gesture with their hands to each other, say words or "make things happen by thinking about them."
'Teleporting' around the metaverse will be like clicking a link on the internet, he said.
He said that having a 'physical body' in a virtual space "opens up some completely new experiences."
Zuckerberg added that it allows people to "effectively work from anywhere" letting people be "present no matter where they are, whether as a hologram sitting next to you in a physical meeting, or in a discussion taking place in the metaverse – that's going to be a gamechanger."