Seven dead after 'terrorist' opens fire outside synagogue in Jerusalem
27 January 2023, 19:18 | Updated: 27 January 2023, 21:04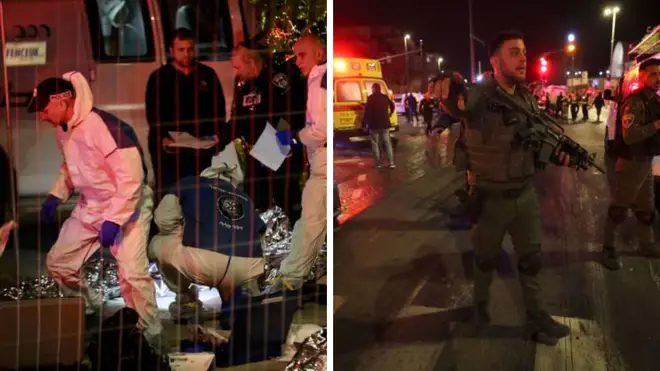 Seven people have been killed and four injured in a shooting outside a synagogue in Jerusalem, Israeli officials have said.
The Palestinian gunman was killed in the attack and police are at the scene.
A spokesman for the police said: "At around 8:30pm (6.30pm UK time), a terrorist arrived at a synagogue in the Neve Yaakov boulevard in Jerusalem and proceeded to shoot at a number of people in the area."
Israeli rescue service Mada said the wounded included a 70-year-old woman in critical condition and a 14-year-old boy in serious condition.
It comes after a deadly raid by Israeli soldiers on Thursday, who killed nine people in the occupied West Bank. A tenth was killed later.
Palestinians had earlier marched in anger as they buried the last of the people killed by Israel, but the likelihood of a major conflagration had appeared to ebb after the deadliest Israeli raid in two decades.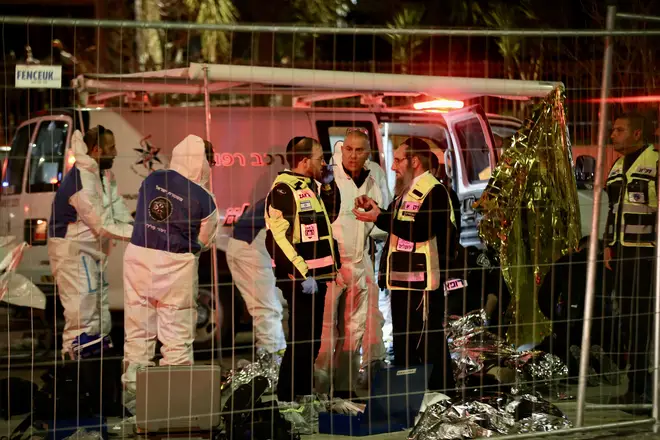 Scuffles between Israeli forces and Palestinian protesters erupted after the funeral for a 22-year-old Palestinian north of Jerusalem and elsewhere in the occupied West Bank, but calm prevailed in the contested capital and in the blockaded Gaza Strip.
Thursday's raid in the Jenin refugee camp descended into a gun battle that killed at least nine Palestinians, while clashes elsewhere left a 10th dead.
Gaza militants then fired rockets and Israel carried out air strikes overnight, but the exchange was limited, following a familiar pattern that allows both sides to respond without leading to a major flare-up.
Israel's defence minister instructed the military to prepare for new strikes in the Gaza Strip "if necessary" - also appearing to leave open the possibility that violence would subside.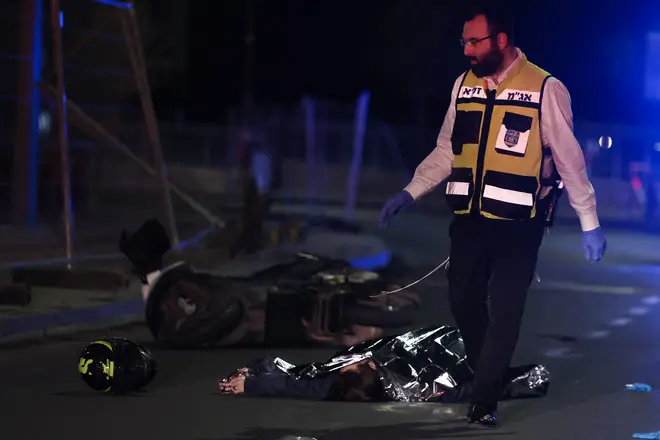 At the funeral of the 22-year-old, crowds of Palestinians waved the flags of Fatah, the party that controls the Palestinian Authority, and militant Hamas, which rules Gaza.
In the streets of the town called al-Ram, masked Palestinians threw stones and set off fireworks at Israeli police, who responded with tear gas.
But the Palestinian rockets and Israeli air strikes seemed limited to prevent growing into a full-blown war. Israel and Hamas have fought four wars and several smaller skirmishes since the militant group seized power in Gaza from rival Palestinian forces in 2007.
The Palestinians' rockets were fired toward southern Israel, while Israel's non-lethal air strikes were on targets in Gaza, such as training camps and an underground rocket-manufacturing site.
Israeli defence minister Yoav Gallant claimed the military dealt a "tough blow" to Palestinian militants in Gaza and said the army was preparing to strike "high-quality targets... until peace is restored to the citizens of Israel".
Foreign Secretary James Cleverly described the attack as "appalling".
He tweeted: "Appalling reports of a terror attack in Neve Yaakov this evening.
"To attack worshippers at a synagogue on Holocaust Memorial Day, and during Shabbat, is horrific.
"We stand with our Israeli friends."