One dead and four people missing after huge explosion shakes German city
27 July 2021, 12:06 | Updated: 27 July 2021, 16:09
An explosion at an industrial park for chemical companies in Germany has killed at least one person, with 16 injured and four still missing.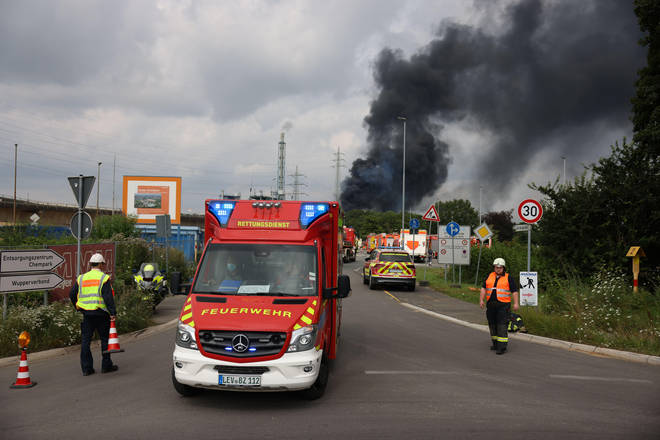 The explosion at Chempark site in Leverkusen on Tuesday was initially classified by Germany's Federal Office for Civil Protection and Disaster Assistance as "an extreme threat", but fire officials who tested the air said there did not appear to be a danger to nearby residents.
Company officials said the body of an employee had been found following the explosion, which happened at 9.40am local time.
The city of Leverkusen said in a statement this afternoon that the explosion occurred in storage tanks for solvents. It said four people were admitted to hospital with severe injuries.
"We are deeply concerned about this tragic accident and the death of our employee," the head of Chempark, Lars Friedrich, said in a written statement.
A large number of police, firefighters and ambulances were deployed to the scene, with several major roads shut down.
The search for others who are missing following the blast in Leverkusen this morning is still ongoing.