Flood Warnings As Snow Thaws After Big Freeze
3 March 2018, 08:12 | Updated: 3 March 2018, 08:13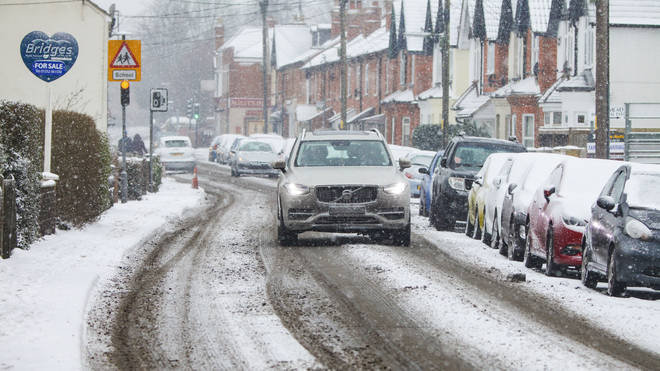 Icy roads will continue to cause treacherous driving conditions across vast swathes of the UK on Saturday, but a gradual thaw is setting in.
After the coldest start to March on record, which left hundreds stranded on the roads and disruption across the UK's travel network, some places are likely to see an easing of the extreme conditions this weekend.
Met Office forecasters said temperatures could climb to as high as 7C for parts of Wales and the South West on Saturday, with rain replacing the snow that has blighted Britain for much of the past week.
Overnight, the M62 in Greater Manchester finally reopened after being closed for more than a day.
Hundreds of motorists had spent Thursday night trapped in their cars when heavy snowfall and high winds left the road impassable.
However, forecasters have warned that as rain begins to fall on snow-covered roads, the potential for ice to form could bring further hazards.
A yellow weather warning for ice is in place for much of England until 11am, while snow is still possible for Scotland and North East England, with a warning in force until midnight.
Northern parts of the UK saw more snow overnight, with a further 5cm likely to fall by the end of the day.
Met Office forecaster Greg Dewhurst said: "It won't feel quite as cold compared to what we've seen previously, but the potential for ice could mean roads are very slippery."
Some roads remain closed on Saturday as authorities work to clear snow, while flights and trains continue to be affected. However, many transport services are beginning to get back to normal.
The slight break in the weather comes after days of severe disruption and several deaths, including that of a seven-year-old girl.
Collisions have occupied emergency services across the country, while the Army was drafted in as part of a major rescue operation to reach motorists trapped on roads by heavy snow and icy blasts.
Between five and 10 vehicles collided at around 3.45pm on Friday on the A38 westbound in Devon, Highways England said, while a further 30 vehicles became stuck in a lane due to the weather conditions after the accident between the A380 and B3344.
Southeastern rail services were also severely disrupted after frustrated passengers jumped from a train near Lewisham station, south London, on Friday evening and began walking down tracks.
The company turned off power in the area for safety reasons and called for police support as it dealt with the "serious trespass incident".
It had earlier told passengers not to travel, while South Western Railway wound down services early in light of the weather.
The Met Office said Thursday saw the temperature slump to its lowest daily maximum on record for March, at minus 5.2C at Bryn Bach Park, Tredegar.
Half a metre of snow was measured in two areas - Drumalbin, Lanarkshire, and St Athan in Glamorgan, South Wales - while strengthening winds caused blizzards and drifting snow in some parts of the country.
Flood warnings were also issued in several coastal regions by the Environment Agency, which published 15 warnings and 36 alerts, predominantly for South West and North East England.