'We are at war' with coronavirus says Macron as France, Canada and EU close borders
16 March 2020, 20:43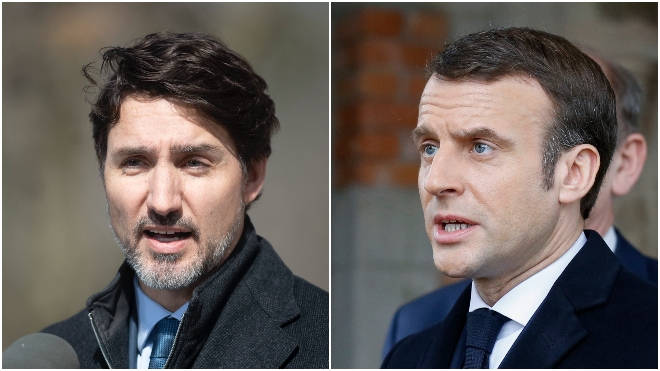 French President Emmanuel Macron declares "war" with coronavirus as France, Canada and the EU all plan to close their borders.
The leaders for France and Canada announced on Monday that they would be closing their borders to non-citizens and non-residents.
Mr Macron also confirmed that the European Union's external borders will be closed from midday tomorrow.
Canadian Prime Minister Justin Trudeau announced the move outside his residence where he is self-isolating after his wife tested positive for Covid-19.
He said the travel ban does not apply to US citizens "for the moment."
"We can still slow the spread of this virus," he added. "It is time to take every precaution to keep people safe."
"I know that these measures are far-reaching. They are exceptional circumstances, calling for exceptional measures."
Mr Macron said "movements will be very strongly reduced" for 15 days starting at noon on Tuesday.
Residents will only be permitted to leave their homes for necessary trips such as going to work or the supermarket.
The decision comes as previous public health measures were being ignored, the French leader added.
Mr Macron said it was vital to introduce these guidelines because "we are at war" with coronavirus.
He added that companies may not have to pay any tax and that the government would guarantee €300 billion in loans, saying: "No single company will go bankrupt."
Gas, electricity, water and rent payments are all also set to be waived in France.
The President prohibited gatherings across the country, including family and other social meetings.
It comes as UK Prime Minister Boris Johnson said that people should avoid all "unnecessary contact with others" and "avoid pubs, clubs and other venues" to prevent the spread of coronavirus.
He said: "If you or anyone in your household shows symptoms you should stay indoors for 14 days, unless for exercise or at a safe distance from others.
"Anyone who lives with someone who has a cough or a temperature should stay at home for two weeks, the PM said.
Mr Johnson said people should ask for help from others for all their daily essentials and all but essential travel should be stopped.
He added that: "Now is the time for everyone to stop unnecessary contact with others and you should avoid pubs, clubs and other types of venues."
It comes as the UK's total deaths from coronavirus surged by 18 to 53.