Panic at the pumps: Calls for 999 heroes to queue-jump as fuel crisis cripples country
27 September 2021, 16:17 | Updated: 27 September 2021, 17:54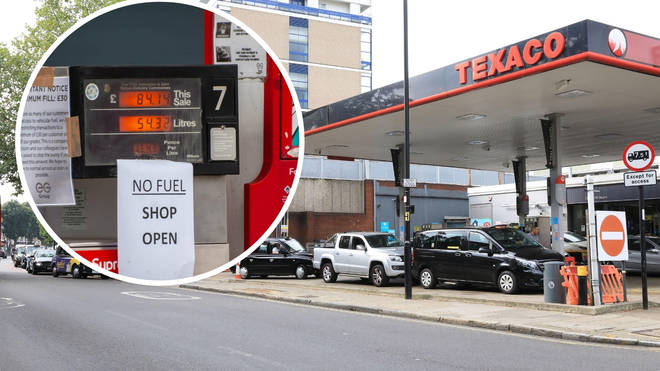 The Mayor of London was today leading calls for designated petrol stations for key workers, demanding the Government take "the necessary steps".
It comes amid scenes of panic buying of fuel across England sparked by fears of disruption to supply chain.
For days now, long queues have developed at petrol stations, with pumps running dry.
READ MORE: Ambulance driver bombarded with abuse on petrol station forecourt while filling up
EXPLAINED: How long could it take to fix the UK fuel crisis?
Sadiq Khan said: "As the current reductions in fuel delivery affect petrol stations across the capital, it is essential that key workers are able to get fuel to travel to work and provide the services our city needs.
"In the fuel crisis of September 2000, the government brought in rules designating specific filling stations for essential workers, enabling the capital to keep moving.
"The Government must urgently look at taking the necessary steps putting such measures in place, so that those key workers who have to drive to work can do so."
Leading unions have also warned healthcare staff and other key workers should have priority access to fuel amid supply issues.
The British Medical Association said as pumps run dry "there is a real risk that NHS staff won't be able to do their jobs".
Unison called on ministers to use emergency powers to "designate fuel stations for the sole use of key workers", saying: "Essential staff must be able to get to their jobs so they can continue to provide the services so many rely upon.
"Ambulance crews, nurses, care workers, teaching assistants, police staff and other key workers mustn't be left stranded or forced to queue for hours simply to get to a pump."
The Royal College of Nursing warned the fuel supply problems could see patient care compromised as its too backed calls for health and care workers to be prioritised.
Director for England Patricia Marquis said: "We already know some nursing staff are warning their employers they may not be able to attend tomorrow to ensure shifts can be safely staffed.
"In light of these supply problems, health and care workers need to be a priority or patient care will be compromised."
It comes amid reports of doctors being unable to get to work due to the fuel crisis.
Campaign group EveryDoctor said at least one NHS organisation held an emergency meeting after staff were unable to attend.
A hospital consultant in Bedfordshire told the organisation, which represents 1,700 doctors: "We had an emergency discussion this morning. Two consultants in our department are out and can't get to work. Two others on reserve. All four petrol stations within four miles of our hospital are closed with no fuel."
It comes as the UK fuel industry insisted "there is plenty of fuel" available and demand is expected to "return to its normal levels in the coming days".
BP, Shell and Esso were among those to issue a joint statement.
The statement said: "There is plenty of fuel at UK refineries and terminals, and as an industry we are working closely with the government to help ensure fuel is available to be delivered to stations across the country.
"As many cars are now holding more fuel than usual, we expect that demand will return to its normal levels in the coming days, easing pressures on fuel station forecourts. We would encourage everyone to buy fuel as they usually would."